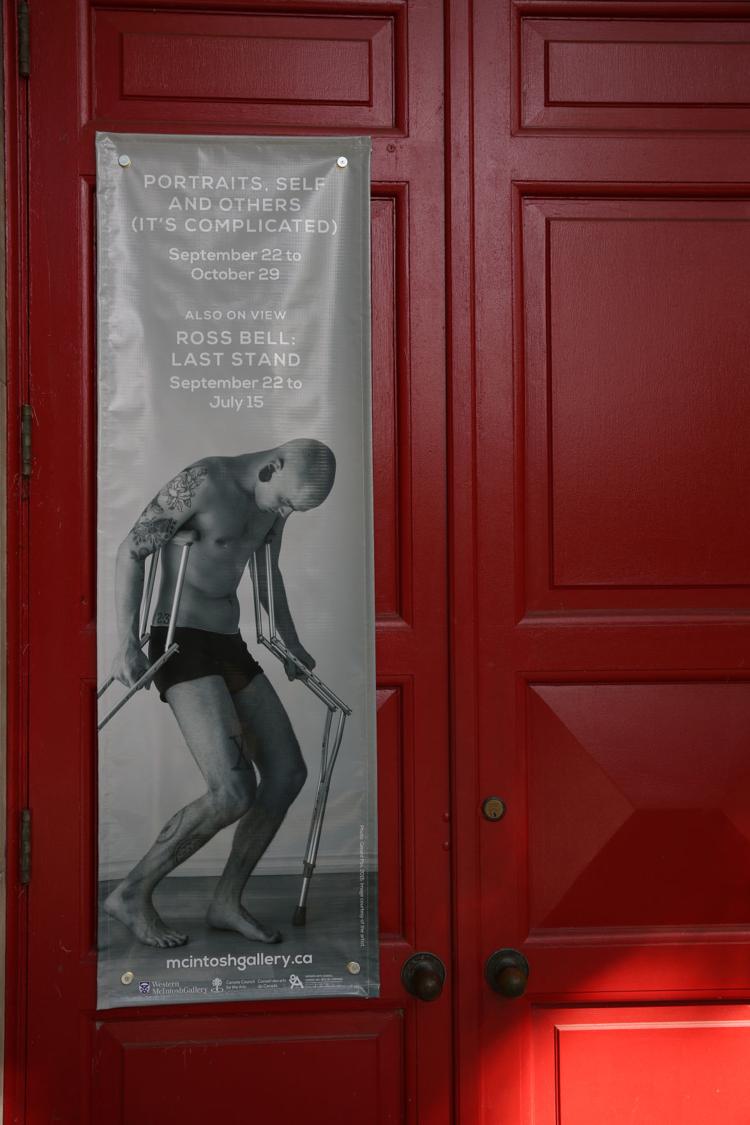 Portraits, Self and Others (It's Complicated) is a new exhibition at the McIntosh Gallery and explores the relationship between portraiture and a contemporary society so focused on representation.
Like many relationships on Facebook, "it [the exhibit] is complicated," jokes director and chief curator of McIntosh Gallery James Patten. He explains the title is meant to poke fun at social media while communicating the eclectic feel of an exhibit comprised of over 22 artists — all adhering to different interpretations of identity.
"The idea is not to make a seamless narrative about how portraits have evolved historically," Patten admits. "It's more to show the fractures and overlapping complexities of identity."
Patten explains that the sense of self in today's age is not as simple as it may have seemed in the past. What it means to be Canadian today, or how gender is thought of today, is very different when compared to our perceptions 50 years ago.
"We wanted to play on those ambiguities," Patten says.
The result is a kaleidoscopic array of paintings, photographs and sound installation as contributing artists explore their own form of self-representation and unique take on what a "selfie" can look like.
For 27-year-old self-taught artist, Angie Quick, identity is tied together with memory. Her two pieces in the show explore the juxtaposition of the personal and the impersonal; the familiar and the strange.
"For me I feel like painting is a mindscape and it's meditative. I like to play on certain things," she says, motioning to her first piece entitled "Heaven is Just a Staircase." The large oil painting is meant to place the viewer in a familiar living room setting but incorporate unfamiliar and almost uncomfortable subject matter.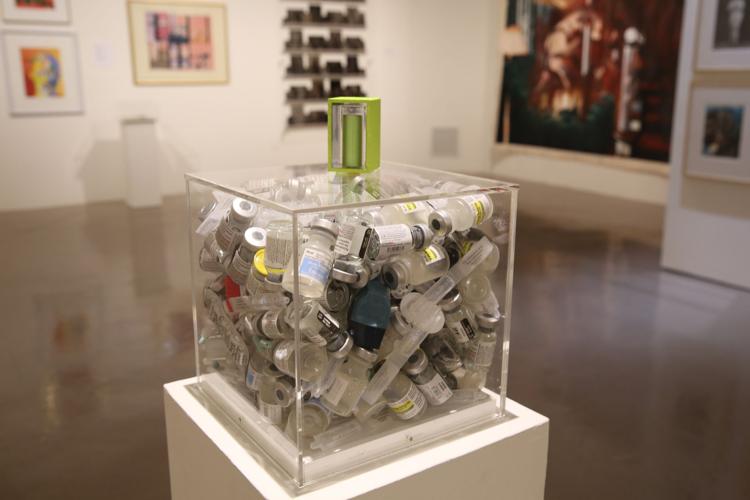 A tangle of naked human forms takes over the centre of the canvas. She elaborates: "A lot of the work that I'm dealing with right now deals with pornographic images…as a female artist I take the male gaze and assert an ownership of it."
Quick's second piece is more personal and reminiscent of more "traditional" portraits, though its subject matter is anything but conventional. What appears to be a couple is depicted in profile kissing. 
She explains, "It describes a relationship between me and a good friend, which is done through long distance writing." The piece is meant to be a metaphor for receiving and holding someone's language by literally taking hold of their tongue, and the intimacy that comes with that.
As Patten says though, the gallery is full of unique ideas of self and portraiture.
Featured artist Gerard Pas expresses his identity using a model to pose as himself with crutches — a physical disability he has grown up with.
"I think it illustrates the concept most clearly," says Patten. "There's that ambiguity that plays in that notion of 'what is self?' and 'what is other?'"
Among the more abstract depictions of self is a work by artist Jamie Q made of cut up jeans arranged as a quilt. Patten explains: "It suggests something of her because she wore the jeans and the wear marks and the fading make it a sort of performative portrait."
Patten acknowledges that the role of electronic media and the selfie has become increasingly popular and changed the way people interact with and approach portraiture.
"It speaks to how the relationship of the artist to the subject, their person being portrayed, is quite often problematic and not necessarily simply a matter of a binary or duality," he says. 
Portraits, Self and Others (It's Complicated) effectively mirrors this idea in a way that is surprising and thought-provoking.
The exhibition will be on display at the McIntosh Gallery until October 29.