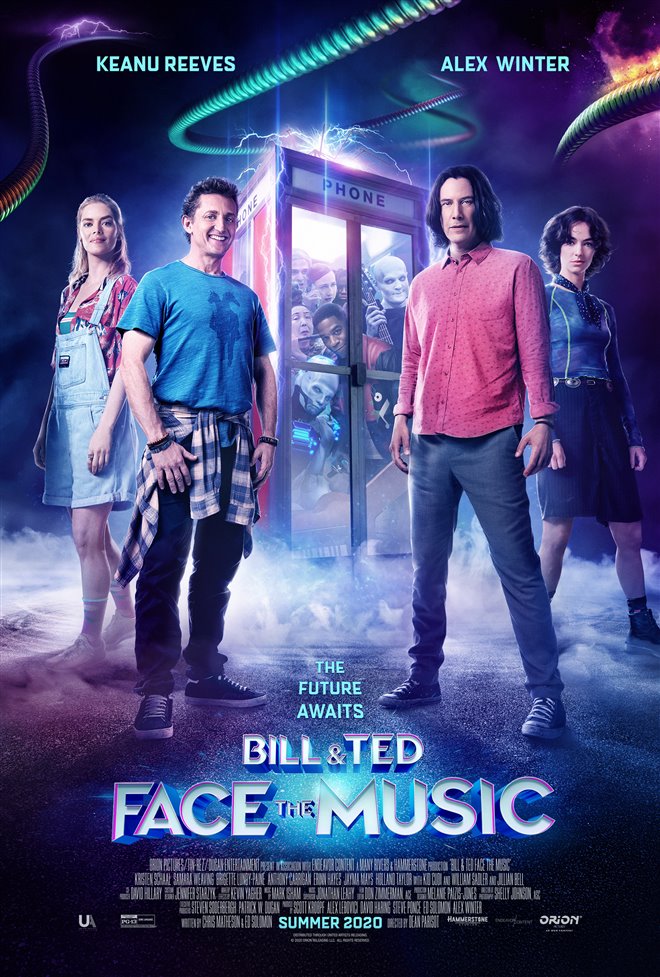 Western Film  will be following all the same precautions as other movie theatres. There will be a maximum of 50 people per show. We typically had less than that in past years so we don't expect to hit  capacity often. While we don't currently have reserved seating the seats are labelled so as to ensure distancing. You can still pick your own seats based on your preferences. We normally seat almost 400 people so there is lots of room to spread out.
Playing Tuesday Sept 15  – Thursday Sep 24 –  @ 7:00 and 9:00 Nightly. No Shows Sunday or Monday.
Rated: PG
100 minutes.
After all these years, Bill (Alex Winter) and Ted (Keanu Reeves) are still close, but still haven't grow up. Their wives even suggest couple's therapy, but Bill and Ted decided to go as a group. One day while at a wedding, Bill's dad, Captain Logan (Hal Landon Jr.). tries to convince Bill and Ted that they didn't time travel. He wants them to stop the delusions and get real jobs in order to be role models for their daughters.
This seems to affect Ted, who wants to give up on their destiny to reunite the world. Bill, however, refuses. This is when they're visited by a messenger from the future and they learn that only their song will save the world. Unsure if they can write it in time, Bill and Ted decide to time travel and take the song from their future selves. Their daughters, Thea (Samara Weaving) and Billie (Brigette Lundy-Paine) happen to see the messenger arrive to speak to their dads and decide they want to help them out. They travel through time to put together the most extraordinary band from people throughout history.
| | |
| --- | --- |
| Director: | Dean Parisot |
| Studio: | VVS Films |
| Producer(s): | Alex Lebovici, Scott Kroopf, Steve Ponce |
| Cast: | Keanu Reeves, Alex Winter, Samara Weaving, Brigette Lundy-Paine, Kristen Schaal, William Sadler, Jillian Bell |
| Writer(s): | Chris Matheson, Ed Solomon |