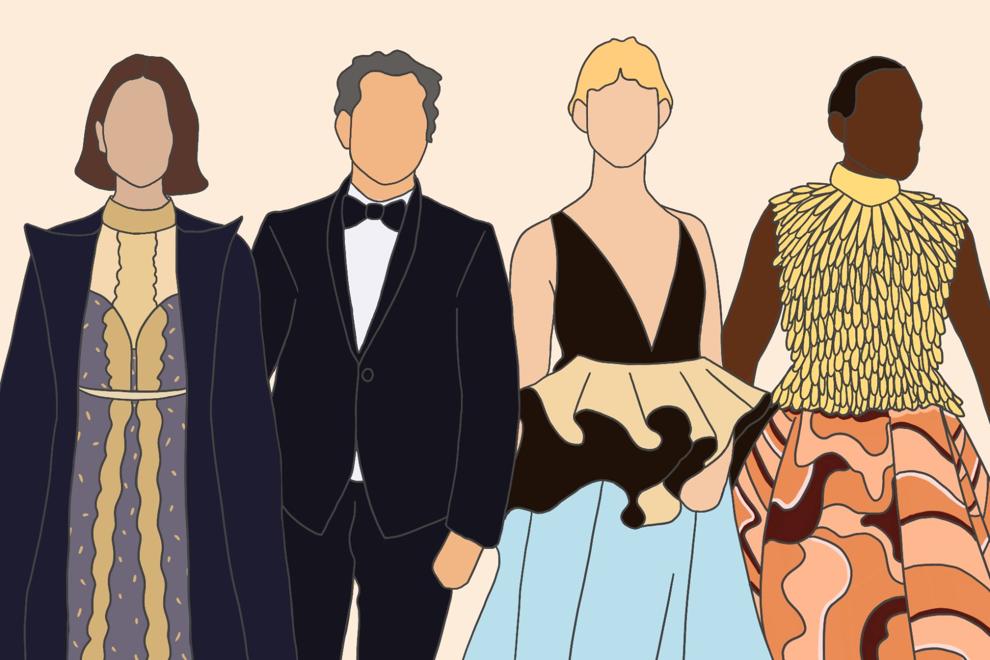 Fashion at the 2020 Oscars: political statements, glittery gowns and sustainability.
The 92nd annual Academy Awards is Hollywood's biggest night of the year and the fashion on the red carpet showed it. There were sparkling silhouettes, strong political messages and the incorporation of baroque-style jewellery to elevate men's outfits.
1. Natalie Portman
PADMÉ AMIDALA VIBES RIGHT HERE.Natalie Portman is everything. pic.twitter.com/JsTgehw5Pn

— 24 Yr. Old Trekkie (@TTrekkie) February 10, 2020
One of the most buzzed-about pieces was Natalie Portman's subtle black cape that draped her Dior gown. The cape, also designed by Dior, was Portman's way of showing solidarity with the female directors who were snubbed in the best director category this year. On it were embroidered names of female directors, including Greta Gerwig, Lorene Scafaria, Lulu Wang and Alma Har'el.
"I wanted to recognize the women who were not recognized for their incredible work this year, in my subtle way," Portman told the Los Angeles Times.
Among the all-male nominees in the category for best director were Martin Scorsese, Quentin Tarantino and Bong Joon Ho, who wound up winning the coveted prize. 
To date, only five women have been nominated for best director. The only woman to win the category in the history of the Academy Awards was Kathryn Bigelow for The Hurt Locker in the 2010 Oscars.
2. Billy Porter
Billy Porter at the 2020 #Oscars 🧡 pic.twitter.com/H4uLz4aa5G

— MEFeater Magazine (@mefeater) February 9, 2020
The Broadway theatre singer and actor has caught attention before with his daring looks — his royalty-inspired outfit for the 2020 Oscars was no exception. Porter turned heads in a sleeveless, gold-feathered bodice with a printed graphic ball skirt. The skirt was inspired by the Cupola Room in Kensington Palace, where the duke and duchess of Cambridge reside.
Porter's donning an outfit with clear conceptual ties to the royal palace no doubt challenges the idea of royalty.
3. Janelle Monáe
That performance though!!! Incredible @JanelleMonae 💯💫👏🏼 #oscars pic.twitter.com/3LIW7DgnMs

— Reese Witherspoon (@ReeseW) February 10, 2020
The singer-actor stunned in a sparkling metallic custom-designed gown by Ralph Lauren which was covered in over 168,000 Swarovski Crystals and custom-designed by Ralph Lauren. Monáe opted for a bright red lip that popped against the neutral tones of the loosely draped hood that framed her face.
Although Monáe's dress dazzled and sparkled, so did she — in her opening performance of her 2009 song, "Come Alive." While on stage, she also called out the Oscars for being "so white."
4. Timothée Chalamet
.@RealChalamet looks handsome as ever at the #Oscars. pic.twitter.com/elPF1hlr6E

— Pop Crave (@PopCraveMusic) February 10, 2020
The actor is considered a rule-breaker when it comes to fashion. In a two-piece designed by Prada, Chalamet rocked a satin, navy blue bomber over a white shirt with matching pants. A brooch by Cartier hung elegantly from his front pocket. Chalamet's look is one among many in a growing trend of men wearing jewellery.
The unique look set Twitter afire, with some users not knowing what to make of his outfit. One user called him "gas station Dracula," while another said he was a "trust fund kid showing up to his parents' funeral."
5. Sustainable fashion
Sustainability in fashion was a noticeable trend too: sustainable fabrics, past outfits repurposed into new ones and re-wears are becoming increasingly common (as they should).
Saoirse Ronan has arrived! Ronan looks stunning in @Gucci on the #Oscars red carpet. See more from the red carpet arrivals here: https://t.co/LMrSlSIqRr pic.twitter.com/bIHBxdcHgi

— Vogue Magazine (@voguemagazine) February 10, 2020
The black bodice of Saoirse Ronan's Gucci-designed gown incorporated material from the black Gucci gown she wore to the BAFTA's a week earlier.
.@KaitlynDever is wearing a sustainable look from @LouisVuitton on the #Oscars red carpet. See all of the latest arrivals here: https://t.co/07Zx7Lfln7 pic.twitter.com/fVDinkSvRC

— Vogue Magazine (@voguemagazine) February 9, 2020
Kaitlyn Dever wore a red gown by Louis Vuitton made from eco-responsible silk satin. She paired it with heels made by Aldo, a climate-neutral Canadian shoe company.
Joaquin Phoenix has worn the Same Stella McCartney Suit to every award ceremony this season in a bid to raise awareness to both sustainability and to remove the opinion that a good outfit can only be worn once. A king. pic.twitter.com/cxgZ4obdx9

— Outlander Magazine (@StreetFashion01) February 10, 2020
Best actor winner, Joaquin Phoenix, opted to re-wear the same one-button, black tux by sustainable designer, Stella McCartney. He had pledged earlier to wear the same tux all awards season, in an effort to be more environmentally friendly.