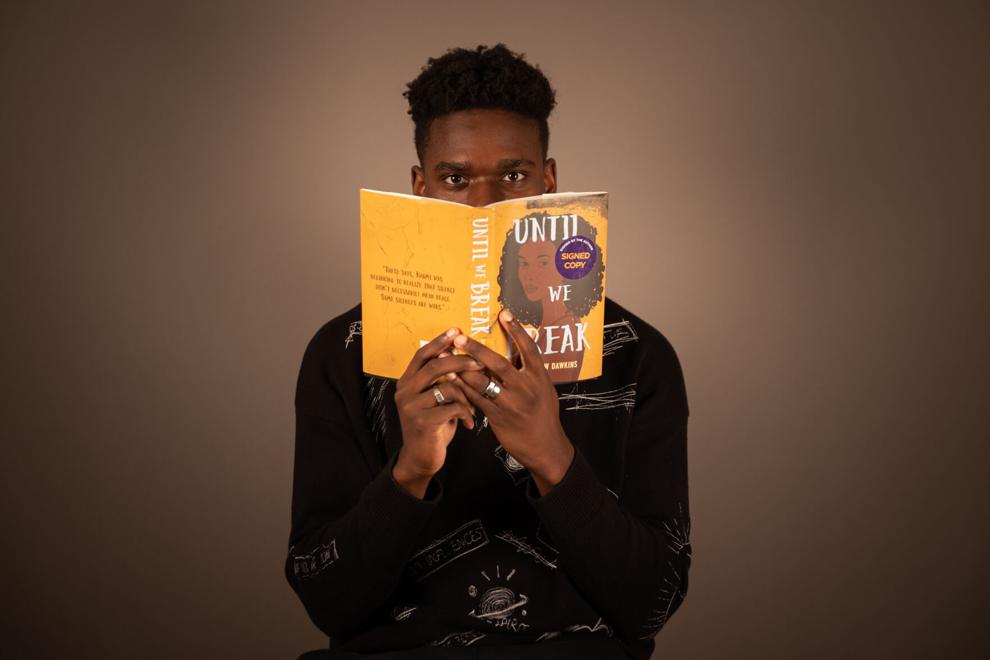 In his first year at Western, starting a double major 2,789 kilometres from his hometown of Portmore, Jamaica, Matthew Dawkins spent his nights writing. One winter night sitting in the D.B. Weldon Library, Matthew got the call that those pages he'd written, the novel he'd spent all those long nights crafting, was going to be published. 
"I lost it, I could not believe it because it's such a dream," Matthew says. "You never think it's actually going to happen."
Fighting back tears of joy, Matthew called his family back home to tell them that, at 19, he was about to become a published author. 
Matthew's debut novel Until We Break came out Sept. 20, and is already sold out at Western University's campus bookstore. The book follows Naomi, a young Jamaican-American competitive ballet dancer who, after an injury, is forced to challenge her sense of identity and self expression outside of dance — dealing directly with themes of race and perception. 
The book is the manifestation of a personal and literary journey that Matthew, now 22, knew would come to fruition. 
In Portmore, Matthew grew up obsessing over every book he could get his hands on. Before he could even read himself, Matthew would beg his parents to read Woody the Woodpecker over and over again before bed. 
Matthew sarcastically attributes all of his literary success to Woody the Woodpecker's inspiration. 
As far as rebellions go, reading too many books was pretty manageable for Matthew's parents, who he says never deterred him from pursuing his passion for literature. 
"They saw the [passion] and they allowed me to explore that on my own terms," Matthew says. "[They] were very much pivotal in that way."
Matthew describes his upbringing in Jamaica as relatively sheltered from the dangerous realities of the island. He speaks about the privilege of not having to take the bus to school, a privilege that many of his classmates at Jamaica College didn't have. 
Matthew vividly remembers the day that a 13 year old boy at his school was killed on the bus for his watch — a memory and lesson in perspective that Matthew still reflects on today. 
"We are an aggregate of our circumstances. The people around us influence and change and transform how we navigate the world," Matthew says. "Those aspects of our lives make up who we are as people."  
It was around this time that Matthew started writing seriously, learning what it would take to make a career out of his passion. He distinctly remembers sitting in math class, blissfully ignoring the lesson as he read book after book. One of those books, Purple Hibiscus by Chimamanda Ngozi Adichie, is the book that he says thematically inspired Until We Break.
Pouring over every word, Matthew knew in that moment that he was going to be a storyteller.
"I was thinking, the way that I feel right now is exactly what I want other people to feel, and that's what got me writing," he explains.
While he got the idea and began writing Until We Break in Jamaica, he wrote the majority of the chapter at the beginning of his first year at Western, uploading them weekly to the popular literary platform Wattpad. After his chapters began to gain popularity, Wattpad began working with Matthew to polish the remaining chapters of what would eventually become Until We Break.
Matthew may be well on his way to literary stardom, but unlike many writers, he says he does not write for an audience. He says that while he sees value in writing for an audience from a publishing standpoint, he believes that it has the "real potential of trapping the art."
These lessons that he's learned along the way, getting his book published as well as working with young writers at Western, will serve him well in his new role this year as the student writer-in-residence. The role has typically been used as a resource for students in the writing faculty for advice, and while Matthew is excited for that aspect of the job, he has his sights set on diversifying the voices in the writing community in London. 
"We need to be diversifying voices and challenging what we consider to be correct art," Matthew explains. "I feel like BIPOC voices, especially within art, are not what we think of as traditional art … because traditional art has been predominantly white."
"What makes art art for me, its ability to affect people. If you read something, or you look at something, or you touch something, and you feel it, it resonates with you. It's art."
A lot of people in this world can write. A lot of them can put words on a page and make them sound impressive. But what makes a writer great, what makes them stand out from the rest, is having something to say.
Matthew Dawkins may only be 22 years old, but he's shown in a few short years that he has a lot to say, and he knows how to make people listen. 
---
Correction (Friday, Sept. 23, 2022, 4:21 p.m.): This article has been corrected to reflect that Matthew Dawkins is 22 years old.