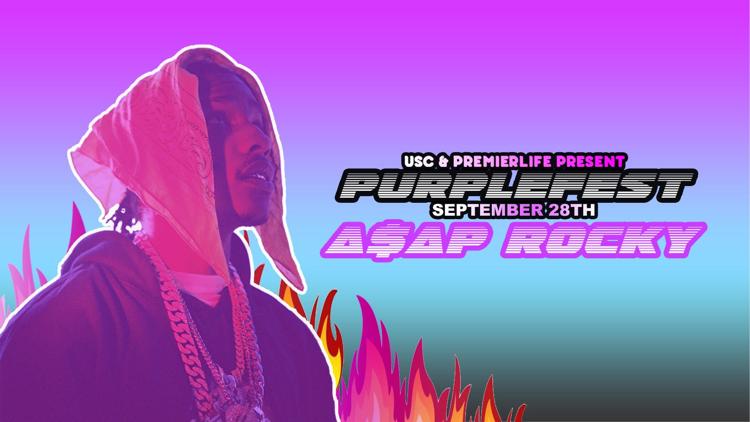 Mark your calendars ASAP, because this year's Purple Fest is about to get rocky.
American rapper A$AP Rocky will be performing as the headliner the same weekend as Western University's fourth annual "fake Homecoming."
The Harlem-based hip-hop artist will be performing on Saturday, Sept. 28 sometime between 10 a.m. to 3 p.m., according to a Facebook event page created by the University Students' Council. The event will be held on campus, though the location is to be determined.
The USC will open a limited quantity of early bird tickets for $49.95 plus service fees this Friday at 3 p.m. If purchasing then, students can bring one non-Western student guest. Incoming first-years can purchase tickets with their student numbers.
A fashion icon and hip hop giant, Rocky's booking tops last year's headliner Lil Uzi Vert. Though both collaborated on a freestyle titled "Rocky and Uzi Freestyle," produced by Metro Boomin.
The member of ASAP Mob is known for his flair for fashion and fondness for psychedelics. He rose to fame through his 2013 debut album Long.Live.A$AP, which features Kendrick Lamar, 2 Chainz, Joey Bada$$, and A$AP Ferg. Rocky then recorded its sequel two years later, At.Long.Last.A$AP, which has guest appearances from Kanye West, Future, MIA, and Mark Ronson.
Going by the nickname "Lord Flacko Jodye II" on Twitter, Rocky has since accumulated several nominations and awards including a nomination for World's Best Male Artist and World's Best Album in 2014. One of his latest collaborations, "Too Many Gods," features Joey Bada$$ and was part of the soundtrack for the latest season of Game of Thrones.
"I'm extremely excited. It's an incredible opportunity to have a world-renowned talent like ASAP Rocky coming to Purple Fest 2019," said Bardia Jalayer, USC president. "We're bringing back Canada's biggest university concert this time bigger and better than last year and we're extremely excited to be doing this."
Last year's Purple Fest saw emo rap icon Uzi headlining, with other performers including Juice WRLD, Murda Beatz, and Loud Luxury.
With the previous year's attempt to stray partiers away from Broughdale Avenue on "Fake Homecoming," the USC held Purple Fest on the same day. Despite their efforts to attract partiers, the London Police Service estimated over 20,000 people crammed into the student neighbourhood.
The USC said they want their students to know Purple Fest is an opportunity to have their celebrations and, if they are of age, there is a drinking section. They said they believe safety is an issue that needs to be addressed, and rather than going to unsanctioned parties on Broughdale, Jalayer says Purple Fest will be much safer.
This year, the USC is planning months ahead to implement better safety measures such as women only spaces, and sectioned-off 19+ drinking areas with special beer gardens put in place. The USC also ensures the location they choose will be a safe one on Western's campus.
"I think with bringing in artists in the calibre of A$AP Rocky, it's going to be a really incredible experience for students to have this sort of opportunity to celebrate their purple pride in a safe space on campus with all of their friends and we just want to make sure we are facilitating that as best as we can," said Jalayer.
Police suspected students still managed to flock to both the unofficial block party and the sponsored concert. Depending on any location changes, that could be mitigated.  
The USC is planning to support this event financially through ticket sales, but Jalayer said the rest of the event's financing should be kept private.
General ticket sale dates and prices will be announced on the USC Facebook page, along with the rest of the lineup, which will be announced in the coming weeks and months over the summer.