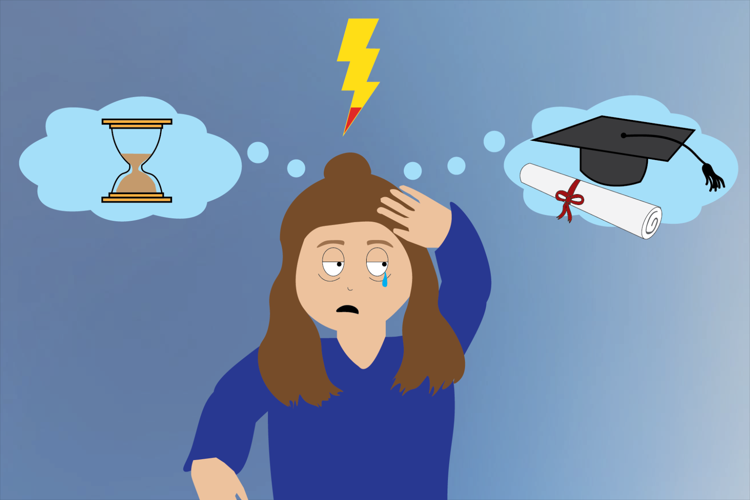 Senioritis isn't just another excuse for being lazy — it's very real.
You're getting closer to those final days of completing your degree and you just can't focus.
Freedom is in your reach.
But don't forget about the several assignments you still have to finish to keep up your GPA so you can succeed in the future.
If you're someone who suffers the evils of procrastination and this experience of dread and lack of determination relates to you on a personal level, you're probably encountering the shortcomings of senioritis.
It exists and feeling burnt out is very common around this time of the year, explains Daniel Ansari, professor of psychology and education at Western University. 
"I think everything you do repeatedly over a protracted period of time is going to lead to exhaustion."
Completing many similar tasks over the span of four years can definitely lead to exhaustion.
And while you may believe this disorder is comical, it can actually have a serious negative effect on upper-year students. Symptoms of senioritis can include uncharacteristic procrastination, skipping classes, dropping grades and a lack of interest in school.
Although it seems harmless, even comical, the truth is that your grades matter. Rushing assignments and being unprepared for exams can negatively impact your prospects down the line.
The effects of senioritis can even be dangerous for students. 
"Burnout affects you physically and emotionally, so it can lead to people just not enjoying what they're doing anymore," says Ansari. "It doesn't just happen in university, so it's something one should be aware of because when it does happen, the consequence can be quite dire."
It becomes a domino effect — one slip-up leads to another.
Ansari explains that a combination of factors can lead to burnout.
"I think everything you do repeatedly over a protracted period of time is going to lead to exhaustion. I also think burnout can be caused by the way which students learn. One of the ways in which students do not learn effectively is by cramming everything."
It can be difficult to continue pushing yourself, even only for a couple more months, after four long years of sleepless nights and back-to-back exams worth 50 per cent of your final grade.
Forbes magazine released an article expressing the impact senioritis has on some American high school students' future paths. The May 2018 article explains that admissions boards of colleges and universities take it quite personally if you "disrespect" their offer of acceptance by appearing to care less.
Canadian universities are no exception.  
A University of British Columbia blog features a post concerning how students can maintain their offers of admission. It states that the school may review a candidate's profile more closely if there have been significant drops in grades.
In fairness, there are students out there who would do anything to take the place of an accepted student and have a spot at a school.
But it's hard convincing a burnt out student to endure the remaining months of the semester when they've worked so hard for the past three and a half years and can't fathom circling one more multiple-choice answer.
According to fourth-year criminology student, Melina Siljdedic, it's not easy to overcome.
"I feel like the energy I had in first year just isn't there anymore," says Siljdedic. "There's almost a lack of feeling overwhelmed, which leaves me less motivated."
But there are methods of overcoming senioritis.
"The best thing is to really allow yourself a break, no matter how much you think you should be continuing to study," says Ansari. "Going outside, taking a walk, meeting up with friends — you need that respite because people who experience burnout will feel like they need to try and press against it. But the burnout is going to win, so you need to give yourself a break."
Removing yourself from your notes is actually good for you, so take advantage of prescribed "procrastination."
"The way in which humans' memory systems work is that it's much better if you do things in a spaced out way — you have brief periods in which you study, then you do something else, and then you return to that material," says Ansari. "It's better to do something for ten minutes and return to it than to do it for an hour — it's called the spacing effect."
Ansari provides a useful resource on how students can use the science of learning to study more effectively: learningscientists.org
By learning to study more effectively, students can reduce feeling burnout, according to Ansari.
Another helpful tip is to try your best to stay on schedule and then reward yourself once you've completed all of your tasks. Instead of allowing yourself to binge watch 12 hours of Netflix, you can do two hours of work and then watch for 10 hours as a prize.
"I joined a yoga studio in January and I find that staying active really helps to stay motivated in some capacity," says Siljdedic. "Yoga specifically teaches me to be more mindful of things going on in my life, and I use it as a break from work.
To all the seniors out there who learned how to drink 10 cups of coffee a day and understand the dire need for 20-minute power naps, hang in there.
The end is near. Keep holding on.