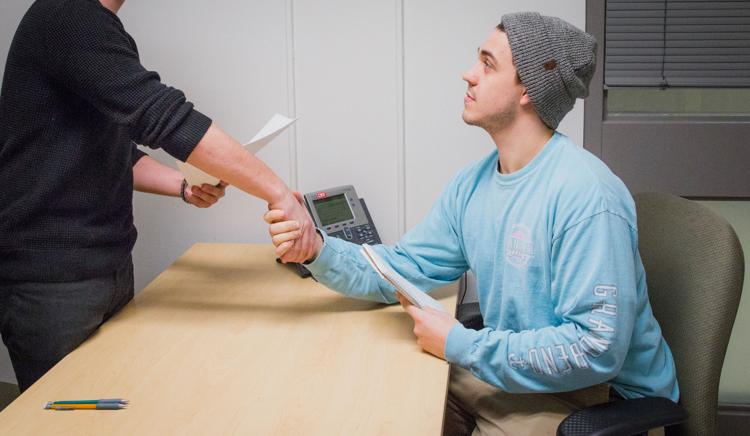 Tell me about yourself.
Leader. Team worker. Someone who takes initiative.
If your answer is this generic, you'll most likely be forgotten among a sea of candidates who thought to say the same thing.
Set the tone.
Interviews are a crucial part of job hunting as they dictate what kind of person you are and whether the employer should want to hire you. Sure, your resumé might be impressive, but words on paper are of less importance than actually being the person your resumé says you are.
"Interviews are kind of like a neutralizing thing," says Karla Pacheco, senior manager people and development of Western University's University Students' Council. "If you weren't going to interview people, you'd just pick people based on their qualifications. So it really is about getting to know people."
The modern hiring process often happens online, so it's likely your potential employer won't know who you really are until you have a face-to-face conversation. But there are a lot of things employers can tell based on a 30-minute questioning — or interrogation — period.
"[Interviewees] are setting a tone for not only how they're going to act in an interview, but as an employee as well," says Susan Malecki, an external recruitment specialist at London Health Sciences Centre. "They have to take themselves seriously in order to take their career seriously."
You're being questioned under pressure among dozens of other candidates, and in as little as 30 minutes, you must impress your employer and prove you've got the qualities and skills for the job while maintaining a good impression.
That means the obvious: be professional and dress the part. But there's also the less obvious: you've got to be prepared, which employees can easily recognize if you're not.
Answering questions with specific examples of experiences shows you've taken time to reflect on yourself and your past. If you have knowledge of the company, it shows you've taken the time to research the organization and the role itself. If you understand your strengths and weaknesses, it shows you've identified the things you need to work on to make yourself valuable in the role.
Listen, speak, repeat
"It's about looking at and understanding how your experiences relate to something that we're offering," says Pacheco. "I think it's really good for interview candidates to prepare and educate themselves on the employer, so when people come in and they have a baseline understanding of the organization, it's a lot easier to have a conversation."
But that doesn't mean you should talk about how much of a leader you are and how much you love the company or organization. Instead, the candidate should be a good listener, ask questions and be prepared to tell their story and talk about their experiences. This doesn't mean just saying what the interviewer wants to hear.
"Make your questions that you really want to know the answers to, because if it's a contrived question, that comes off as programmed," says Pacheco. "The more authentic and good you feel coming out of the interview, the more successful it is."
For most employers, qualified candidates aren't the only thing on their radar. They want to know what kind of person you are and whether you will integrate well into the working environment. Apart from work experience, personality and life experiences tell the employer what kind of employee you'll be.
It doesn't hurt to weave in personal experiences into your answers. They don't have to be career-specific examples, but you can certainly think of something from your time in school, for example. Knowing yourself and being able to showcase experiences or examples on the spot is really important.
'Enthusiasm and excitement'
"Resumés dictate first impressions to a point," says The Spoke kitchen/cafe manager Adam Mortezof. "But I'm really looking for enthusiasm and excitement."
You can have several pages of valuable experience, but depending on the job, it can still fall short. No matter how high your position, any job requires learning — and that willingness to learn sets candidates apart.
"You can always train people and correct people, and skills are always something we can teach and work with," says Mortezof. "But having that personality and being that great team player, being able to work in a team and being able to work independently, is huge."
Even if you don't have tangible experience from previous jobs, highlighting personal skills and education and expressing passion for the company or industry can also help.
Most importantly, what will set you apart from other candidates will be your enthusiasm, passion, ability to come prepared, professionalism, consideration of company values, thoughtful questions, and readiness to answer questions about yourself and the company. 
"Just be yourself," says Malecki. "Sometimes people can over-prepare for an interview, so they're coming up with things they think are supposed to be the right answer, but sometimes, just being genuine and just being yourself and responding to questions the way you really would is the best thing to do."
So go ahead, tell me about yourself.