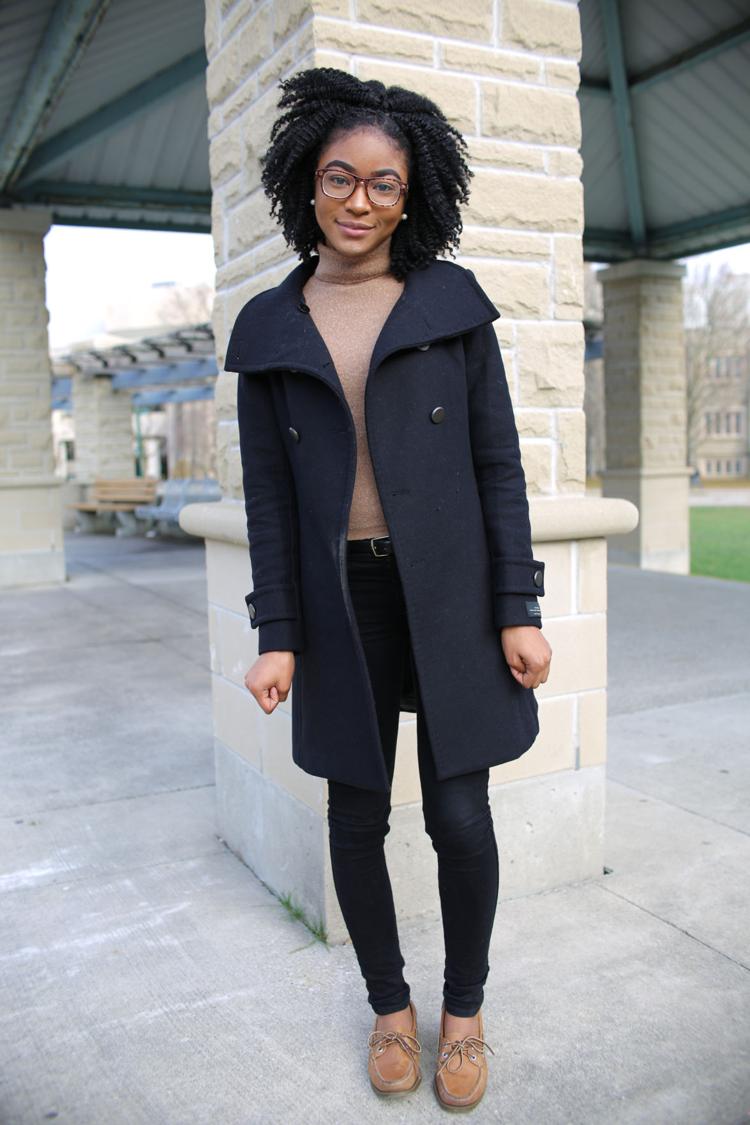 With November drawing to a close, winter and colder weather are upon us. However, we're still experiencing that wishy-washy London late-fall weather. It's pleasant enough during the day to wear a lighter jacket but it turns frigid when the sun goes down. Second-year medical sciences student Kirsten Bloomfield's outfit is a classic example of how to dress for London's ever-changing weather.
Bloomfield employs a neutral colour palate with her outfit. With the colder weather, it can be tempting to dress completely in black, but Bloomfield avoids this with her beige sweater. The colour change is an eye-catching accent that coordinates with her eyewear and her boat shoes, creating continuity in her outfit. Her boat shoes are a great alternative to heavier footwear, such as boots or sneakers, before the snow hits.
Her jacket is her favourite part of her outfit. "It's universal," she says. "It goes with whatever."
The pea coat is a good staple piece to have moving into the colder months. The wool fabric ensures you'll stay warm without being as overbearing as a ski-style jacket. 
Bloomfield ties the outfit together with her simple black belt and her eyewear; the beige and black accents harmonize perfectly with the rest of her outfit.
"Try to be comfortable putting random pieces that you wouldn't think would match together," Bloomfield advises.
By experimenting with combinations you can create whole new looks from seemingly mismatched pieces, much like the unpredictable London weather.
Where to get it:
Shoes: Most shoe stores. Boat shoes are a great alternative to boots on warmer days where you don't want socks to overheat your feet.
Pants: Hollister. Black jeans look classier than regular jeans and can be more versatile, with the same comfy feel.
Sweater: Thrift store. This is a great place to spend an afternoon searching for hidden gems, usually at a lower price.
Coat: Aritzia. Wool pea coats have been on the rise lately and are a great staple to have in your closet.