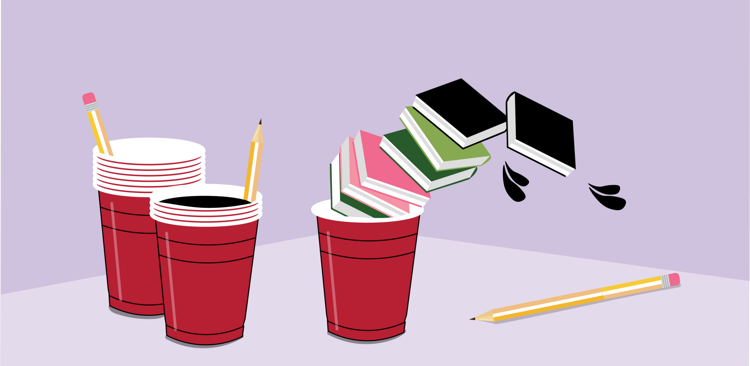 "I tried my first drug and literally could not get enough. They quickly took over my life, and I became disconnected from almost everyone.... I was constantly thinking about how I could get more," says Savannah Schnurr.
Addiction, the state of being physically and mentally dependent on a substance: it's not often associated with university students, but perhaps it's time to re-evaluate. 
Schnurr, a second-year business student at Wilfrid Laurier University, knows this can affect anyone.
Western University professor of psychology Riley Hinson believes that the prevalence and extent of addiction on campus communities is far greater than what one might think. While Western has well-known general psychological resources and support groups, resources specifically targeting addiction, recovery or substance abuse are under-discussed.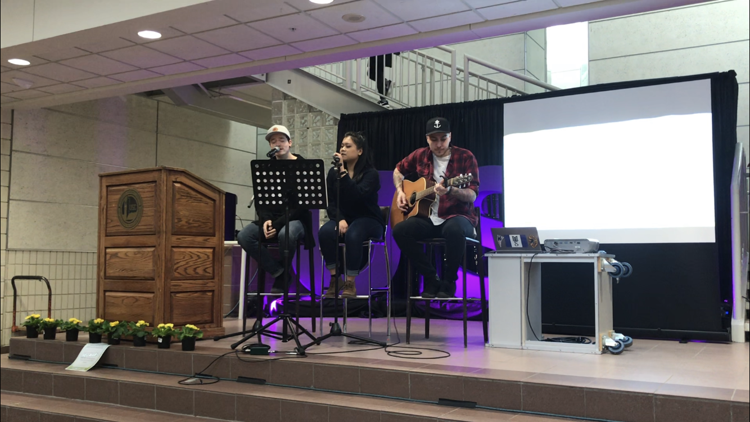 In response to this gap, Hinson challenged the students of his Addiction: Theories and Research course to create a community engagement event providing support for students who may be struggling.
On March 26, a group of students from the course hosted the interactive event, Recovery Addiction Awareness Day. The event, which was the first of its kind, featured guest speakers, live musicians and booths with various resources from the London community. The speakers shared personal stories of addiction and the booths aimed to educate students on recovery outlets available to them.
The event founders, Rebecca Hocke and Taylor Pratt, have seen first-hand the effects of alcohol, drug abuse and the current opioid crisis in London, and they were surprised that no addiction awareness event had previously been held at an Ontario university. The prevalence of addiction combined with the lack of university resources and awareness pushed Hocke and Pratt to close this gap by engaging their peers and raising awareness through RAAD. With the help of executives of the Western University Technology Review — Ally Johnston, Brian Bursic and Mateo Molinaro — the organizing team was able to create an event that fulfilled this goal.
FAVOR Canada, The Salvation Army Centre of Hope and Withdrawal Management Centre, Celebrate Recovery, Addiction Service of Thames Valley, Middlesex London Health Unit and Western's Wellness Education Centre all partnered with the event, setting up booths for students to see how various organizations around London were involved.
The entire event was eye-opening as an uncommon community of resources unknown to Western students were provided in the UCC to kick off the process of de-stigmatizing student addiction. 
The most impactful part of the event was undoubtedly the hour-long panel featuring an honest and candid report between students and two recovering addicts, Katelyn and Macall*.
A group of about 20 students gathered to listen to Katelyn and Macall reflect on their time struggling with addiction while at Western.
Macall identified the root cause of her addiction as being the pressure to be perfect. She also mentioned that she felt she didn't fit in.
"Anytime I had a substance was the only time I felt OK in my skin," Macall recalls.
Katelyn connected with Macall on struggling with perfectionism and described the overarching theme of her addiction was fueled by substances being used as her crutch.
"I was not able to cope in school, and drugs were my solution," she says.
Katelyn continued to describe her time battling addiction while at Western, and her statements are, ironically, sobering.
"I used substances to cope as a student, and that translated into using a different substance to achieve whatever it was I needed in the moment: Adderall to study, alcohol to party, weed to sleep," says Katelyn.
Schnurr cites using substances for similar reasons to both Macall and Katelyn. She describes using alcohol as a means to fit in and feel comfortable as well as a tool to achieve academic success.
"I felt like [drinking] made me more interesting, and it was easier to socialize. Adderall was one of the very important ones that was in school culture, but I used to kind of just make me smarter in a sense: to help me focus and help me study," says Schnurr.
One of the problems, as Schnurr explained, was that it was all too easy to get a hold of her drug of choice.
"I found them extremely accessible.... I went to my first party [at university] and I saw people in the bathroom doing cocaine, and I was just instantly like, 'oh, where'd you get that?' " says Schnurr.
On the topic of entering recovery, Katelyn remembers the process being extremely difficult and taxing.
"The hardest part was acknowledging I had a problem. Being in recovery on campus, I didn't feel like there were any resources," Katelyn states.
To give context to her struggles, Katelyn told a story of breaking down while studying in the library. No longer having access to substances to cope, she became overwhelmed by her workload and began sobbing in her cubicle. 
While most students would turn to Netflix or a late night pizza run to help them de-stress from studying, Katelyn, in only her second year of recovery, had to access a much different resource.
"I ended up having to call my sponsor," she says.
Wrapping up the prepared panel questions, Hocke and Pratt opened the floor to the audience.
Third-year history student Matthew MacDonald introduced himself as someone entering the process of recovery and asked the panelists if they could recommend any resources directly on campus for him to access.
"Attending AA is nice and all, but I think it might be a little more effective and comfortable if I could find support in my peers as opposed to 65-year-old bikers," MacDonald says with a laugh.
Katelyn also empathized with MacDonald, recalling a time after one of her final exams where peers invited her out for wings and beers — what should be a fun and non-stressful outing for most university students — but was a triggering moment for Katelyn.
"I remember feeling like it would've been so nice if I had a group of people my age to turn to at that time to hangout out with where alcohol didn't have to be involved," she says.
The panelists believe that the lack of resources for addiction and recovery is associated with the stigma surrounding it. One such major stigma that addicts face is the misunderstanding that addiction is a choice.
Schnurr finds this misconception to be the most plaguing and wants peers to understand that when she is struggling or relapsing, it is not from a lack of effort in her recovery process.
"I want people to know that [addicts] have an illness and not a choice, right? The main point is addiction is an illness and is just not a choice at all," Schnurr says.
Professor Hinson also stressed the difference between how physical illnesses are treated in comparison to addiction. With physical illnesses, whether it's a broken bone, a virus or cancer — it's very clear who, where and how to get help. Society empathizes and supports those with normalized physical conditions.
"That's not the roadmap for addiction," says Hinson.
The difficulties and nuances surrounding those struggling with addiction and recovery is what fuelled the passion Macall and Katelyn used to share their stories and inspired Hocke and Pratt to create RAAD.
"This is a really great event to begin shifting the conversation," Macall remarks.
For those questioning whether they or someone they know might be participating in substance abuse, or are trying to separate normal university behaviour from having an addiction, Katelyn responded that although she can't speak specifically to anyone else's experience but her own, she believes that the defining factor of substance abuse is when an individual feels the need to use a substance to function.
"What are the motivations behind using? Is it their only coping mechanism? If you are trying to convince yourself you don't have a problem, you probably do," she says.
After acknowledging you may have a problem, the panelists urge that the next step is to find support.
"I isolated myself and burned bridges for over a year," says Macall. "Don't do that. Make at least one connection with someone who is healthy and reach out for help."
If you recognize any of the forms of substance abuse outlined in this article in yourself or one of your peers, a comprehensive list of resources available at Western and in the London community is attached below. This list was compiled by Rebecca Hocke and Taylor Pratt.
*Last names have been omitted for anonymity.