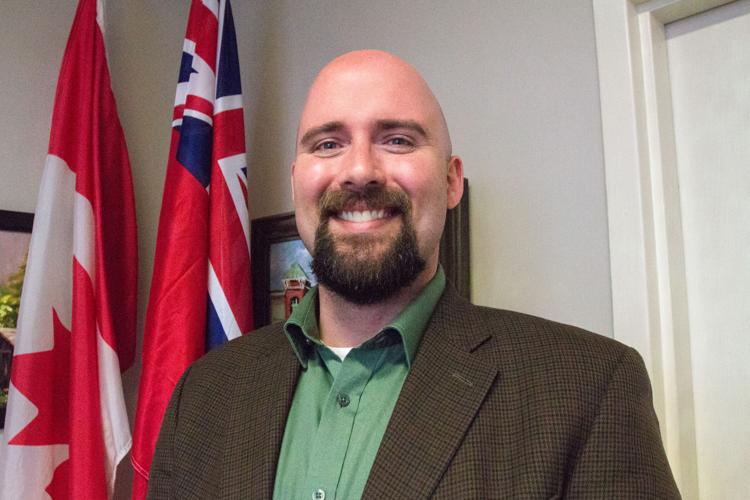 Western alumnus Terence Kernaghan has always been a familiar face in London, often seen gripping a picket sign or a megaphone outside of City Hall or Victoria Park, participating in a number of social justice protests in the Forest City.
While he's well over six feet tall, it is his soft-spoken yet powerful voice that stands out during each protest he attends — whether that be the March for Trans* and Intersex Rights, the march against Ontario Premier Doug Ford's mandate on Ontario universities to create freedom of speech policies or, most recently, the student rally against Ford's post-secondary education cuts. 
"One of the reasons I got into government was because I felt that our province was taking a very scary turn," says Terence, who is currently serving as the New Democratic Party MPP in London North Centre and the official opposition critic for LGBTQ Issues at Queen's Park. "We need to make sure that we're standing up for others. The most important thing we can do here as human beings is ensure that we support others." 
While he views the cuts that the provincial government is currently making to education, health and wage distribution as regressive and heavy-handed, he uses his disapproval of the Progressive Conservative Party's actions as fuel to keep pushing forward.  
The former elementary school teacher is not afraid to question the provincial government, even in the face of what he thinks is an absolute disaster. 
Standing head-to-head with Ford at Queen's Park in early November, Terence asked the Premier if he'd be attending the Transgender Day of Remembrance flag raising, but was swiftly turned down, without even a response from Ford. 
"He refused to even dignify it with an answer. He passed off the direct question. It made me feel completely disregarded," says Terence. "That's how he's made the entire LGBTQ community feel."
Terence, who graduated from Western with distinction in English and visual arts, wasn't always planning on going into politics. Since the age of 10, he was interested in pursuing a career as a minister in the Anglican church. But the MPP did not regularly attend a  church congregation, and took up the study of religion on his own.
"I read the Bible quite extensively, and it's not so kind [to] LGBTQ individuals, or women for that matter. A lot of that was internalized," says Terence. "There was that internal struggle of wanting to become a minister and not fully being accepted by the Anglican church at the time. They've come a great deal further, but it was tough at the time."
As the first openly gay MPP in London and a former teacher, Terence offers a unique political perspective during a time when LGBTQ2+ representation doesn't seem to be a priority for provincial government officials. He was particularly frustrated after catching wind of the the Progressive Conservatives' controversial rollback of the health and physical education curriculum for elementary students, which he finds discriminatory and counter-intuitive. 
Terence believes that when students see themselves reflected in the curriculum, they thrive both emotionally and educationally.
When teaching a former grade 8 class about consent, Terence brought in community members to share their stories, which he describes as moving, upsetting and powerful. After one woman told her story about the abuse she had suffered, he asked his class to write a reflection paper based off of the messages they had heard.
One response left the former schoolteacher considerably optimistic about his educational practices. It read "I never knew that I could accidentally hurt someone."
"I thought, 'Wow, there's someone who understands it,' " says Terence. "That's going to inform all of his relationships in the future; he can share that information with all of his friends. Sexual assault is something that can totally change someone's life. The more that we can educate and the more that people understand consent, it's a beautiful thing."
His optimistic attitude is the reason he'll continue to watch the provincial government like a hawk and fight for values he holds close to his heart.