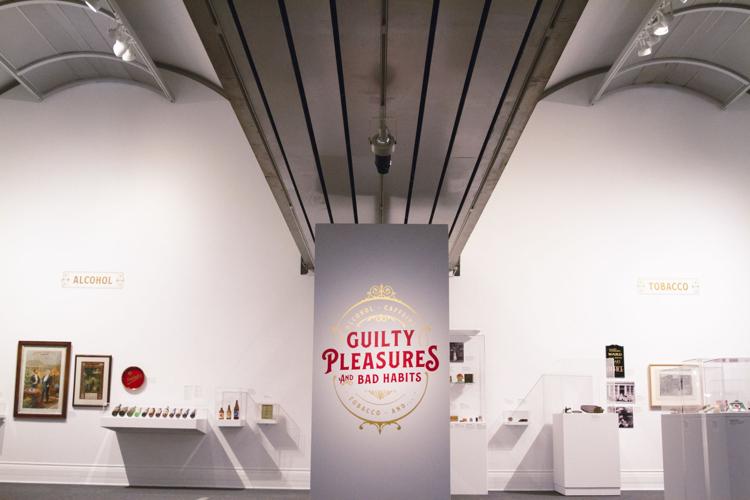 When it comes to vices, the Canadian student's trifecta is simple: alcohol, tobacco and caffeine are common indulgences for many Western students. By day, frazzled, sleep-deprived students clutch Timmie's coffee cups; at night, it's a familiar sight to see partygoers with red Solo cups in hand. But it wasn't always this way.
Museum London's Guilty Pleasures and Bad Habits: Alcohol, Tobacco, Caffeine, and … exhibit is an exploration of humanity's relationship with three of the most prevalent vices. More than 150 artifacts weave together the controversial tale surrounding the production, consumption and culture of these three substances, set in the backdrop of London, Ont.  
Amber Lloydlangston, curator of the exhibit and regional historian at the museum, was inspired to create Guilty Pleasures by the museum's collection of over 150 artifacts, some dating back to the early '60s.
"I wanted to explore the history of some of these things that we now either think we shouldn't like as much as we do or we have a love-hate relationship with, and I just knew that there was a very interesting social history behind our consumption of all of these things," says Lloydlangston.
Beyond the historical significance, Guilty Pleasures explores the cultural importance of alcohol, caffeine and tobacco, as well as their developments as symbols of socio-economic status and gender divides.
"Is alcohol really the source of all bad behaviour in society? They thought that if we get rid of alcohol, poverty will go away, criminality will go away, wife and child abuse will go away and all of a sudden we will enter a new utopia." Lloydlangston says.
As Canada teeters on the edge of marijuana legalization, Guilty Pleasures sends a strong reminder about the often bloodied history behind controlled substances. Lloydlangston's favourite piece, a "Death to Alcohol" banner, is iconic of Canada's prohibition movement and the long-fought battles that resulted in the creation of the LCBO.
The exhibit easily transcends into modern day, showcasing some of today's most relevant pleasures — striking displays of candy, chocolate and an artisanal bong. 
The true beauty of the exhibit lies in its invitation to the audience to engage with the exhibit by sharing personal experiences. The last room of the exhibit, invites visitors to share their own guilty pleasures. White cards adorn the feedback wall, with comments like "rough sex," "Nickelback" and "smoking weed while naked" as three of the most popular mentions.
Lloydlangston is thrilled with the outpouring of support from the London community.
"We can all relate to having a guilty pleasure. In fact, one of the things I did to support the development of the exhibition before, while I was in the early stages of it, I actually asked people to share their guilty pleasures with me."  Llloydlangston says.
Guilty Pleasures and Bad Habits: Alcohol, Tobacco, Caffeine, and … is on at the Museum London until April 29, 2018.