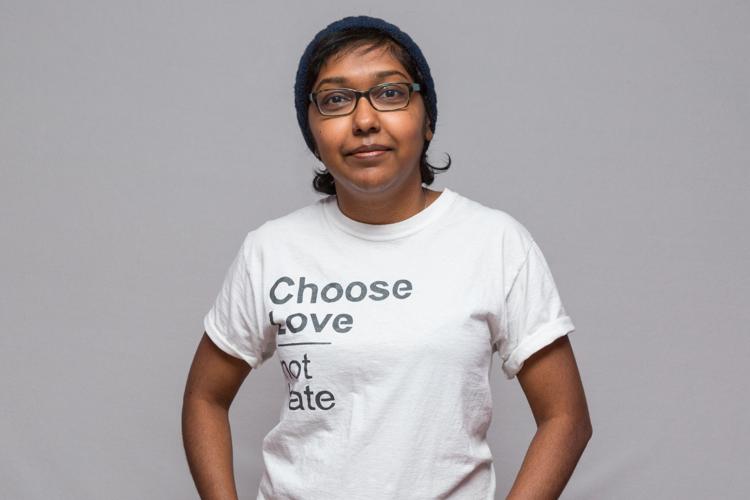 In one conversation with Alicia Samuel, it's clear she's motivated, opinionated and fearlessly charging forward to create a stronger support system for LGBTQ2+ youth in the London community. Alicia's action takes many forms, but the two main avenues are her charitable foundation Queer Events and her radio show, Rainbow Radio, at CHRW. 
The drive and passion the English major exhibits is the product of an unfortunate start to her life as a Western University student.
"I was actually at Brescia [University College] years ago, and I experienced so much harassment and intimidation that I actually had to take time off," Alicia explains.
Although she was underwent this social trauma, she's doing her best to ensure others won't find themselves in the same position. A desire to create a stronger LGBTQ2+ London community led her to co-founding Queer Events in 2016.
According to their website, the goal of Queer Events is to create "a more connected, stronger, welcoming and accessible LGBTQ2+ community."
Since the charity's inception a few short years ago, the foundation has collectivised events online for the London LGBTQ2+ community. Queer Events has been so successful that they are now planning their own events; for example, the organization is currently in the process of planning a second annual queer prom.
Alicia explains last year's event drew more than 300 Grade 7 to 12 youth from London and the surrounding areas. In fact, some students even commuted from outside the London area just to have a chance to meet their peers.
"We'll hear comments like, 'I forgot what it was like to be this happy,' or, 'I didn't think there was anyone else out there like me,' " says Alicia. "It gives the kids an opportunity to see [they're] not alone." 
A lack of community is unfortunately something that extends farther than just high school. According to Alicia, LGBTQ2+ students at Western are often left out in the cold.
"There's still a lot of discrimination. There's still a lot of things that need to change," says Alicia. "It happens when you have profs that are [of] a certain mindset, and they'll make comments in the class that are homophobic."
"It's hard when you try to speak up about it but no one listens. Or they tell you there's nothing they can do." 
Even more than the university, though, Alicia explains these systemic issues extend to the London, and Canadian, population. 
According to Alicia, if change is to ever occur, it will require a shift in a collective complacent mindset. 
"Everyone thinks, 'OK, we have marriage equality; it's in the media: there are a lot of queer representation in movies and TV.' But, that's not necessarily true," said Alicia.
"There's a trope where, if there's a lesbian on the TV show, within three episodes they're going to get killed off dramatically; they never have the happy ending, you never see queer relationships with a happy ending. And if you do, they're very few and far between."
A need for vigilance and awareness across LGBTQ2+ causes has led to Alicia's careful observation of the content played on her show at CHRW. On Rainbow Radio, music will only be played by artists that are a part of, or allies to, the LGBTQ2+ community. As a result, Alicia keeps a close eye on all public comments, making sure she does not play music from problematic sources.
"I do so much research to ensure that the allies that I play haven't made transphobic comments or homophobic comments," says Alicia. "We will actually cut an artist if it comes to light that they've done something."
On the brighter side, Rainbow Radio allows Alicia to introduce Queer Events to the Western community. On the show, DJ Trini — her stage name — helps to broadcast events happening across London.
Balancing a charitable foundation, her own show at Radio Western and a full course load ensures that Alicia is always on the move. And, to this point, it hasn't become routine.
"It's really hard. It's very hectic. I don't know that I have found the perfect balance for it yet," jokes Alicia.