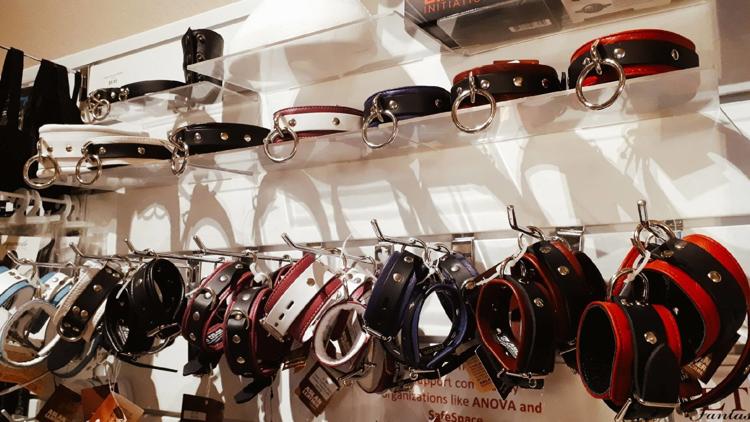 BDSM, representing bondage, dominance and submission, sadism and masochism, isn't all Fifty Shades of Grey cuts it out to be.
BDSM has become a household term thanks to the popular franchise, but it's not all contracts and private jets like the movie. In fact, according to Mina*, a fifth-year microbiology and immunology student interested in BDSM, the movie only perpetuates stereotypes.
"I think it puts a lot of expectations on the male side of a partnership to have knowledge or be a specific role in a relationship," she explains. "And I think that it really doesn't play to men who want to be dominated or to men who want to switch."
Although she's glad the movie has piqued an interest in exploring sexuality, she hopes people don't take the movie at face value. Her biggest concern isn't with the unrealistic nature of Christian Grey's demanding contracts, but rather with Anna's, the protagonist of the franchise, lack of education and research on BDSM.
"She should be educating herself as much as he's educating himself," Mina exclaims.
Similar to studying biology, Mina makes sure to read up on new BDSM activities before attempting anything. After stumbling upon a kinky adult book series as a teen, Mina was interested in BDSM as a sort of secret fantasy. She only started to actually consider it as a realistic option after reading everything she could on the topic about two years ago.
"You would never want to jump right into a scene, in my opinion, because there's a lot that could go wrong. You can never learn too much about something, even with something like rope play;… there's different types of rope stitch," Mina says.
Doing research is important even in a situation where people assume they know what to do. As Mina explains, rope play seems simple enough, but you may end up using the wrong kind of rope if you don't research it beforehand.
"If you use a silk rope, that knot's going to tie really tight, and you're potentially cutting off circulation, so you don't want to use a silk rope," she instructs. "Same thing with cotton; you want to use a nylon rope or if you want it to be a little scratchier, you want to use a hemp rope."
Mina conducted most of her research online and by connecting with members of the local BDSM community. She mentions the website FetLife as a sort of Facebook for kinky people, allowing members of the community to connect online — either to meet in person or to spread factual information about how to safely explore different fetishes. About once a month, people interested in BDSM meet for a munch: going to lunch together to form a community and disseminate information.
Mina has had a positive experience with the online BDSM community, saying that BDSM has forced her to become more open about discussing sex. Communication is a key pillar in all sex, but especially when there's kink involved. Exploring fetishes requires open communication and conversation between partners. Mina says that this increase of connection has made her more confident sexually and, overall, more sex-positive.
"I think sex-positivity is all about BDSM. Because to be able to be submissive to someone, you have to be really confident in who you are as a person and confident in your body, and you have to be really trusting in the other person," she says. "And same thing goes for being a dom; you have to gain that trust — you have to give that trust back to them."
Mina also attributes this growth of confidence to the focus on pleasure in BDSM. Since there is the opportunity to openly communicate sexual preferences, whether that be pleasure or pain, there is an increased focus on performing acts tailored to their partner's likes and dislikes.
"Female pleasure is way destigmatized in BDSM. When you're doing things like, you know, licking feet or anal or dripping wax on someone,… all of a sudden, the vagina is not so intimidating. It sort of normalizes [female pleasure] a bit more."
That's not to say that BDSM is completely stigma-free in society, but Mina suggests that members of the BDSM community like it this way. She suggests that part of the fun is knowing you're partaking in something subversive to society.
"You get a bit of a high from doing what's not allowed," she suggests. "Like when you're a kid and you steal from the candy jar. It's not candy, but what you did was bad, and it gives a little bit of extra sweetness to the candy because you had to work for it."
BDSM is about consent, communication and safety as much as it's about enjoying pleasure, which is often a misunderstanding both within and outside of the community. According to Mina, the main point is getting to explore the taboo part of society and sex.
"[BDSM]'s not, in my opinion, even necessarily about sex; there's a lot more about the lead-up to sex and the activities and the connecting to each other and the give and take of the control and your interaction with that person," Mina says. "And then, you know, if you have sex afterward, that's cool."
* Names have been changed to protect the privacy of individuals