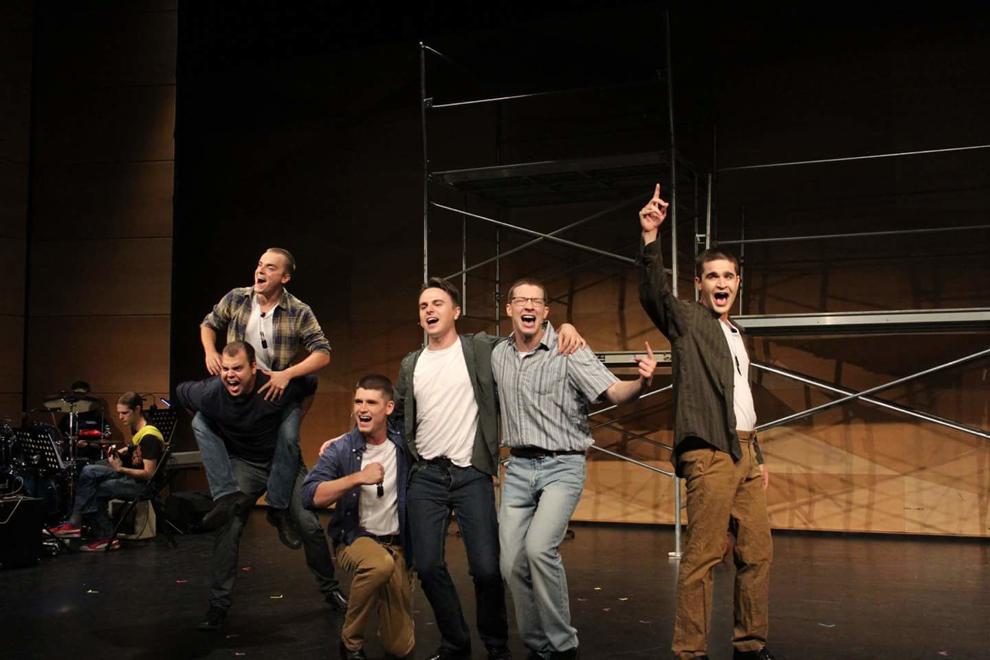 Director and Western alumni Hailey Hill met her creative partners on the set of King's Players' The 25th Annual Putnam County Spelling Bee in 2016. The trio worked so well together — Hill describes it as "the perfect partnership" — that they decided to start their own production company after graduation: Allswell Productions.
Hill partnered with Christine Gruenbauer, producer, and Ben Lebovitz, musical director, to create Allswell Productions. The trio began their creative endeavours just after the passing of Gruenbauer's mother.
"She wanted to do something to make her [mother] proud," Hill says. "[The company] is named after her mom's favourite saying, 'All's well that ends well.'"
Allswell's inaugural show, Dogfight, is based on the book of the same name by Peter Duchan, and it is an adaptation of the 1991 movie directed by Nancy Savoca. The modern musical first premiered in 2012 and had previously never played in London. The show also features music by composing duo Benj Pasek and Justin Paul, the musical geniuses behind La La Land and The Greatest Showman.
The story follows U.S. marine Eddie Birdlace (Stephen Ingram) on his last night before leaving for combat. Following army tradition, the marines plan a "dogfight" in which the men compete to see who can bring the ugliest girl to a party. Birdlace picks the awkward Rose (Kate Deman) but regrets bringing her to the competition as he begins to fall for her.
The cast fit their characters beautifully and the chemistry was as harmonious as their voices. Marines Birdlace, Bernstein and Boland, affectionately nicknamed "The Three Bees," create a fun, boyish atmosphere as they dance, while also using their position as marines to highlight the problems with toxic masculinity and their ideas of heroism and entitlement.
The characters use this concept of heroism to justify their actions, but ultimately the musical turns this idea on its head and demonstrates that their misogynistic traditions  are wrong. Songs like "Hometown Hero's Ticker Tape Parade" begin celebrating this idea of heroism, but a chilling scene of sexual assault occurs during the song, turning its ending sour: the heroes the play lauds become symbols for misuse of power and entitlement.
As Dogfight features a mostly male cast dealing with ideas of toxic masculinity and sexual assault, Hill says that having a female creative team was especially important with this show. The show encompasses the values of this new theatre company: it's both witty and focused, bringing a new branch of theatre to London, and they pride themselves on their creative team of young people, specifically young women. 
"What's really scary is that if you strip away the fact that this show takes place [during the Vietnam War], the plot of this show could absolutely happen today," Hill says. "Living in London, Ontario, Christine and I have dealt with our fair share of catcalling and sexual harassment, and we just wanted to highlight that in the show."
The musical closes with a chilling depiction of the Vietnam War, completely changing the tone from the rowdy '60s style opening. The war goes from piercing silence to the overwhelming chaos of battle.
Besides bringing in personal experience, Hill explains she wants the scene to be authentic.
"We blocked [staged] it in a way to make people genuinely uncomfortable so they realize that it's not OK," she says. "I've seen it done before where there are jokes in it, and they highlight the jokes as comedic relief; I didn't want comedic relief in that moment because it's not funny."
'Dogfight' by Allswell Productions
As young people, they believed it was important to create their own company instead of pitching their show to a local group. Hill explains that she had a specific vision for Dogfight, which she has been interested in for many years, and she had concerns that a different theatre company wouldn't realize her vision.
"We didn't think that anyone would take us, as youths, seriously," Hill states.
Allswell Productions sets themselves apart from the London theatre community by offering a more contemporary take on musical theatre that is both for and by young people.
"Not many theatre companies are doing contemporary, modern musical theatre," Hill says. "You have [Musical Theatre Productions] which is doing the classics like Hello, Dolly!, and The Palace [Theatre] is doing Beauty and the Beast. They're doing big classic plays and musical theatre."
The cast is made up of actors with pop-style voices rather than classically trained musical theatre singers. With its group of voices that have been overlooked by traditional production companies, Allswell Productions produces theatre for a niche audience who may not typically be interested in musicals.
"If they're given this show, they can really shine,… so it's just giving youth in London, Ontario the type of show that they can shine in," Hill says about her cast.
Both the cast and the creative team are primarily made up of recent Western University graduates who participated in Theatre Western and King's Players as students. Hill jokes that this is "the theatre group that is in withdrawal from leaving Theatre Western."
Although Hill does not know what the future holds for Allswell Productions, it's safe to say the audience can expect great things.