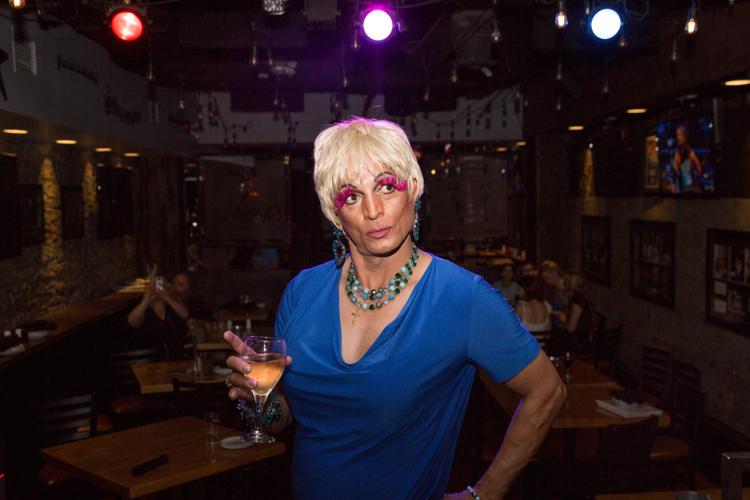 WARNING: Explicit, racially and sexually invidious language may offend some readers. These words are used in an attempt to authenticate Mz Affra-Tighty's lived experiences. She supports the usage of these words in this article.
"I'm here looking smug and nobody knows your damn name," Mz Affra-Tighty shouts to rousing applause.
On stage, Mz Affra-Tighty, an "older than 30" London drag queen, expresses a craft she's long honed: a performance built through a life stretching across Canada, among lovers and racists, fans and detractors, as hosting last Thursday's Bitchy Drag Queen Bingo at Fitzrays showed.
She was a one-person float in this year's London Pride Parade — a testament to her grip on London's Pride scene. In drag, the godliness, confidence, racism and anxiety which pervades her life flourishes into a presence simultaneously present and distant. Sweeping her arena, Mz Affra-Tighty blurs the lines of our everyday.
---
"I am mannered," Mz Affra-Tighty says from her living room sofa.
Both the cheek kiss she greets with and the dangling jewels around her neck and wrists confirm this.
Having etiquette is a reflection of value, she says. Rejecting the casual cussing of today's youth — "Is [their] dictionary broken?" — she adheres to a civil code supported by her Catholicism and the British monarchs whom she closely follows.
She's "old school." That's why no one sees her out of dress before a performance. She meets me at the door in full drag: seeing behind the proverbial curtain lessens the illusion.
Apparently, RuPaul's Drag Race devolved today's younger drag queens by showing contestants out of dress. She'd later tell the Fitzrays crowd she couldn't be a contestant because "[she'd] knock all those bitches out."
This toughness, while funny on stage, is also for day-to-day survival as a queer Londoner. She discusses attacks on London's queer community in the way most people discuss weather. Being a black drag queen doesn't play as well with bigots as it does during bingo. She recalls being mugged, hit with milkshakes, having bleach sprayed on her clothes and being passed on by a cab.
One time she was mugged in the street, her jewellery ripped off of her. She returned later to pick up the scattered beads.
She says a drag queen peer was assaulted by a cab driver while riding in the passenger seat. Since, Mz Affra-Tighty only sits in the back.
This life, behind the dresses and jewellery, the flippant remarks and sarcasm, wears on her.
"It's terrible at times. It can be really terrible," Mz Affra-Tighty admits. She cites "nigger" and "fag" as noteworthy slurs.
Only children look when people hurl insults. She worries assailants are getting "cocky" with political happenings in Ontario and the United States, creating an environment of fear rather than inclusivity in the queer community.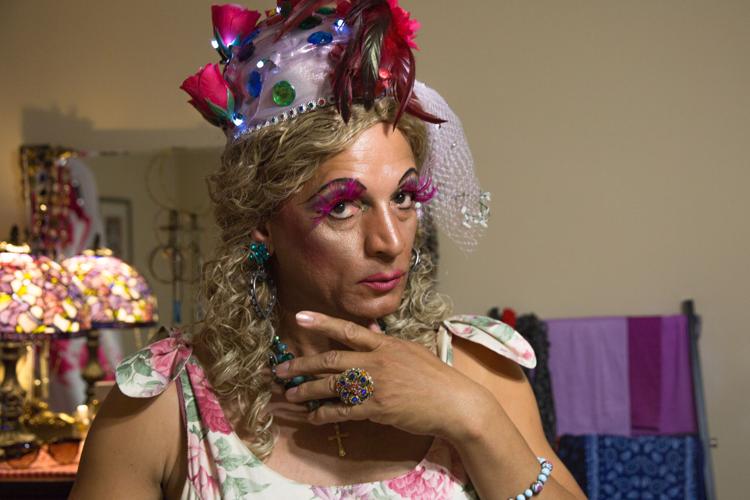 As a child immigrant from Germany, someone who's spent time in Vancouver, Brandon, Manitoba and now London over 20 years, Mz Affra-Tighty experienced drag over decades in socio-politically diverse spaces. She lived in Brandon — "terribly racist" — and then Vancouver for three years between stints in London where she's been for the past nine.
Bitchy Drag Queen Bingo will be one of at least four fundraisers she does this year, with next year the twentieth year running she's held one. Fundraising is Mz Affra-Tighty's passion and favoured tool of protest in a community where some see her as lesser.
---
We're late leaving for Fitzrays.
"It's OK. We're on drag time," she assures me.
But as the main host of Thursday's bingo and two other London Pride events, we're more so on "Mz Affra-Tighty time."
The evening is sexually fluid. Attendees, enamoured by Pride London's outlandishly charismatic drag queens, offer their fives, tens, twenties and fifties for prize table items and a night unlike most.
The performance raises $1,900 for London's St. Leonard's Community Services, an organization offering at-risk individuals social support. During bingo, Mz Affra-Tighty describes a time at Tim Horton's when a young adult, once a St. Leonard's child and someone who benefited from her fundraising, hugged her and said fundraising support gave them the tools to pursue a stable career in construction.
Moments like these keep her returning — these and an admitted desire for attention. On-stage she directs a message at detractors, whether within or without London's queer community:
"I'm a big, black drag queen. I don't care. For service, please press... oops! The number's out of service."
Update (3:24 p.m., August 2nd): the caution tag on this article was expanded to specify the language used and to include Mz Affra-Tighty's perspective. The Gazette apologizes to readers who did not expect the level of offence in the article's language.