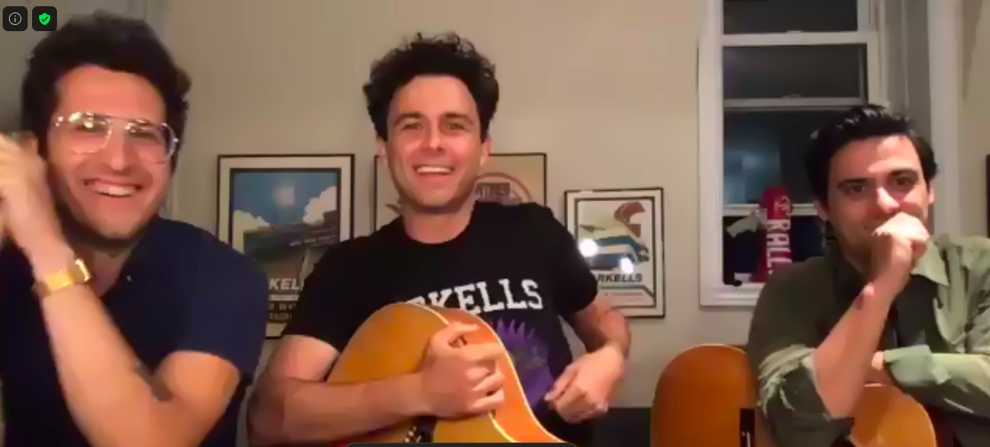 OWeek may be online this year, but that didn't stop Hamilton band Arkells from rocking the house.
On Monday night, band members Max Kerman, Mike DeAngelis and Anthony Carone hosted "Arkells Study Break," moderated by Western University alumnus Patrick James Clark. 
With Carone on keyboard and Kerman and DeAngelis on guitar, frosh were treated to acoustic snippets of some of the band's most requested songs, like "Private School," "Whistleblower" and "Knocking at the Door," along with their new song "Quitting You." The band avoided playing full-length songs to have more time to chat and connect with viewers.
"For us, having the fans be able to interact with the songs … that's definitely a moment that came out of this isolation," DeAngelis said during the livestream.
This is the second time this year Arkells played on campus, after headlining the Purple Frost concert in January, and their third Orientation Week performance.
Arkells managed to overcome the distance of their performance while also keeping an intimate atmosphere with the crowd. The three kept a calm and candid tone, allowing students to feel like they were with the band, answering questions and asking about their living situations for the upcoming school year. Some students were also treated to Arkells' branded face masks and hats for answering trivia questions.
The band kept the crowd engaged by remixing one of the Arts and Humanities soph chants and jazz-trained Carone showing off his piano playing. 
There was even a special guest appearance from musician Lights, who Kerman video called with in the middle of the live stream after seeing a viewer wearing a Lights t-shirt. 
The group also gave students advice about forming a band and the steps it takes to grow.
"It's not just about the music, and there's a lot of things you'll need help with," DeAngelis said. "Keep in mind all the things that are a struggle, and find the people who can help you."
"Sometimes the complicated move is the right move," Kerman added.
The night went smoothly, balancing musical performance and social connection. While this may not be the OWeek start that students expected a year ago, it's surely a memorable one for all the right reasons. 
"2020 is a weird year, but we gotta roll with it," Kerman said.
Correction (Sept. 10, 2020, 10:26 a.m.): The name of the interviewer in the second paragraph has been corrected.