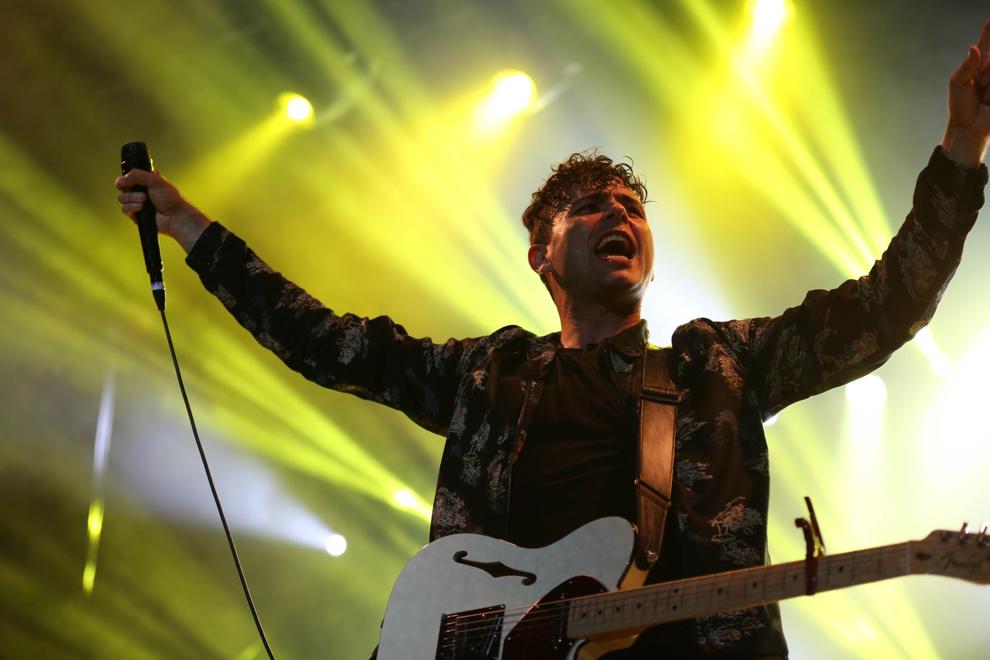 Max Kerman — lead singer of Hamilton-born rock band Arkells — is no stranger to London.
After London performances, Kerman likes to stroll down Richmond Row, hitting up Stobie's Pizza or Prince Albert's Diner, and makes sure to avoid Molly Bloom's Irish Pub — after he was kicked out of the bar a few years ago.
Kerman said Arkells' drummer Tim Oxford was playing in a cover band at the time, and he went to go see their show at the Irish pub several years ago.
"When Tim was at the bar getting himself a drink, I sat behind his drum kit and started to play it," he explained. "And the security guard was like 'you can't do that, you've got to go.' And I was like 'no, no, I know the guy, it's fine.' And then he said 'no you have to go.'"
He hasn't been back since.
But, Kerman is considering revisiting the pub after next week's concert.
With the band's growing prominence, they've moved up from pub shows and university OWeeks to selling out stadiums across the country. But, they're making their grand return to intimate, academic venues next Wednesday with a show in the Mustang Lounge.
The concert is a part of Purple Frost, hosted by the University Students' Council.
Arkells are known for their theatrical shows — with pyrotechnics, show-stopping Motown interludes, jazz musicians and the "Arkette" back-up singers — and they said even the small venue won't slow them down.
"The spirit is really what counts and trying to make the most out of every song," Kerman said about playing the Mustang Lounge. "I think there's a natural charm and energy when you're playing to a bunch of rowdy 20-year-olds that will be unique to the Mustang Lounge."
And while they haven't had the chance to play a university show in a couple of years, Kerman said the music he listened to in university and the shows his campus put on still hold a special place in his heart.
He's constantly touched by fans who approach him with stories of first hearing the band at university homecoming celebrations across the country.
One time, as Kerman tells the story, a recently-engaged couple told him they first discovered the band at their Queen's University homecoming, and would be using a song for the first dance at their wedding.
"We find that there's a lot of really cool stories about people discovering Arkells on campus. I think one of the biggest sort of blessings this band has offered me, is a chance to be a part of other people's lives in a cool way like that," Kerman said.
2019 was a busy year for Kerman and the band, touring for their latest album — Rally Cry, released in 2018 — and working diligently on co-hosting the Mike on Much podcast. And looking forward to the next decade, Kerman said he's pretty content with the projects he already has on the go, and is looking forward to taking on new opportunities.
"I want to get better at dancing, but [the band's manager] Ash seems to think I'm a great dancer," he joked. "I can learn some real moves."
The band stopped at London's Budweiser Gardens stadium in November during their most recent tour. But — only realizing after it was too late — the show was booked during reading week, as the majority of students filed out of the city.
Arkells' members pride themselves on making connections with local businesses as they tour the country, so they partnered with local staple Stobie's Pizza on the corner of Richmond Street and Dufferin Avenue, to create a signature pizza — featuring pepperoni, caramelized onions, jalapenos with half pesto and half marinara sauce and extra cheese.
Shout out to the @arkellsmusic for sending the @uwogazette their new Stobie's pizzaThis is the most *London* thing I can think of pic.twitter.com/wn9lB3R1B3

— Em Tayler (@emtayler16) October 1, 2019
Bassist Nick Dika — a London native — grew up spending time in the University College clock tower, wandering downtown and eating at Stobie's pizza. So, Kerman said the partnership was a no-brainer.
"We have these real relationships with local restaurants and coffee shops," he said. "Like there's this barber shop we love in Edmonton that we started to go to a few years ago and now we plan all of our haircuts to land perfectly when we're going through Edmonton on a tour. I think that human connection is super important."
Whether or not Kerman decides to try his luck at Molly Bloom's again, he promised he'll be at Stobie's around 1 a.m. after the show.