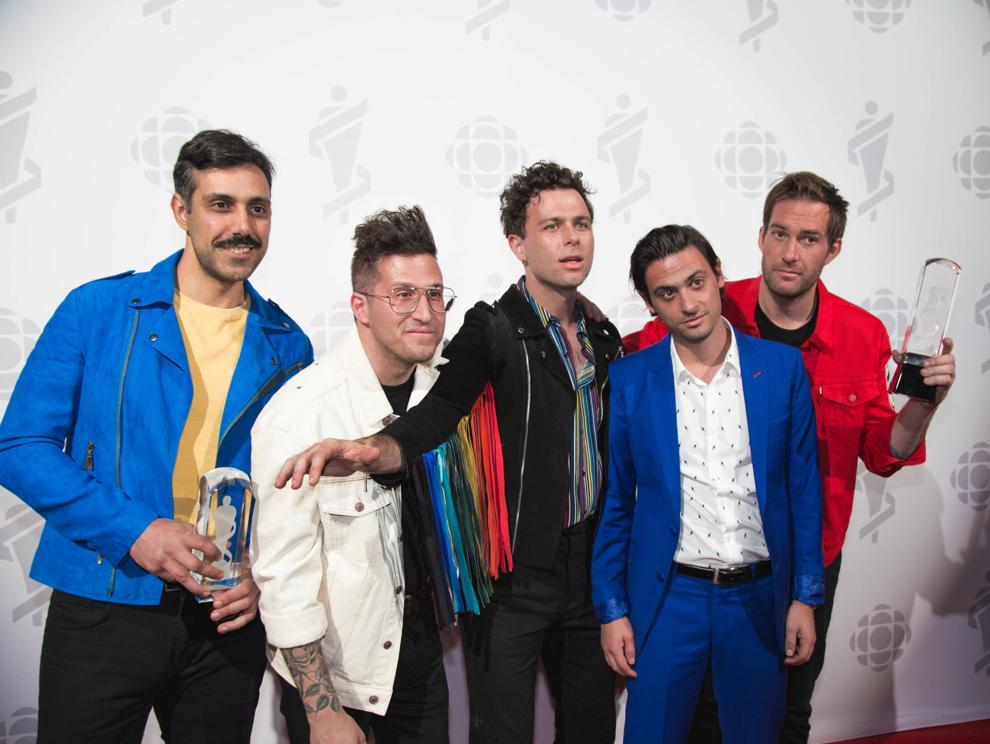 Arkells lead singer Max Kerman remembers how his Orientation Week changed his life for the better.
The McMaster University graduate met his future bandmates Mike DeAngelis and Nick Dika there and now, almost 15 years later, the Juno award-winning band are back for another OWeek.
But this time, they'll be hosting Arkells' Study Break — the first virtual concert of the fall semester.
Arkells' performance — set for Monday at 10 p.m. — will follow the week's Opening Ceremonies, marking the beginning of an OWeek that encourages students to mask up and keep their distance rather than the usual calls for togetherness and getting to know your neighbour characteristic of years past.
The Hamilton-based band will be answering students' questions and performing hit singles in an interactive performance live-streamed for students with an OPass Monday night.
"We've had a really amazing experience playing Frosh Week shows and playing on campus, and we know those experiences aren't available for students this year," says Kerman. "I think just playing a full set online would be kind of boring and I don't think anyone just wants to see a band rocking out in their living room. But we liked the idea of doing something interactive."
While this year's frosh are experiencing a different kind of OWeek, Kerman's best piece of advice for first-years is to keep an open mind and be kind to everyone. 
"One of the things that's just true over and over again with us is that we'll come across people we met along the way and we'll have an opportunity to collaborate with them maybe four years from the time we met," Kerman says. "That's the spirit of what we do — have a joyful rapport with collaborators, because that's what work is all about."
Western University is no stranger to Kerman and Arkells. Kerman said his fondest campus memory is singing "My Girl" by The Temptations with Rick McGhie during January's Purple Frost concert. 
"I don't think we even had time to soundcheck it," Kerman laughs. "I got his number so we reached out to him [to perform with us] — I thought it would be a cellphone, but it was his home phone, and his wife answered and said 'oh, Rick will be back for dinner, he's not home right 
"He's a really awesome gentleman … Anybody who's participated in campus life knows Rick, and so to be able to share a song with him was really cool."
Here it is. Rick McGhie and Arkells at @WesternU pic.twitter.com/02hDOWfxcJ

— ARKELLS (@arkellsmusic) January 30, 2020
While the band knows their music "is the nucleus of what they do," they hope to also connect with students through the small business side of their band. 
"We own and operate this thing called Arkells which includes working with a lot of different people across the music industry, whether it's management or label, accountants, lawyers … we think this could be an interesting thing to dig into for anybody who's interested in entrepreneurship on some level," Kerman says.
And while the coronavirus pandemic may have put their tour and next full-length album on hold, the Arkells recorded and released Campfire Chords, an EP including 17 acoustically-recorded songs from their catalogue and new song "Quitting You." 
"Because these are songs we are really familiar with, we don't need to be in the same room to work together on arrangements," explains Kerman. "I can start with a song like 'Knocking At My Door' in my attic and play the acoustic guitar part and lay down a vocal, send it to Mike, he'd play some guitar and send it to Anthony [Carone], who assembled most of the songs."
Arkells' Study Break will take place Sept. 7 from 10 to 11 p.m.. Students with an OPass can watch the live-stream in viewing areas around campus, or remotely on the Western OWeek 2020 app.