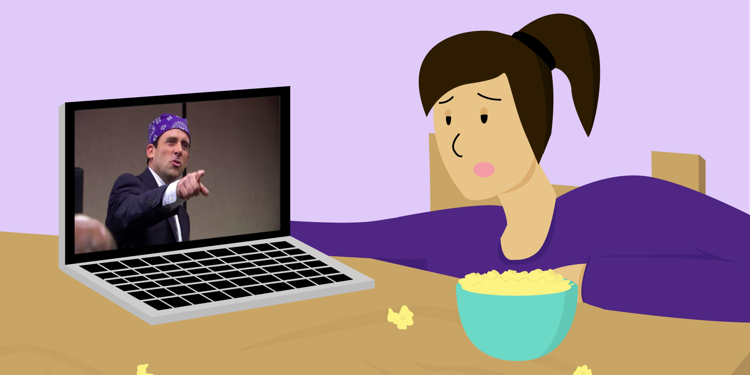 You're up late at night and intertwined with your bed sheets, deciding whether you should click "next episode."
In recent years, this has been a common scenario. Students spend countless hours watching shows one after the other, even sacrificing sleep to watch "just one more episode". So how has this phenomenon become the norm?
In the past, individuals had a hard time binge watching: viewers were forced to wait between episode airings. Now, with streaming services like Netflix and Hulu, students' TV-watching habits have evolved. Cliffhangers don't leave viewers hanging for long. 
"People are going to get caught up in a story," says Tim Blackmore, a Faculty of Information and Media Studies professor. "They may set aside other activities if they love the story."
Much like when reading a book, Blackmore believes that individuals think of stories in much longer arcs, without stopping cues. Viewers take in entire seasons at a time, instead of appreciating the arc one episode at a time. There's no more waiting to find out who shot J.R. or whether Rory Gilmore would end up with Dean or Jess (spoiler alert: it's neither). 
Blackmore says people might prefer binge watching nowadays because of the pleasure that comes from being completely immersed in the world of a TV show. He describes it as an intense experience, enthralling and upsetting — "everything that good art is."
Besides providing entertainment, binge watching also provides stress relief for many students.
Third-year genetics and medical sciences student Shilpi Patel binge-watched Grey's Anatomy three times. She says discussing TV shows with friends is also enjoyable. 
"I think binge watching is a healthy stress reliever compared to what other students do for fun, such as drinking or partying," says Patel. 
But for all the stress relief that binge watching can offer, it can also have a substantial impact on your wellness.
A sedentary lifestyle can contribute to many health problems, like obesity, diabetes and heart disease. Western University students spend, on average, anywhere from 10 to 25 hours in class per week and five to 10 hours per week reading. If they're watching copious amounts of TV, there can be little room for physical activity. Even mentally rigorous activities that involve sitting down burn slightly more calories than watching TV.
Myonis Hasnain, a third-year kinesiology student, also binge watches TV to relieve stress — he loves cracking a laugh while watching the '90s classic Friends.
"When I binge watch for eight to 10 hours, I feel really bad after sitting for such long periods of time," says Hasnain.
Like other forms of art, TV content may also have negative psychological effects on viewers. Notably, the show 13 Reasons Why was at the centre of controversy due to its graphic content and its romanticiation of self-harm, which critics argued could have influenced others to behave in similar ways. 
Excessive television consumption can effect not only a student's well-being but also their grades. 
"In the academic world, my guess is that most of us binge watch during exam or essay time, and this is the time you can least afford it," says Blackmore. "There are a limited number of hours in a day which we can do work. We tend to assume that we can get by with four or five hours of sleep, but you may get sick or find it hard to pay attention in class."
Instead of binge watching, Blackmore suggests that students should set up a reward-based system for TV watching.
"Maybe study for 50 minutes, take a 10 minute break and repeat this for five hours. Then take a break to watch an episode and go back to studying for a couple more hours," says Blackmore.
Although binge watching is harmful to our health, it's unlikely to disappear from popular culture any time soon. Just this past weekend, Hulu's binge-worthy dystopian show Handmaid's Tale scored eight major Emmy Awards, beating out network shows. 
If you are going to spend your entire weekend binge watching a show, at least consider watching one that educates you and forces you to have a different perspective on the world. 
As Blackmore warns, "Entertainment that doesn't ask anything of you or challenge you, that's problematic."