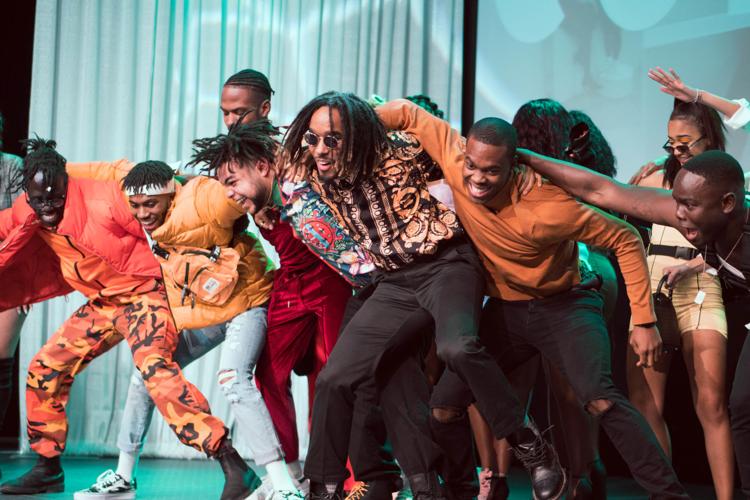 As Mary J. Blige's 1992 pop hit "Real Love" blasted over the speakers, an audience of over 130 people waited in anticipation for Western University's Black Students' Association's fashion show to start.
The Mustang Lounge in the University Community Centre had never looked so cool, with a high stage, a DJ counter, a photo booth and patterned lights projecting glowing snowflakes all around the room. Videos of models from the fashion show dancing and posing played on the screen, alternating with a plain screen with three words: Living in Colour.
Living in Colour was the main theme of the night for its particular importance to the black community. People of colour often feel restricted in terms of what they can wear, especially due to unspoken "rules" in the fashion and beauty community.
"There's always been a stigma in the black community that black people can't wear vibrant colours because of our complexion. So we're trying to break that stigma and show that we're beautiful," says Nneoma Achioso, a model from the show who is in her third year of a double major in heath sciences and French at Western.
The show lived up to its theme, as the models flashed bright clothes and vibrant personalities. The clothes were mostly from online retailers like Fashion Nova and Amazon. Other pieces were from the models' closets, and some were from the executive team who put the show together. The entire show was intricately put together to reflect the theme of the night.
BSA Living in Colour gallery
"This year the models are very different from last year: each and every one of them has a very big personality. It is a fashion show, but because we're expressing ourselves through fashion, we wanted people who have personalities that can help showcase [the theme]. All of them are cool and vibrant," expresses Danielle Pabi, one of the fashion show's coordinators who is in her third year of a double major in political science and criminology.
The show was split into two main segments: the first was called "Roots," which gave homage to icons from the black community including Rihanna and Tupac. This was followed by a talent portion. In this portion, "Colours," models sported vibrant athleisure-wear. Dispersed throughout the show were moments of audience involvement, including getting volunteers to demonstrate their best runway-walk, which emphasized the inclusive vibe that BSA wants to project, according to Pabi.
As the show rolled into motion, the audience couldn't help but laugh as celebrity look-alikes waltzed on to the stage. The audience favourite seemed to be the Migos, who swayed arm in arm wearing Versace-inspired shirts and black straight-legged pants.
A true showstopper was a Rihanna-inspired outfit worn by Meeka Francis, a King's student in her fifth year of disability studies, which involved a floor-length silk red dress with a thigh high split, and tall white patent leather boots. The model embodied Rihanna's confidence and truly was iconic.
The next part of the show, the talent portion, once again stressed the theme of living in colour, as big personalities and talents shone bright and clear. The first act was a solo performance by rapper Tunnel. Tunnel got the audience to take part in his songs, which got everyone hyped up and engaged with the show. This was followed by a stunning duet of lyrical singing and rapping by Diegra, as well as a dance performance by Marvel. Marvel's dancing began to Billy Jean by Michael Jackson as he captivated the audience with a mixture of Jackson's classic seductive moves and some of his own more whimsical dancing.
The last portion of the show was very trendy and included neon puffer jackets and matching tracksuits. Gabrielle Cohen, a model from the show who is completing her graduate degree at Western in applied psychology, wowed the audience as she danced and posed her way across the runway in an all-blue tracksuit with a vinyl puffer jacket.
The show finished off with all the models coming out one last time to show off their outfits. With the closing scene, the models couldn't help erupting into dancing and laughter. This left the show off on the exact note Pabi wanted to strike: "It's all about being confident in your clothes and whatever you wear."
Correction (3:11 p.m., Dec. 7): Paragraph nine has been adapted to effectively highlight the BSA's motivations in presenting empowered representations of black women, such as Francis and Rihanna.