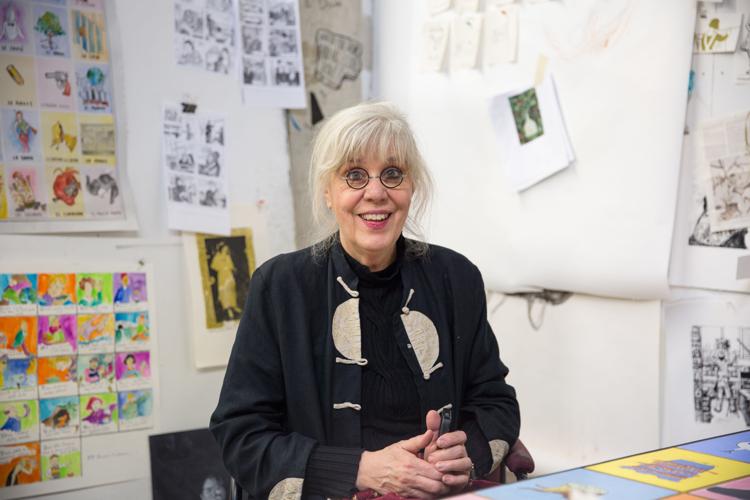 Most people in their late 60s are ready to settle down in life, to maybe retire from their career and to relax with family and friends.
Not Brenda Fuhrman.
The eccentric, soft-spoken visual arts student is more active than many of her peers. When she's not working on her series of comics, Brenda is a part-time family lawyer.
Brenda has always been eager to further her education, attending school for nursing in her 20s, law in her 40s and visual arts in her 60s. 
Her quirky personality comes out through her flamboyant style, which consists of a vintage jacket and John Lennon-esque glasses.
Fuhrman's workspace in the John Labatt Visual Arts Centre reflects her personality. The walls are covered with her bubbly, simplistic drawings, comics and paintings, and the furniture has splashes of paint. Despite being decades older than her peers , Brenda never has a hard time meeting new people and hearing fresh ideas.
Throughout her long, multi-faceted career, the 69-year-old's focus has always been on mental health. While working as a nurse and lawyer, Brenda says the feeling of helping somebody come back from a state of distress and live a fruitful, independent life is something she finds very rewarding.
"There's such a stigma when it comes to mental health, and the people I have worked with as a nurse and a lawyer are fantastic. I like the idea that I was able to be in this field, and hopefully help," Brenda says.
Brenda also thinks her work as an artist presents an opportunity to give back. Even before Brenda was a visual arts student, she made time for creative expression through drawing and painting. As a nurse, she would channel her love of art by hosting art sessions with patients.
"If you can draw or you can do something professionally, I have this belief that you should give back or do something with it," Brenda says.
Currently, Brenda is in the process of creating On My Bus, a series of comics that depict experiences she's had with London's city buses. With an observant eye and a pencil in hand, Brenda gets on the number 2 bus every day and sketches the myriad of different characters and scenes that she encounters on her ride.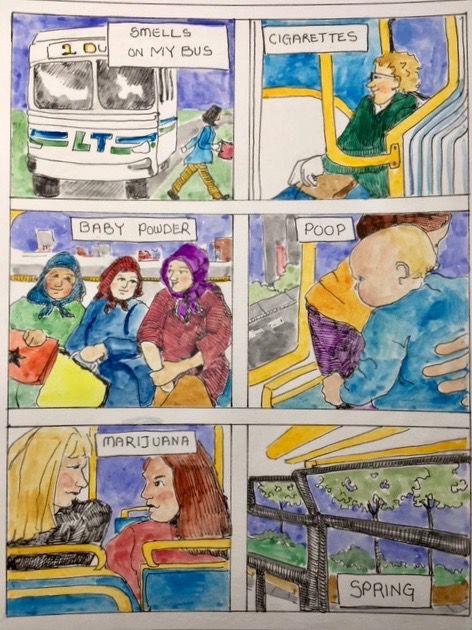 "The bus is so democratic. There's a mixture of cultures, earnings and demographics on the bus," Brenda says. "You get people going to the methadone clinic. You get high school kids. You get all sorts of people."
The comics will soon be featured at the @SENDERS Practicum Class Exhibition, which opens up to the public on March 23 at the Artlab Gallery in the John Labatt Visual Arts Centre.
The artist came up with the idea for the comics after spending time over the winter break in Montreal. While riding the bus in Montreal, she was inspired by the wonderful fashion and different culture that she saw on the city's transit system.
Look out for Brenda on the bus — you could be in her next exhibit.