Ahead of his performance on Wednesday night, BRKN Love's lead singer, Justin Benlolo, and I search fruitlessly for a quiet place to record our interview in the colossal London Music Hall.
His band won't be playing here. Their show is in the smaller Rum Runners bar upstairs, but it doesn't stop Benlolo from marvelling at the complex's size.
"This place is enormous," he remarks while we seek refuge in broom closets and storage areas.
We settle for an L-shaped couch beside an unlit bar on the second floor, with the din of another act sound-checking in the air. While it's definitely audible, I find myself somewhat grateful that we didn't find anywhere quieter — the punk-rock anthem blaring from below is perhaps the perfect backing track to an interview with a rock star.
Yet, if arrogance is a defining trait of his profession, Benlolo is far from your stereotypical rock star.
"I didn't expect the amount of people who came to our shows to know the songs so well," says Benlolo. "And there's been at least a couple people at every single show that come just to see us, which is pretty new for us."
Joining fellow Canadian bands Royal Tusk and Sights and Sounds for their Thunder on the Tundra tour, BRKN Love has garnered fast acclaim after the radio success of their single "Shot Down" and the release of their debut album, aptly titled BRKN Love - which Benlolo wrote and recorded. Not too shabby for a band that was formed only a year ago.
Their album, which features a catchy alternative rock sound and groovy thumping bass lines, is completed by Benlolo's impressive voice. He blares and belts on the album with surprising range and undeniable energy, crooning about anything from the San Fernando Valley and seedy Los Angeles streets to addiction and heartbreak.
In Benlolo's words, "Most of the lyrics deal with love and loss. That's the vibe."
"You can share your feelings and still rock your face off at the end of the day," he says.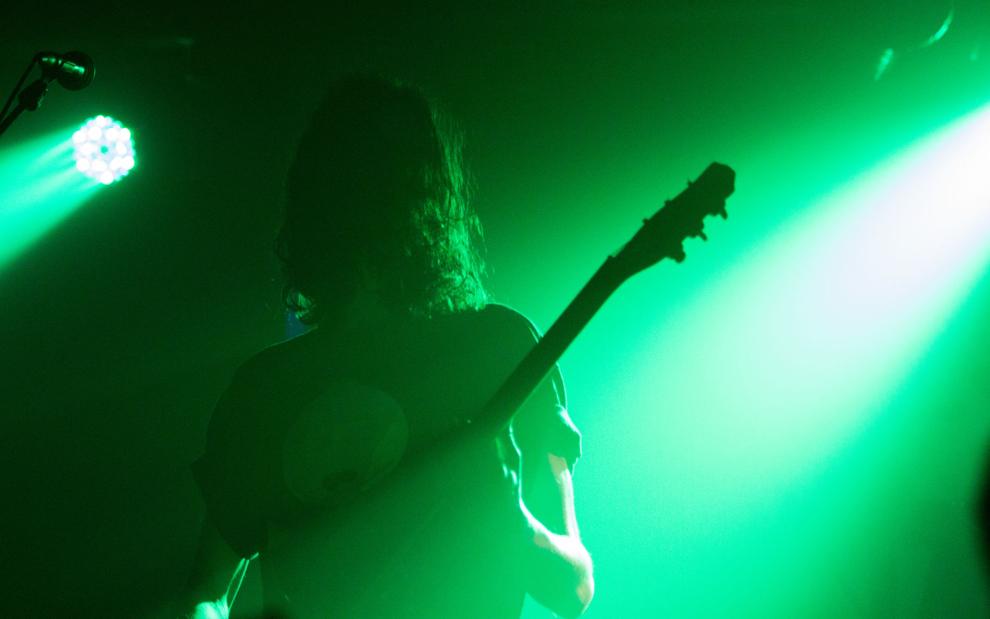 At 22 years old, Benlolo is around the same age as your average upper-year Western University student — but his connection to London doesn't stop there.
Benlolo is a Toronto native who moved to New York City, and later to Los Angeles as a teenager to pursue his performance dreams. He's been around the block — perhaps even a few you might find familiar.
With siblings and friends studying at Western too, Benlolo's partied on Broughdale Avenue on and danced at Prohibition (now called Lost Love), like so many generations of Western students have.
"Most of the people I was talking about in the songs went to [Western] and Laurier," says Benlolo.
Yet, while that hard-partying vigour comes across in the album's distorted riffs and rioting percussion, many of the songs betray a deeper meaning.
The rib-shaking, bass-driven "Flies in The Honey," for example, highlights BRKN Love's remarkable talent at crafting catchy compositions — and Benlolo's song writing abilities.
"All these different coloured pills, drop them only for the thrill, fill us up till we can feel, there's flies in the honey," sings Benlolo later that night to a head-banging crowd.
The track is about the rampant over-prescription of amphetamines like Adderall.
Growing up as an independent artist in the glitz and glamour of Los Angeles, surrounded by friends in higher education, Benlolo has seen first hand the effects of amphetamine use as a means of encouraging productivity.
"I saw a couple of my friends go through that struggle, seeing them lose weight and stop eating and stop sleeping, and eventually moving on to harder drugs," states Benlolo. "Being [in Toronto] and close to Western, that was a direct influence on that song."
Having played in some of Los Angeles' most storied venues like The Viper Room, Benlolo already has a degree of performance experience far beyond his years. According to him, however, that dedication shouldn't discourage the average, student musician.
"I understand everyone's in college now and you're getting real degrees, for real jobs. If you wanna make a ton of money, you probably won't find that in music," he says with a chuckle. "But it's not hard to weasel your way around the scene and try to get yourself booked for shows … it's a big school. There's always going to be people who play [music]. Play a lot, just play a lot and suck for a long time."
As one of increasingly fewer rock bands experiencing some level of mainstream success, Benlolo is confident that the genre will make a comeback — and that it never really left in the first place.
"The dress code of almost any hip hop or trap artist is like grunge clothing. Rock still has a very prominent place, whether it be aesthetically or sonically," explains Benlolo. "But people dress grungy, which means something. We're just waiting for bands to come back and put it in everyone's faces again."
As far as I'm concerned, BRKN Love is accomplishing just that.