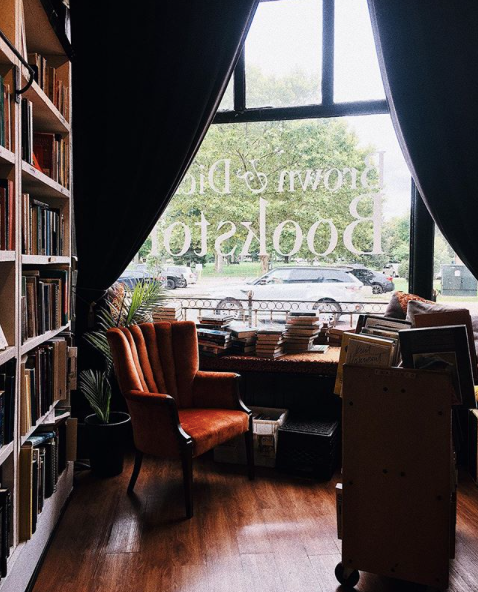 Vanessa Brown is half the namesake of Brown and Dickson. Saying that she likes books is like saying millennials like extra guac in their burrito bowls: understated and clear-cut. 
The store quiets down in the early evenings, and at about 5:30 p.m. Brown gets ready to close up. She wears glasses with large black frames and clicks away behind the rustic, wooden countertop that sits between us.
Brown and Dickson is halfway down Richmond Row; the entire vicinity is a student magnet. On this street full of bars, you can even find its presence outlandish – the interior is adorned with delicate fixtures, and is, well, bookish. There's a calm from the chaos many students may find solace in. 
Brown, a graduate of Western's affiliated institution Brescia University College, described herself as a "big reader," a personality that makes owning a bookstore fun but not easy.
She's found that she and her house of books are often misunderstood and the secrets within it are overlooked. 
"When people say, 'I can get it cheaper on Amazon,' that pisses me off," says Brown "I'm like, 'why did you come into a local, independent bookstore then?'"
In retrospect, it seemed to Brown that nothing could make her more irate than customers who treat her store like a junk shop. That, and someone requesting a James Patterson novel. 
"People come in here and they ask for self-help books, or like, [a book about] seven habits of highly effective people. We don't sell that here," says Brown. "There are certain people who think that the point of used books is to get them cheaper than it is new. Just a couple of years ago we helped someone get a first edition of The Great Gatsby as a Christmas present for someone. That's the exciting stuff."
Brown is in the book business, and that also means that selling them is a "delicate dance," as she likes to put it. It's a dance she maneuvers with her literary consort: her husband, Jason Dickson. 
The pair are London bred, and met as book-loving teenagers through their poetic endeavours. Now, they spend their days researching, pricing and shelving antique books that people sell to them. But while some husband-wife businesses succumb to the entanglement of work and home life, Dickson said that this notion doesn't exist.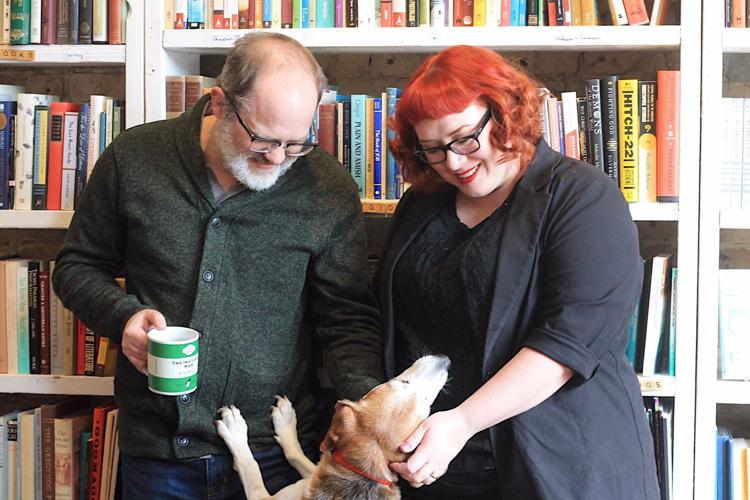 "When you're both working at a business together there isn't a separation between home life and work life so there's definitely no boundaries. You're constantly taking work home with you and you're constantly bringing home to work with you," he says.
For Brown and Dickson — the people, not the store — home is work and work is home. It's a business that they don't know a life outside of. And while they've known one another for a whopping twenty years, they've been dealing with antiquarian books for even longer. 
At 16, Brown describes a time when a local bookstore made a unique contribution to her early days of her antiquarian books fixation: a signed first edition of her favourite book. Once she got her hands on the physical copy, however, the experience shifted the way she dealt with these kinds of books.    
"I was really excited. The owner let me handle the book, and just holding it and feeling the reality of how those words got on the page and the story of the book too, like all the people who had read it and owned it, and passed it down from generation to generation, I thought it was really fascinating." 
Brown defined what she does as a "vocation" — a pull towards where she's always known she would be. She said that at one point in her youth, she looked down at her resumé and realized that she had been involved in antiquarian books for 15 years. 
But in this undertaking, Brown is tied down from field to field, country to country and histories to histories. The reality of her job is this: becoming a temporary expert on the subject of the book she's handling, and evoking the pieces of trivia she picks up to bookstore goers who want to become the same kind of expert that she is. 
And in most ways, she really is. A deep diver for literary pleasure, a healer finding solace in words, a researcher who is bound to discover masterpieces. The jobs of a bookstore keeper are ever-present and long-winding. She encompasses all of them, and they encompass her. And she isn't quitting them anytime soon.