Energy paralleled by no other transformed The Wave into a mosaic of black fashion that walked "Through the Decades."
As models danced along to set rehearsals and cheered on performers, every person embodied the hype that was in the air hours before a single seat was filled.
The Black Students' Association's third consecutive show ramped up to open doors, second-year psychology student Hans-Mathieu Indome explained, "[The audience is] going to be shocked — jaws will drop … you don't want to miss this, and if you did I'm sorry."
At $10 a ticket, the entire show sold out, seating around 180 attendees dressed in spirit of their favourite decade. Trickling in at 6:40 p.m., audience members took the opportunity to pose in front of the flowered photo booth before emcees Keren Annor, a fourth-year sociology and French student Danielle Oteng-Pabi took the stage. They danced with "black girl magic," laughed with the audience and did a phenomenal job setting a fun and vivacious tone maintained throughout the entire show.
The show was an ode to the evolution of black fashion through the decades, a memoir of how black creatives influenced pop culture.
It kicked off with performances from singer Keren Kayembe and dancer Zindzi Azubuike, before delving into the first segment.
"What was happening in the fifties? We were being oppressed," said Annor. "But we still had drip. Civil rights movements let us have the natural hair and flair and our music was the blues."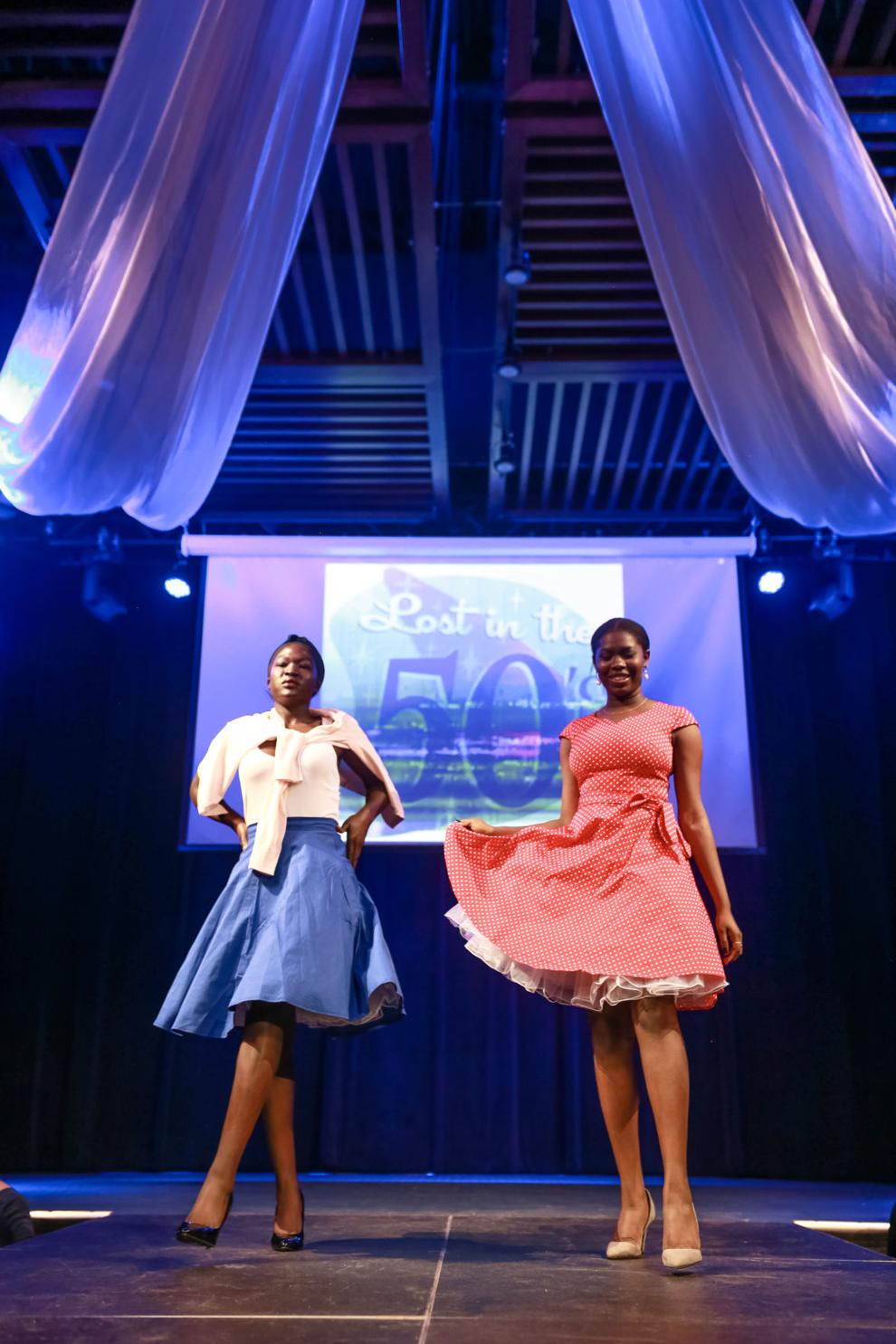 Then came a classic entry into the '50s as a girl with long hair and a crystal embedded black gown took the stage as Etta James' At Last played in the background. Dancing in a love triangle with two prospective suitors, they were followed by two diner girls wearing tulle lined dresses and pearl jewellery. With a curtsy off stage, the emcees returned to introduce the next set, the '60s.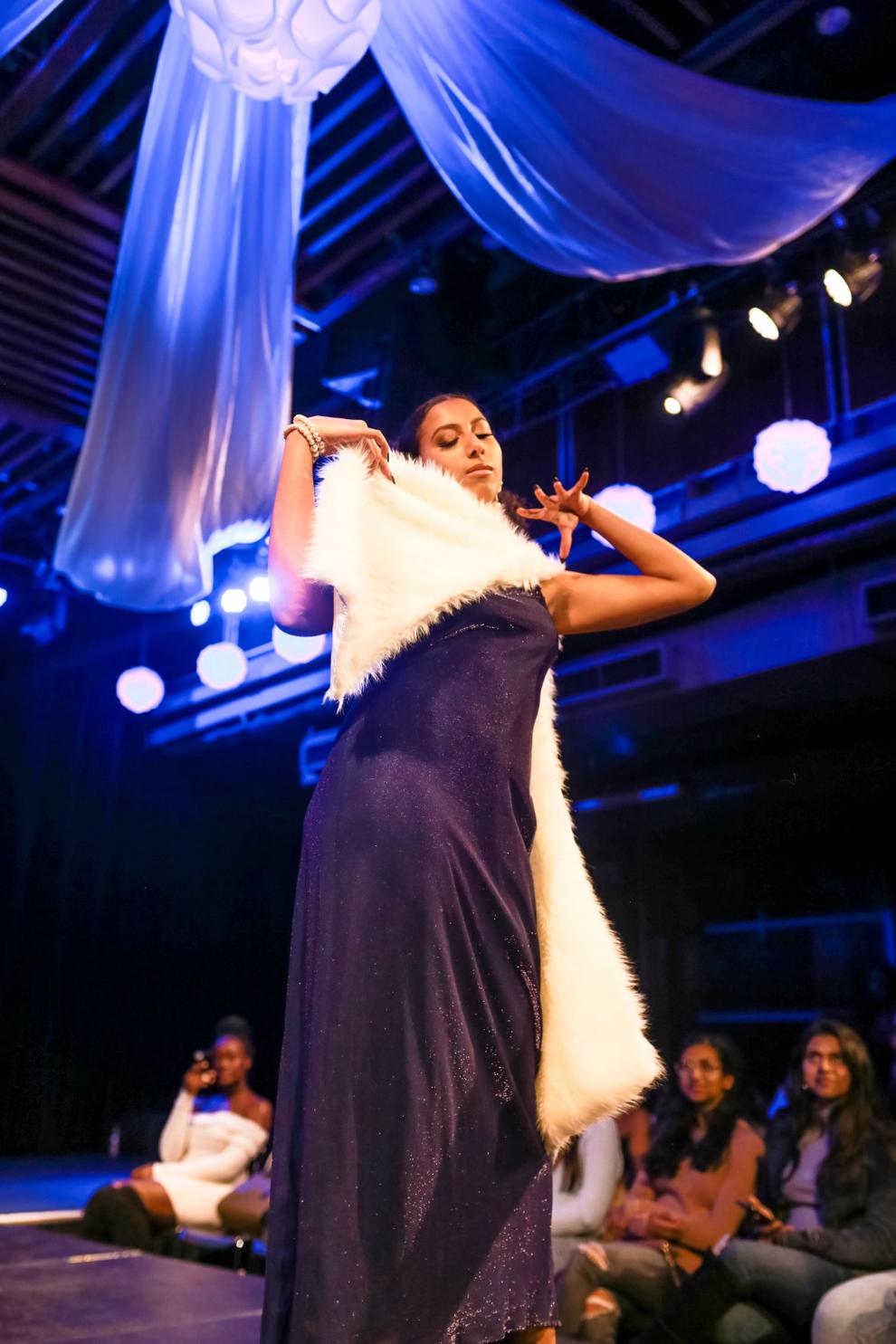 This was the Motown era, when many black artists first appeared in music under major commercial studios. The first model walked on stage with loud hair and an even louder dress that glimmered as her confidence rocked the stage. She moved slowly as her jewellery caught the light and the audience's spirit.
A kiss to the crowd and a switch in mood as "I Want You Back" by Jackson 5 got the crowd moving for the next models.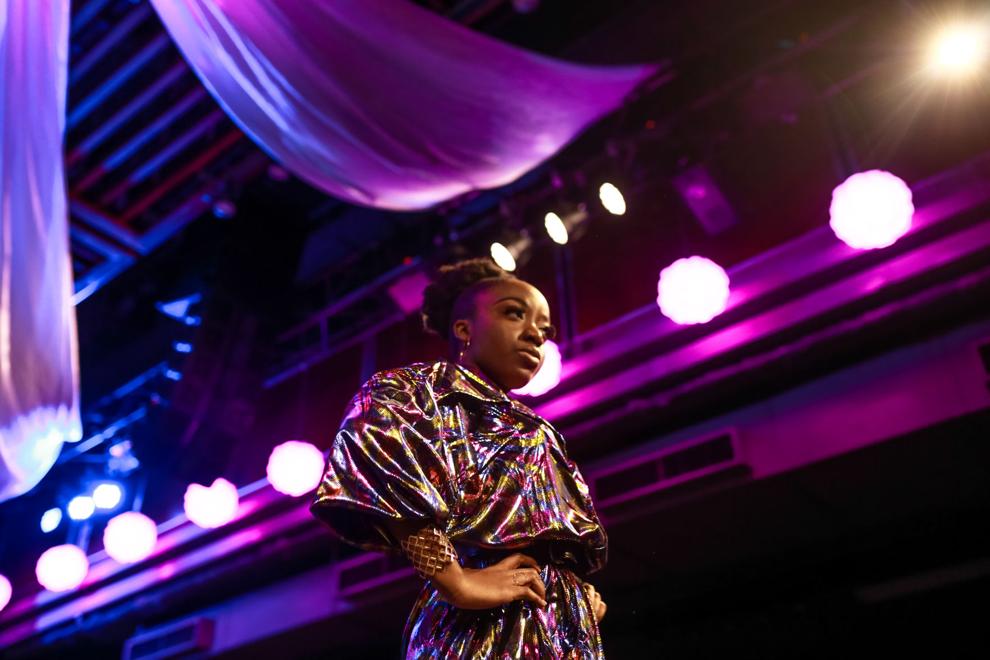 And then things got groovy. Checkered pants, flowy low cut blouses, skin-tight body suits and holographic clothing were paired with disco dance moves — we were in the '70s. Models walked confidently with casual hair flips and body rolls that transitioned into the next performances.
Taking a style break, performances from rapper Tunnels, dancer Marvel, artist Asante and an audience dance battle had the crowd jumping and dancing in their seats fully entertained, followed by an intermission.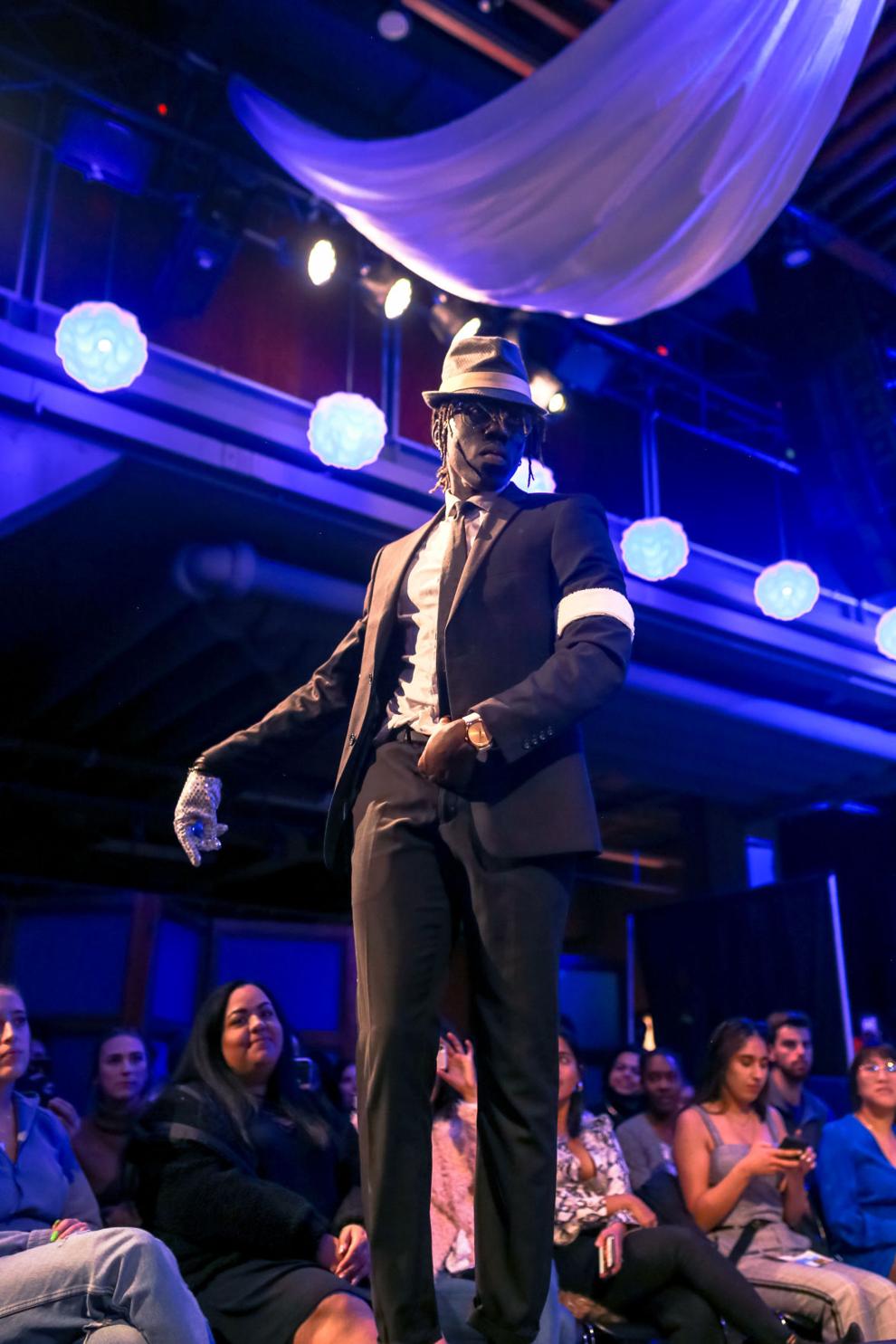 And then the '80s took the stage, flashing neon colours and presenting a Michael Jackson set that delivered suave dance moves and iconic snaps. With a bow of his hat and a moonwalk off stage, the nineties began.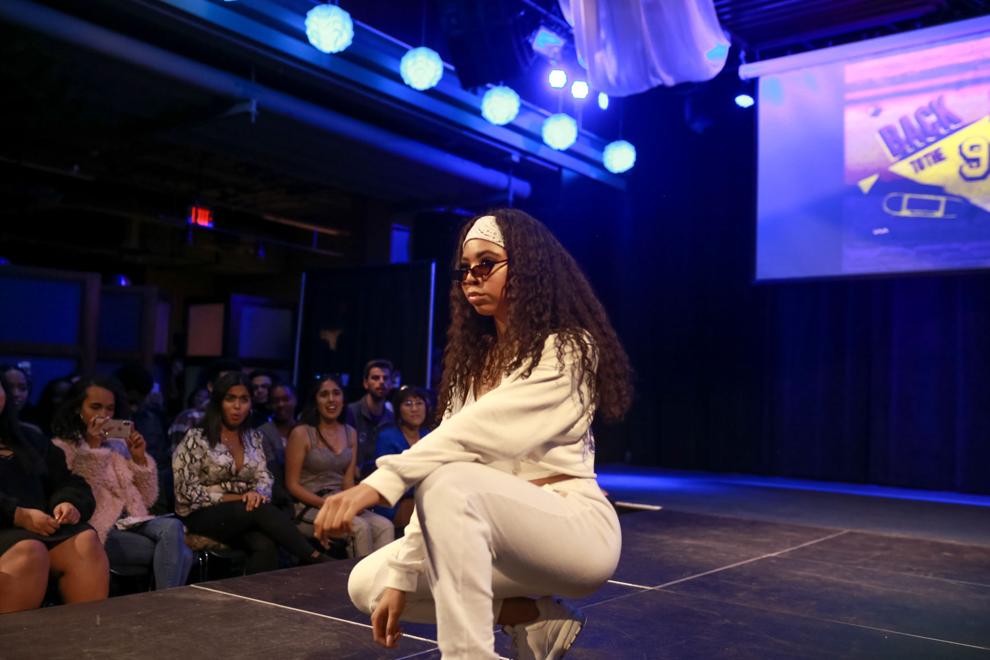 Characterized by baggy jeans and loose clothing, this set generated the most crowd enthusiasm as models moved to Missy Elliot, Montell Jordan and DMX.
The 2000's were introduced with a little bit of Destiny's Child as ladies clad in blue, pink and yellow took to the stage with sultry looks and their lip gloss popping. Fur coats and body con dresses – this era was defined by the high ponytail.
Finally, the show reached the era we're at now. Tia Tamera's tracks had the crowd bumping and Yeezy-inspired outfits had the crowd roaring. Models dressed in athleisure with muted nudes contrasted with black, showed no expression as they powered through the set, leaving the audience hollering.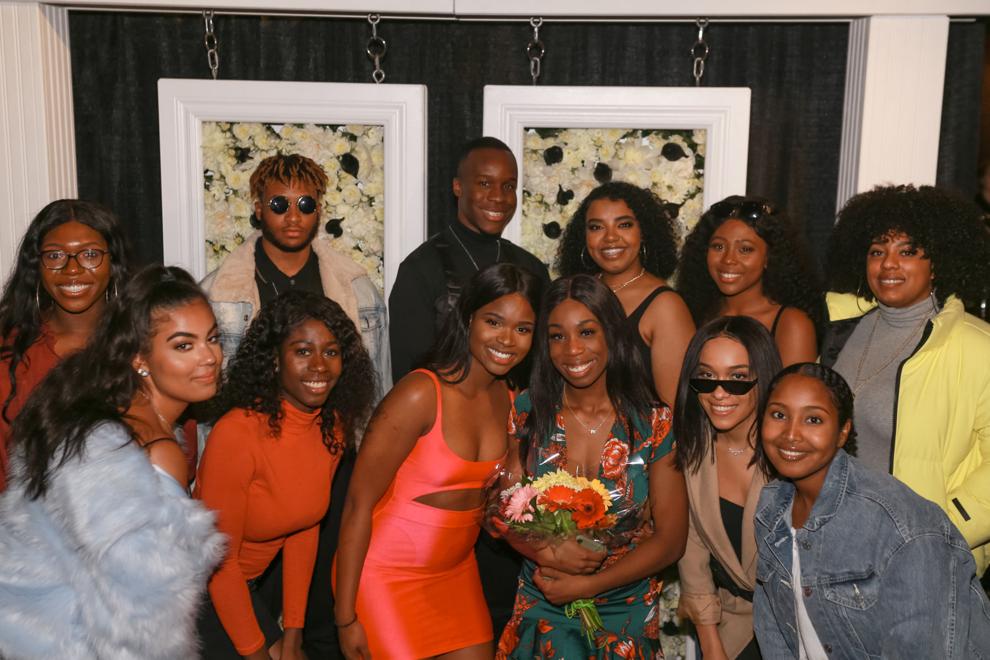 The show was a success, and as Mitch Dairo-Singerr, the VP of Events, gave one last tearful thank you to the crowd, it became apparent how important the initiative was.
"It shows the true beauty of black fashion in pop culture throughout the decades. Us being us with no judgement, which I love," said first-year childhood and social institutions student Rena Butera.
"I really think this show is important because it gives black people a safe space to express themselves, show their culture and their personality," supported Annor. "To praise things people often leave out of history. It's good to just look back and see all the contributions black influencers have given to the world." 
BSA strives to be a safe haven for Black students on campus — giving them the unique opportunity to express their self and culture, which they delivered through fashion.