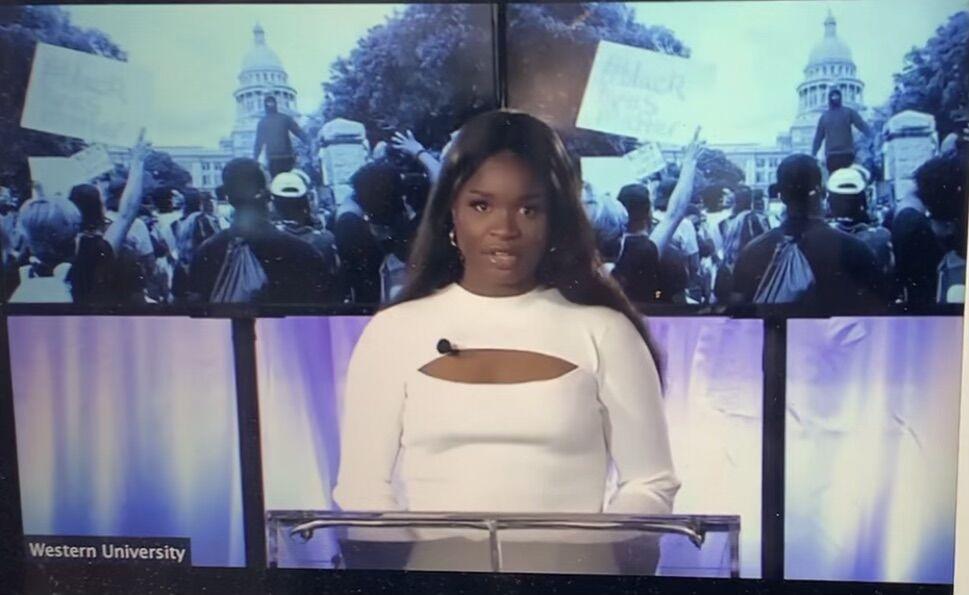 Dozens of Western students tuned into the Black Students' Association's opening ceremony for Black History Month last Friday to watch guest performances and speakers from the local London community celebrate Black culture.
BSA president Angie Antonio welcomed viewers and announced this year's theme, "New Era," that represents the strength and resilience the Black community cultivated after enduring years of discrimination. The theme draws parallels between 1960s civil rights movements and modern-day Black Lives Matter protests.
Antonio was accompanied by master of ceremonies Fauzia Agbonhin and Joey Ohimai, both political affairs officers for the BSA, to host the opening ceremonies. Agbonhin introduced herself by addressing race relations that still exist today in North America.
"It can be easy as a non-Black person to feel distanced from [Black] issues because they don't affect you in any way — and that's privilege," said Agbonhin. "It's easy to feel like there's nothing you can say in fear of saying the wrong thing, but to be silent is to be complicit. It is essential to speak on these issues and educate yourself about the history faced by Black people in North America."
Agbonhin is an award-winning poet, national competitor and the author of "I Never Truly Hated You," a collection of poetry about growing up in Western society as a visible minority.
Ohimai followed by acknowledging the killing of George Floyd, an Black man whose killing at the hands of a police officer ignited one of the largest social movements in recent history.
"At the heart of the civil rights movement, Black people just want it to be treated equally," said Ohimai. "We marched and protested and called for those in power to change legislation, and the same can be said of what happened in 2020. These movements may look different, both in makeup and numbers, but never before has there been a larger movement and support for Black people with the sole purpose of caring about their lives."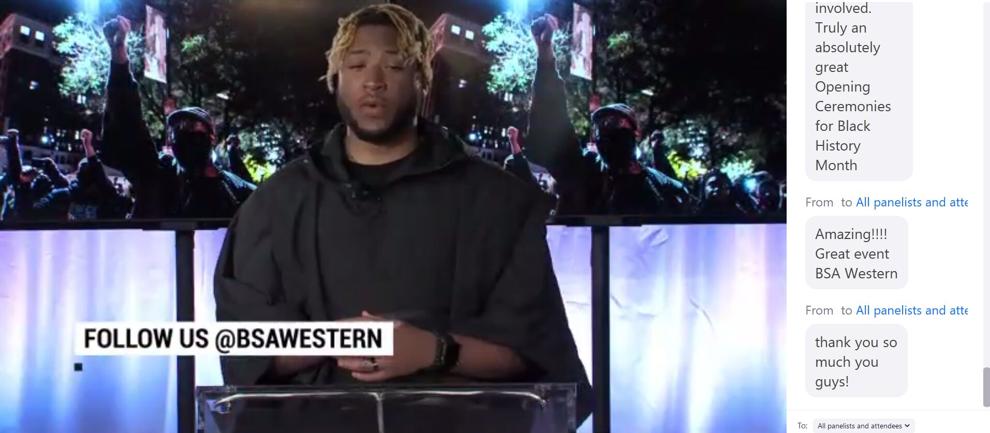 Opening introductions were followed by a touching reading by Sunday Ajak, a public speaker actively involved in the Western University community, who spoke about the Black community's experience with police brutality.
"The disparity doesn't lie within a few bad apples," said Ajak. "And if we're using that metaphor to defend police brutality, then it's not just a few bad apples. It's the tree that they grow on. A tree that's rooted in racism, inequality, discrimination, oppression, injustice, slavery, stereotypes, all of it."
Ajak's performance was followed by a slew of others from London, including R&B artist Asante, producer Demas, dancer Zindzi Azubuike, R&B jazz artist Cotto and a poem reading by fourth-year kinesiology student Tunnel.
Between the performances, Agbonhin sat down with a panel involved in the local Black community to discuss their experiences growing up as Black men in North America, dealing with racism and ultimately finding how they could contribute to society in meaningful ways.
Dwayne Morgan was on the panel, a two-time Canadian National Poetry Slam champion, poet of honour at the Canadian Festival of Spoken Word in Vancouver and winner of three Canadian Urban Music Awards. He explained that he used entertainment as a tool to promote the positive artistic contributions of African Canadian and urban influenced artists.
Morgan's inspirational journey as a Black student started while he was president of his high school's Black History Group.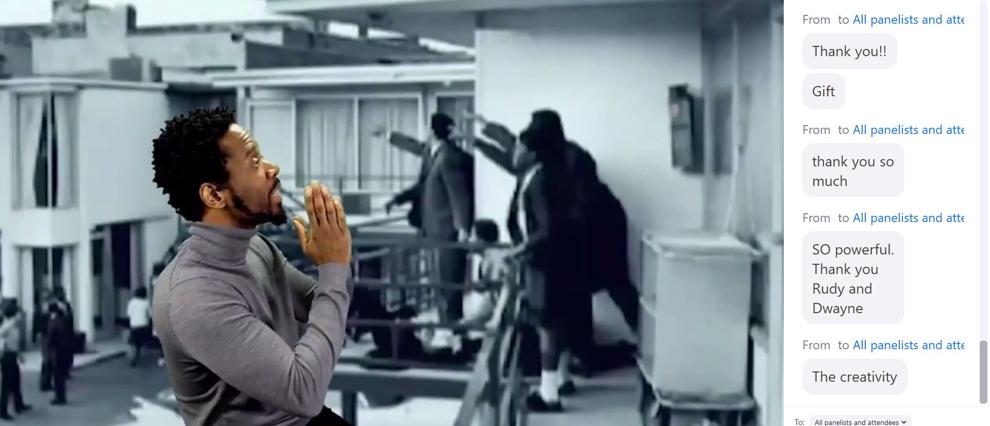 "[Our high school] didn't really have a lot of Black kids, so it was really important to advocate for ourselves. I put together a talent show and it started to get all this attention, so I thought that maybe I should also perform. I wondered, what's the easiest thing I could do to get on stage in my own show? I knew I couldn't rap, I couldn't dance and I couldn't sing, so I wrote a poem. And that poem changed my life. And it changed everything that has happened thereafter. And from that one call, the love was just so great."
Among the other speakers were multicultural outreach program coordinator Leroy Hebert, award-winning hip hop artist and TEDx speaker Shaun Booth, and author and award-winning poet Rudy Francisco.
Following the panel the opening ceremonies concluded with performances by panelists Morgan, Francisco and hip-hop artist Shaun Boothe.
BSA has planned several events and initiatives to celebrate Black History Month, more information can be found online.