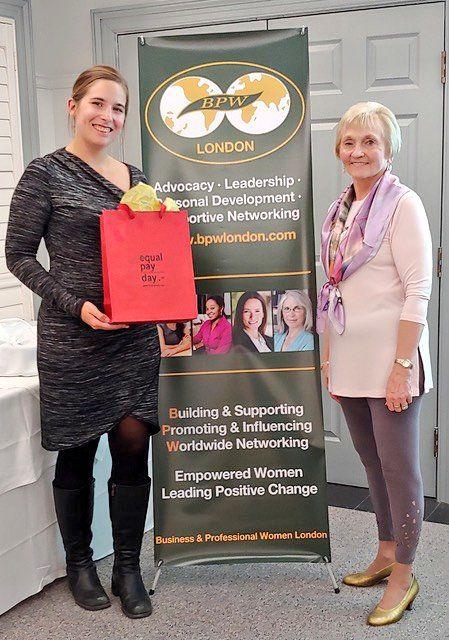 Content warning: This article discusses sexual violence. If you need support, call Anova's crisis helpline at 1-800-265-1576
"I was returning to my car when two men driving slowly with their trunk open got out of their car and chased me to the parking lot," Kelsey Adams read. This is just one example of the 2,200 instances of sexual harassment pinpointed on the Anova Safe City London map in the past year.
Adams is the public education coordinator at Anova and the project coordinator of the UN Safe City project. Anova, the merger of the Women's Community House and Sexual Assault Centre London, embarked on a mission to make London a UN Safe City through a five-year project. For the past year, Anova has focused on data collection through an anonymous CrowdSpot map where users pinpoint instances of sexual harassment on a map of London, with the option to leave a brief description of the event.
The online platform was meant to be accessible to young people, as although people of all ages can be victims, young women ages 15 to 24 are the most vulnerable to sexual violence.
Data collection ended in December, and the website has since been taken down. Anova is now preparing for the second step in the process: meeting with city councillors, public officials and universities and colleges to make recommendations for policy, infrastructure and educational programs. Meeting with officials will take place from late February to early March.
Adams completed her undergraduate and master's degree at Western University in women's studies in 2014. In reviewing the data collected by the CrowdSpot map, Adams was not surprised by the amount of pins nor by their distribution: pins were mostly in highly populated areas, like the intersection of Dundas Street and Richmond Street. She was, however, surprised by the nature of violence alleged by the pins.
"I think certain trends that we've seen have been a lot of experience of verbal harassment, which makes sense as it takes place in public spaces," she says. "What was surprising for me was the amount of following and stalking that women experienced."
The nature of the pins will be taken into consideration when looking at recommendations for city officials. Infrastructural changes, like improved lighting, could help relieve the prevalence of this problem.
Western is a stakeholder and partner in this project, along with Western's affiliate colleges and Fanshawe College. Western representatives will help analyze the data, specifically in areas on campus. Many of the pins were on campus residences.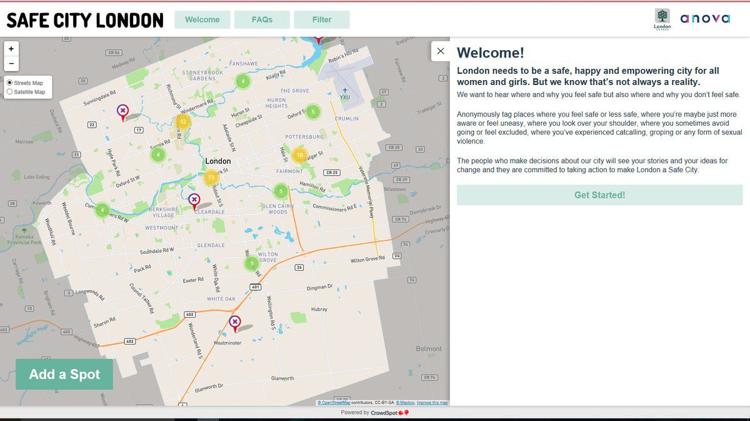 Adams gave an update on the Safe City London project at this month's Business and Professional Women Speaker Series dinner. The BPW is a group of working women advocating for women's rights and equality through resolutions, lobbying and education. The speaker series, "Awareness Starts With Us: Improving the Lives of Girls and Women," features speakers from various London organizations, including Anova's retired executive director Kate Wiggins and Nancy Sutherland, CEO of the Sunshine Foundation.  
The members of BPW also debate and pass resolutions at their monthly meetings. These resolutions act as recommendations for policy and are sent to the appropriate levels of government, whether that be locally or up to an international level, in some cases. This month's resolutions urge the Ontario government to increase funding of education and housing for victims of sex trafficking.
Doris Hall, former president of both local and national chapters of BPW, says that, although she has lobbied in the past, the resolutions are what initially drew her to the group.
"Locally, one of the things that I do, and the resolution committee is doing, is making sure that our brief gets to every member in London because they all have a vote," Hall explains. "Even if it's not something that's pressing for them or something that's happening right now, they have it in their drawer in case something like that comes up."
Hall says that resolutions are meant to evoke action from officials but that BPW awards commendations to people making positive changes in the community. January's BPW dinner also featured commendation of London Police Chief John Pare for his work with unfounded sexual assault cases.
In 2017, The Globe and Mail reported that one in five sexual assault cases reported to the police are dismissed as "unfounded." The term unfounded is used by police to determine assault allegations as "baseless," claiming there is not enough evidence to conclude a crime occurred or was intended. Over the five-year review, London had a 30 per cent unfounded rate in cases reported, one of the highest rates of the 25 largest police communities in the country.
After the report was released, the London Police Service began an investigation to review all of their unfounded sexual assault cases since 2010 and rework police training and the way that these cases are processed to a more victim-centric approach. They have since reviewed 1,030 unfounded cases to determine if each was properly investigated. The police classification "unfounded" will now only be used for cases that have been dismissed from police investigation through credible evidence that the offence did not occur. The London police cannot dismiss a sexual violence case unless they can prove it did not occur.
"We recognized we had to … enhance our response to victims so that they felt confident coming forward to report and that they know they're going to be treated with dignity and compassion," Pare told the crowd after accepting his commendation.