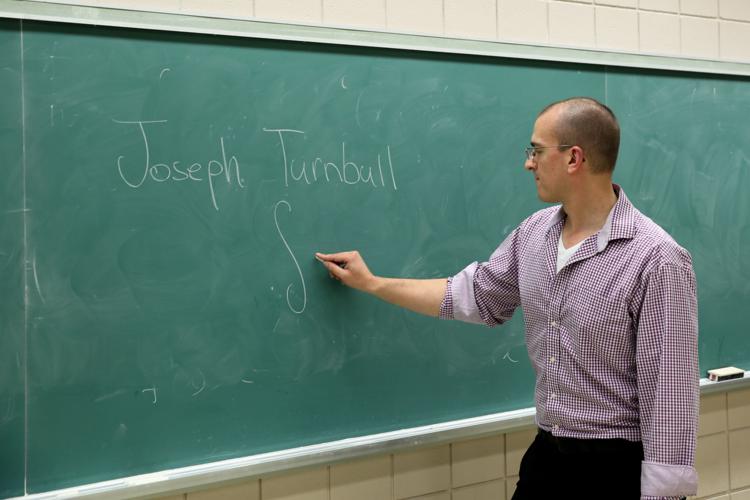 After first-year medical ethics student Joseph Turnbull received 25 per cent on his calculus midterm, he didn't envision himself becoming a math professor one day and certainly not Western University's highest-rated prof on ratemyprofessors.com.
"I know what it's like to be a student sitting there. I still remember that I wasn't someone who was good at math naturally — I had to work very hard at it," Joseph says sitting in the University Community Centre, just one building away from the Social Science Centre where he had his first Western math class.
Having grown up in London, Western was a clear choice for university. He planned on studying medical ethics — a system of moral principles that relate to medicine and science; for example, exploring the morality in creating an organ transplant list. 
Like many students today, Joseph dreaded that a math course was required for his program. He didn't do well in high school math, and after trying tirelessly to avoid it, he reluctantly signed up for first-year calculus. 
Many first-year students underperform on their first set of university midterms, but Joseph didn't just underwhelm on his calculus midterm, he was abysmal. Failing the exam didn't propel him to work that much harder in the course — the material didn't intrigue him like science courses did.
It was the last day of class when the gears shifted. Opting not to do the standard review class, Joseph's professor Mair Zamir, discussed the practical uses of the material learned in the course. Zamir described the collaboration between doctors and engineers in designing artificial heart valves. Suddenly, it clicked. Math can be used to save people's lives and Joseph began to view it from a new lens.
By the end of the half-year course, he secured 55 per cent. Wanting to fully understand the material, Joseph enrolled in the course again for the winter semester. This time he studied hard and earned 95 per cent. 
Having come a long way from that apathetic calculus student, Joseph changed his major to applied mathematics and went on to receive a PhD from the University of Alberta. 
Today, Joseph is a first-year professor of mathematics at King's University College, and has a perfect 5.0 score with 85 ratings on ratemyprofessors.com, a popular student-driven review site that rates profs.
"Becoming a professor's something that maybe I always wanted to do, but I didn't think I could do because I was too afraid of speaking in front of crowds," Joseph recalls. "What helped was having to do presentations toward the end of graduate school."
Although he's now a math pro, Joseph hasn't forgotten what it was like to be a lost student. That mindset's what makes him one of Western's most beloved professors.
"I put myself in the shoes of the confused student, not the top student," Turnbull says.
Joseph says his students appreciate his enthusiasm in lectures and that he never skips a step. He reviews the most basic of concepts as if it's the first time students are learning them, with the hope that no student feels behind.
On the prof rating website, one of Joseph's former students boasts: "Professor Turnbull cares about your success. He does everything possible to ensure you excel in mathematics. His lectures are very helpful, and he creates examples on spot to help you better understand material. He cares about his students, and he has a passion for math. Hands down, the best math professor at Western." Many comments echo similar sentiments. 
To the class of 2021, Joseph has one key piece of advice: listen to your professors 
"Take it seriously from day one, and follow the advice that's given by your instructor."