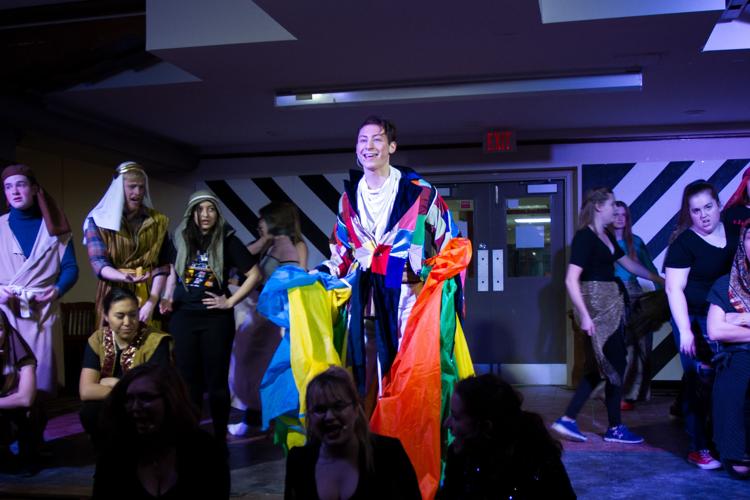 The Huron Underground Dramatic Society is bringing the classic musical by Tim Rice and Andrew Lloyd Weber, Joseph and the Amazing Technicolour Dreamcoat, back to life for its 50th anniversary in front of a sold-out audience.
Premiering on Feb. 8, the humorous take on the biblical story of Joseph will transform the Beaver Dam, Huron's campus bar, into a full-scale theatre with energetic performances.
Co-director and producer Sophie Koehn, a fourth-year film and business student, says the light-hearted tone of the musical makes it a perfect show to inspire joy in the hearts of those who watch.
"It's very high energy, and it's just so much fun," she says. 
The musical's other co-director and producer, Owen Chevalier, a fourth-year psychology and philosophy student says, "It's meant to show you that you can do anything you set your heart to." 
A love for the musical's uplifting message is echoed by every actor, including lead Sean Yauk, third-year political science student, who plays Joseph.
"There's so much energy and enthusiasm in this cast, and we're excited to bring that to people on a nightly basis," Yauk says.
Despite having had only a month to develop this production, HUDS is confident they will premiere an exceptionally accomplished performance, a feat Chevalier describes as "weirdly easy," crediting the supportive community surrounding the club.
Regarding the difficulties of the entirely sung-through nature of the musical, Koehn commented on their musical directors.
"It's great that we had such a supportive framework to help develop the cast. They're so wonderful, and they're at all the rehearsals, coaching us through the music," Koehn said.
The strong community bond is evident in everyone involved in this student-run production.
"We really take pride as a student-run community," says Yauk. "We try to stick to having students from the greater Western community and Huron come together and bring their talents forth to work together to put these productions on."
HUDS and its collaborative community enhances campus culture, according to Natalie Cross, a second-year English and political science student who plays one of the three narrators in the upcoming musical. "[HUDS] creates a different kind of energy in bringing the arts to Huron."
Joseph and the Amazing Technicolour Dreamcoat runs from February 8th to 10th at the Beaver Dam at Huron.