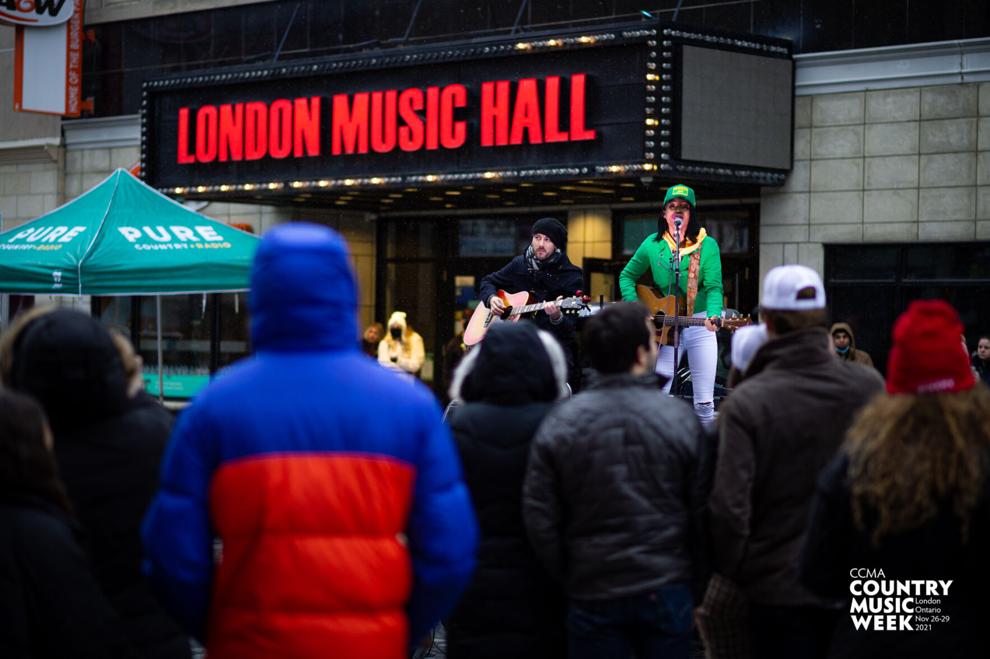 For the second time in its 24-year history, the Canadian Country Music Awards will be held in Budweiser Gardens with appearances from Canada's brightest country stars.
London's Country Music Week began Nov. 26 with live music festivals at London Music Hall and runs all the way until the evening of Nov. 29, with the televised two hour awards show.
The three-day lineup hopes to create a heightened awareness and increased exposure for Canada's country music artists.
Callie McCullough, whose album After Midnight is nominated for best alternative country album, says this year is particularly special, as the coronavirus pandemic has prohibited any in-person events from happening over the past two years. 
"We enjoy it a little more and celebrate a little more because we appreciate now that we know how quickly the world can change," she says. 
McCullough considers other awards attendees her "people." Since moving to Nashville at 24 to pursue a career in music, she has worked alongside other up-and-coming Canadian country singers. 
"To come home to Canada and really get to celebrate these big moments together knowing we've really come up through the ropes together, that's pretty amazing," she says. 
Growing up moving between Stratford and London, McCullough is familiar with Western University and has family members who were previous students.
Ty Hunter, lead singer of Saskatchewan-based country group Hunter Brothers, is also no stranger to the London area.
He and his four brothers have visited on multiple occasions, one of the most memorable for a recording of their song "Just Wanted You To Know" from inside of a silo in Tillsonburg.   
"We've always felt very accommodated and very welcomed in London," Hunter says. "I love the people here."
The Hunter Brothers are nominated for two categories this year — Group of the Year and PRS Guitars' Video of the Year for their song "Hard Dirt." 
Being the third most played group at Canadian Country Radio last year and with over 46 million audio and video streams to date, the five hope to continue this momentum with their newly released Christmas album Joy to the World.
"For us, it is spreading joy, it is spreading positivity and making people feel seen," explains Hunter.
Jason Benoit and Kendra Kay, two individual acts attending this year's CCMA's, also have Christmas music being released this season. Their duet cover of "How Great Thou Art" is coming out Dec. 3. 
"I don't get cold chills very often from listening to my own music or music that I'm on," Benoit says. "Our voices just blend together so well."
The pair agree that this year's events program is especially meaningful, as life resorts back to normal.
"It's great to just be in public and to play for all these people and kind of show them what we've been working on for the last two years," Kay says. "The growth, the new songs — that kind of stuff." 
With little time in between her busy schedule, Kay hopes she can return to London on a tour day off to explore what the city has to offer. 
The show will be held Nov. 29 at 8 p.m. and is available for streaming on the Global TV app and Prime Video, as well as across Corus-owned radio stations and Country 104 in London.