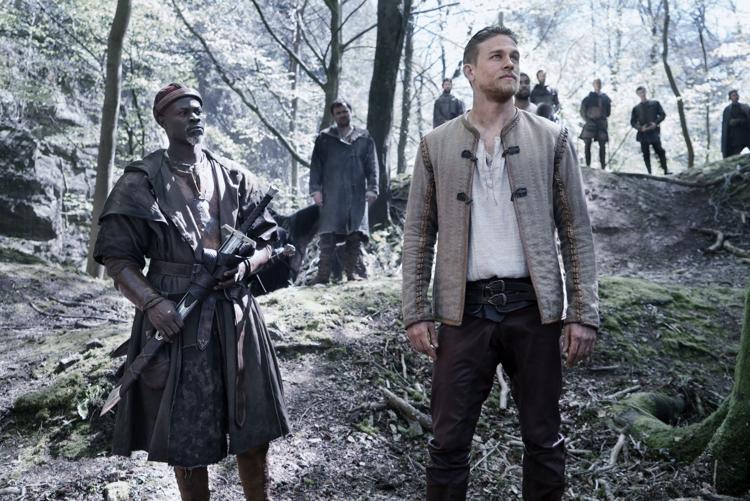 Guy Ritchie's King Arthur: Legend of the Sword  gives a popular myth new life — reshaping Arthur from a noble King to an "every man" type that students will appreciate. 
In an interview with the Gazette, star Charlie Hunnam, who plays King Arthur, says "the people that I'm most excited about seeing this film are a young generation."
He says that there's too much disillusionment in today's youth, who're questioning the value of their education and feel disappointed by lack of opportunity and careers — potentially losing their drive altogether. 
"[My little brother] studied genetics in university and graduated top of his class," Hunnam explains. "I called him and I said, 'bro I'm just so proud of you and congratulations' but [my brother] was so dismissive he said, 'yeah, well maybe now I'll be able to get a job at McDonald's.' "
Hunnam says that this was an insight into today's youth, and he hopes the film will inspire young people to persevere.
"You only have one life, and your only responsibility is to be true to yourself and live that life as fully as you can," he says. "I think that's ultimately the message of the film, which I think hopefully is a really universal one."
Ritchie's take on the Excalibur myth follows Arthur's ascent from living on the streets to living on the throne. When young Arthur's father is murdered, Arthur's uncle takes the crown and Arthur grows up with no knowledge of his birthright as King until he pulls the sword from the stone and reveals his legacy.
Djimon Hounsou, who plays Sir Bedivere, says that it was Ritchie's iconic direction style that first attracted him to the role.
"Our approach to this tale was quite lovely in the sense that we dived into a little bit of the backstory of King Arthur himself," says Hounsou. Exposing Arthur's adversity adds another relatable layer to the character and film, which Hunnam finds important.
"I firmly believe that anybody in this world is capable of anything," says Hunnam. "You just have to cultivate a sense of belief in yourself and know that the journey's going to be difficult, and you're going to have to endure failures."
On working with Ritchie, Hunnam and Hounsou describe their experience on set as collaborative and improvisational.
"Guy Ritchie's not much of a preparation man," Hunnam says. "He really has an extraordinary ability to work in real time."
Hunnam and Hounsou admit that much of the humour wasn't written in the script but was improvised on-set. 
In reference to past roles, Hunnam admits that there is some overlap between his role as King Arthur and Jax Teller in Sons of Anarchy.
"They're both ordinary men that are called to do extraordinary things… And that seems to be a narrative that I'm drawn to over and over again." 
But if you ask him who would win in a fight, his answer is Jax.
"King Arthur's got a magical sword and all that, which is lovely for him, but Jax Teller's a gunrunner so it's probably going to go to Jax on that one," Hunnam jokes.
Ritchie's interpretation of King Arthur is opening in theatres everywhere May 12.