In photos: Chef Battle 2017
The atmosphere was as intense as the chefs who were cooking. A DJ sat at the back of Icarus Restobar playing energetic music, the bar had a constant lineup, people were crowding in and cheering for their favourite chef. The place was absolutely packed.
This is BattleApps London. Two chefs enter; one reigns victorious.
All of the dishes prepared are appetizers. Chefs get an hour to make their food, and every 20 minutes they have to send a dish out.
As the founder of Underground Chef Company (UCC), Joe Friday has a passion for cooking and a competitive nature that has come out through hosting these competitions for the past two and a half years. He has also opened Calii Love in Toronto, a poke restaurant inspired by his time in Hawaii.
The competition
The competition had chefs Thomas Waite of Spruce on Wellington and Kyle Rose of Wolfe of Wortley competing for the best dish. Both chefs emphasized their competitive nature and said they look forward to seeing who wins the night — a decision made by the panel of experienced judges.
Waite is a seasoned chef from London who has 15 years of experience under his belt. He has opened four restaurants in London including Icarus Restobar, Earl's, Byron Freehouse and Wich is Wich. He also has a catering company and a line of products that are sold in Remark Fresh Markets.
"Ever since I could talk I wanted to be a chef. I never wanted to do anything else," says Waite. "I'm big on presentation. I do fine dining. It's very artsy. I like to think you don't want to eat it because it looks so nice."
Chef Rose, on the other hand, says working in the culinary world just felt right to him.
"What I'm doing now at Wolfe [of Wortley] is kind of the opposite of what today is going to be," says Rose. "We do slow food, charcuterie fermentation kind of stuff that takes six months to a year before it hits the plate."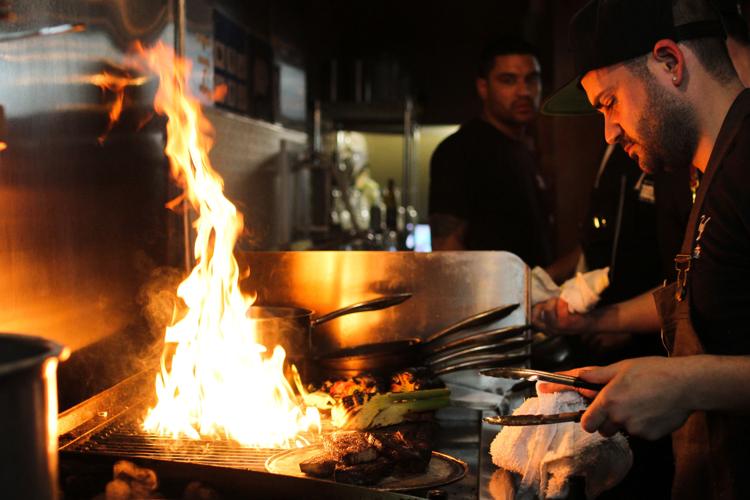 What they were cooking 
After the chefs had their chance to introduce themselves, the music started and the chefs got cooking.
The dishes prepared were immaculate versions of everyday dishes, such as a protein dish based around pork belly, and a poutine with bacon, fried garlic, burnt onion sauce, radishes and sprouts. At the end of the hour of cooking, Rose was announced as the winner of the competition. 
Unfortunately, as energetic and exciting as the crowd and announcers made the event seem, it was very difficult to actually see what was going on at the event. Unless you were one of the 20 or so people in the front row leaning against the counter or part of the small crew filming for a show, it was impossible to see more than the back (or top) of people's heads and the occasional flare up of fire from a frying pan.
The intense aromas of the delicious-smelling dishes filled the room and piqued the curiosity of all attendees, but that curiosity was only awarded with glimpses of the food before it was passed to judges.
While the fifty or so attendees were offered an occasional mozzarella stick and jalapeño popper, they also had the chance to try the dishes — albeit only after being passed around and pried apart by greedy fingers.
For any students interested in getting into the culinary world, Waite and Rose have a few words to say.
Waite suggests, "Don't get into cooking for the money, the money sucks. Go into cooking if it's your passion. If you wake up every day and you love cooking, then go for it."
Meanwhile, Rose's advice is that students "get a job and do it. If you can work in a restaurant for a year and you still want to do it then great, just devote yourself to it."