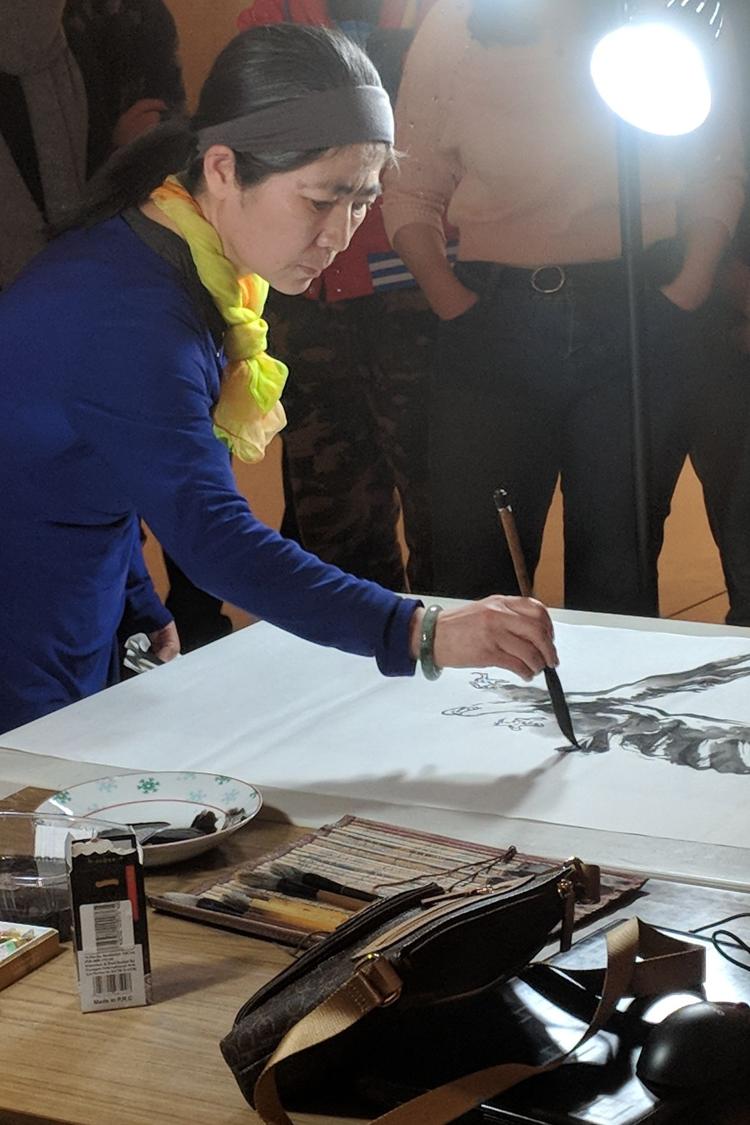 Shujuan Liu, a visiting professor in the department of visual arts from the School of Fine Arts and Design of Pan Tianshou at Ningbo University in China, hosted a closing reception for her show Chinese Flower and Bird Paintings on Feb. 27 at the Artlab Gallery.
Liu began painting at the age of 10. She then went on to study arts at the Northeast Normal University in China and started her career teaching painting. She has won honorary prizes at the International Chinese Grand Prix in Beijing and first prize at the London Chinese Community painting competition in London earlier this year.
During the closing reception, Liu transformed the gallery space into a live demonstration of her process, creating a traditional Chinese ink and watercolour painting. In 30 minutes, she produced a stunning painting of an eagle soaring above a tree. After she had finished, Liu closed the show with a speech to commemorate her time at Western University.
She explains that she hopes, like the eagle in her painting, that the relationship between Western and the School of Fine Arts and Design of Pan Tianshou can soar. Liu's desire for her time in London is to have inspired students to take the time to learn about painting practices and techniques often used outside of the West.
Liu's work acts as a form of documentation for her time on campus. Each piece draws inspiration from its scenery, whether directly visible or hinted toward. Some pieces showcase landmark architecture, like University College or Middlesex College, whereas others display wildlife like Western's infamous geese.
The traditional style of her work gives a unique interpretation of campus. The movement of her brushstrokes provide a liveliness to each piece that helps convey the spirit of the university.
Her work features unique elements typically not seen in Western art. Many of her pieces contain Chinese characters, blending in elements of narration and story.
Despite her work being heavily inspired by the scenery of campus, she also incorporates elements of her home through flora and fauna painted into some of the pieces. This helps echo her role this year at Western in connecting the university to the art world at large.
Liu's position as a visiting professor is the first step of many to help encourage other international professors to come and share their practices with students in the department of visual arts. Chinese Flower and Bird Paintings is meant to exemplify the inspiration the campus can bring to everyone.
Shujuan Liu will be returning to China to resume teaching at the School of Fine Arts and Design of Pan Tianshou at the end of the school year.