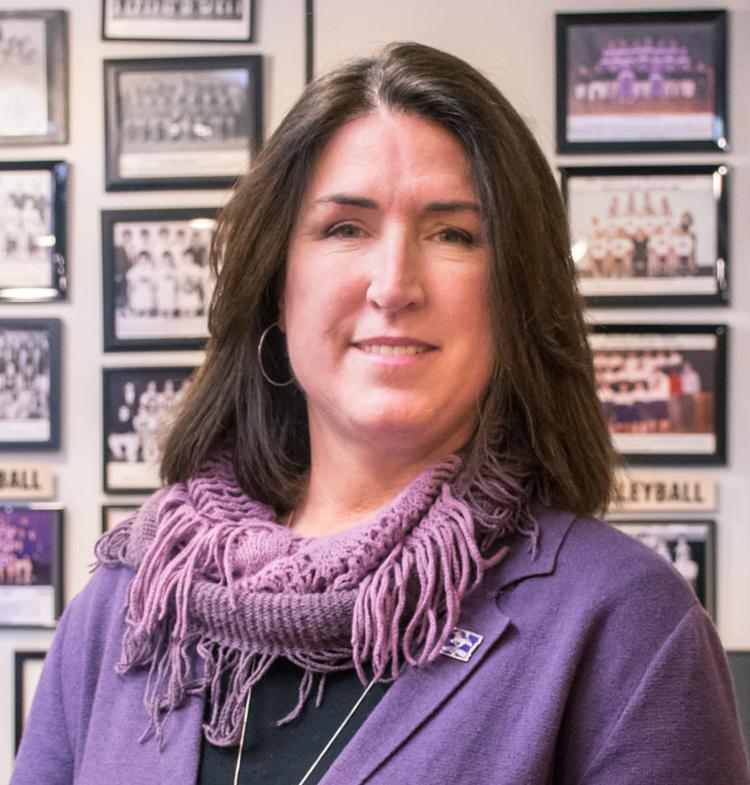 Christine Stapleton was born to a family of five girls in Goderich, Ont., a small agricultural town on the shores of Lake Huron. It was a childhood spent playing sports and working on the farm, one where she grew up with the belief that the best ones for the job get the job — and do the job well.
It's a personal proverb that has remained at the core of her career, from student-athlete to basketball coach to university athletics administrator. Despite being a woman in a field long dominated by men, Christine doesn't define herself as such. She is, simply put, "the best person for the job."
And her resumé certainly backs this sentiment. After a successful basketball career at Laurentian University, Christine took a head coaching gig at the University of Regina, seemingly worlds away from home.
"I was young and moved two provinces away, so that was definitely a challenge," says Christine. But she was up for the challenge, eventually building the Regina women's basketball program into one of the nation's best. During her decade-long tenure, Stapleton won three Canada West conference Coach of the Year awards, a U Sports (then Canadian Interuniversity Athletics Union) Coach of the Year award, three consecutive conference championships and a national title in 2001.
Christine also worked for Canada Basketball, coaching the junior national and World University Games women's teams along with other roles in national development. This passion for leading young people and developing them on and off the court made athletic administration at the university level a natural career progression.
"I want to help young people, whether it be their personal health and wellness or their engagement with student life and their school," says Christine. "And I want to make them feel safe and make them feel like they belong; when I was at Regina, it was about making the young women on my team feel safe, and that's the same now with all of our students at Western."
Christine's university sports administration career began at the University of Waterloo, where she took on a role as associate athletic director. Then she moved to the University of Calgary in 2015, where she worked as director of athletics. She made major impacts at both schools, helping lead their strategic visions in an ever-involving Canadian university sports landscape.
But when former Western University athletic director Thérèse Quigley retired in 2017, Christine couldn't pass up the opportunity. Not only would it be a homecoming for her and her husband, Chuck McMahon, who also grew up in Southern Ontario, but it would give her the chance to lead one of Canada's most successful athletic departments at a prestigious institution of higher-learning, where her vision for combining athletics with student health and wellness could come to fruition.
"There really is broad-based excellence here, in terms of varsity sports and health and wellness," says Christine, pointing to the success of Mustangs programs on the provincial and national level in both men's and women's sports, as well as the unique merger of student life, health and wellness and athletics at Western. It's what brought Christine to Western, and it's what has helped her succeed.
"Western has a breadth and depth of opportunity for students," says Christine. "We have a really diverse student body here at Western — students from the city, students from other places, some who come to our games and some who just want to be well — so we are finding ways to engage with all of them and make them feel like they're a part of this."
Facilities are being upgraded, Western's varsity teams are winning OUA championships and thousands of students are pouring through the Western Student Recreation Centre. But while all of these accomplishments are measurable, it's something more intangible that Stapleton hopes will be her defining legacy whenever she might leave Western.
"I want people to have had positive interactions with me and with this department," she says. "If people feel safe and included by the work I do and the work we do, then I know I will have been successful."
The right person for the job, indeed.