Code, caffeine and caricatures: Hack Western 5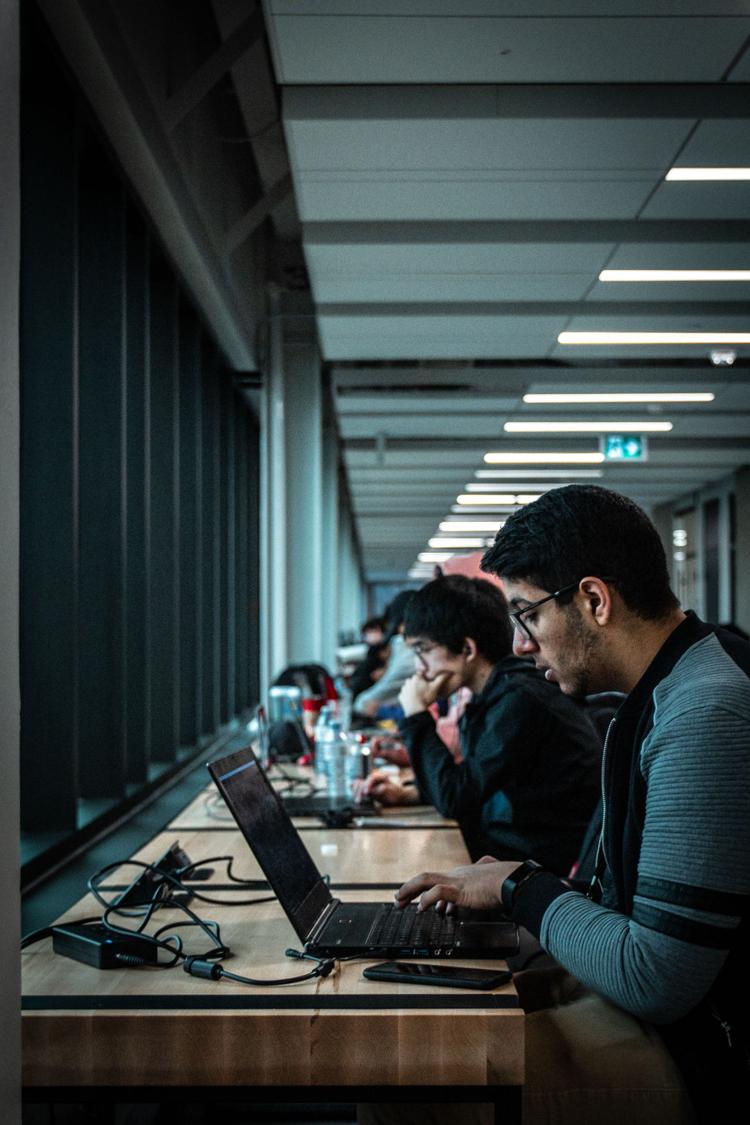 From the outside, the powerful and domineering silhouette of Western's newly christened Amit Chakma Engineering Building stands in bulwark fashion — both guarding and symbolizing the outermost edges of the campus border. With its stacked design, tall and glittering sectioned windows and audacious overhanging third floor that juts out above the main entrance, the once ambiguously named ThreeC+ building asserts a mighty presence with its bold post-modern stylings.
This past weekend, however, the building's shimmering white floors, high ceilings and open-concept interior were anything but intimidating to the over 600 students who attended Hack Western 5. Western University's programming competition, now in its fifth year, planned by a student-run committee of 16 organizers and dozens of volunteers, invites hundreds of university and college students from across North America each year.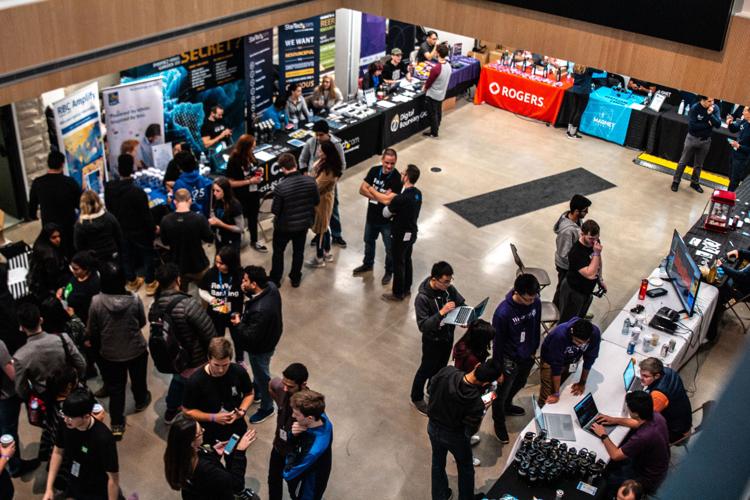 This year saw over 3,000 applications, and after each applicant was reviewed by at least two event organizers, the selected hackers were invited to attend one of Canada's largest hackathons to network, learn, and most certainly compete for scholarships, monetary prizes and high-end tech.
Joy Pak, a fifth-year computer science and consumer behaviour student, has been co-director for both Hack Western 4 and 5 and served on the organizing team after attending the first Hack Western as a participant.
"We want to make sure that our hackers have the best experience in terms of workshops and mentorship. Even small things like, 'Do they like the food? Do they like the venue?' " says Pak.
Hackathons are generally weekend-long events that span anywhere from 12 to 48 hours (Hack Western 5 being 36 hours). They allow students to collaborate and develop software and hardware projects (colloquially referred to as "hacks") to solve problems using computing technology. The only catch is that the projects must begin actual development during the event, with the goal being to demo the project for judges after the hacking portion of the event has concluded.
Event sponsors also typically provide prizes for specific categories of projects that best solve problems related to their industry.
"For example,… the Best Green Hack [category]: so, of course, that relates to the problem of sustainability. How can we incorporate technology in order for it to be used for greener purposes?" explains Pak.
Many sponsors also offer additional support in the form of free website hosting services, loaned hardware and specialized software tools available only to participants should they choose to use them in their projects. In the crowded and conversation-filled venue atrium, a variety of sponsors set up colourful recruitment booths where participants could learn about professional opportunities in various technological fields.
Notable sponsors in attendance included TD Bank, RBC, Rogers, Scotiabank, Deloitte and General Dynamics.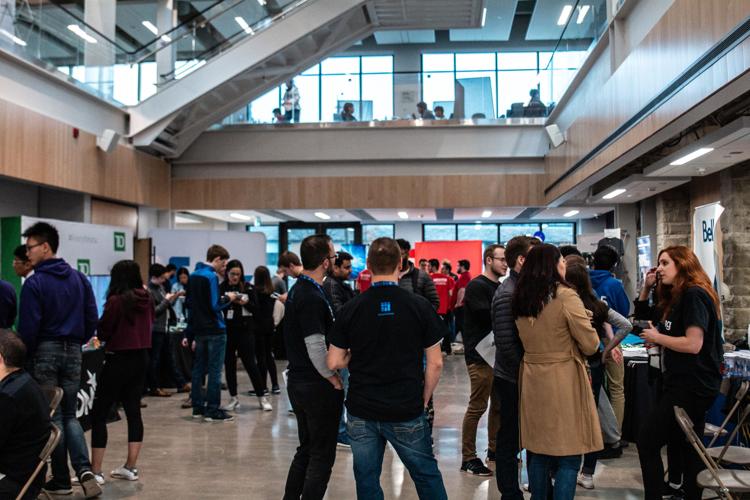 Mark Iantorno, a senior software engineer at Scotiabank and one of the representatives in attendance this weekend, believes that sponsor support for hackathons is imperative for the future of the technology industry.
"Scotiabank sees a lot of potential in the ideas and innovations that are coming out of institutions like Western. The fact of the matter is that every industry is slowly becoming a technology industry, and it's up to us support the younger generations and that drive forward," says Iantorno.
Hackathons have been around for almost two decades, steadily entering and attracting the mainstream tech industry. Almost every Canadian university hosts its own hackathon annually; dozens of high-schools have even followed suit — and there's no question as to why.
Many sponsors elect to hold skill development workshops that range from a basic intro to coding to improving your interview skills, with more advanced workshops focusing on topics like machine learning and artificial intelligence.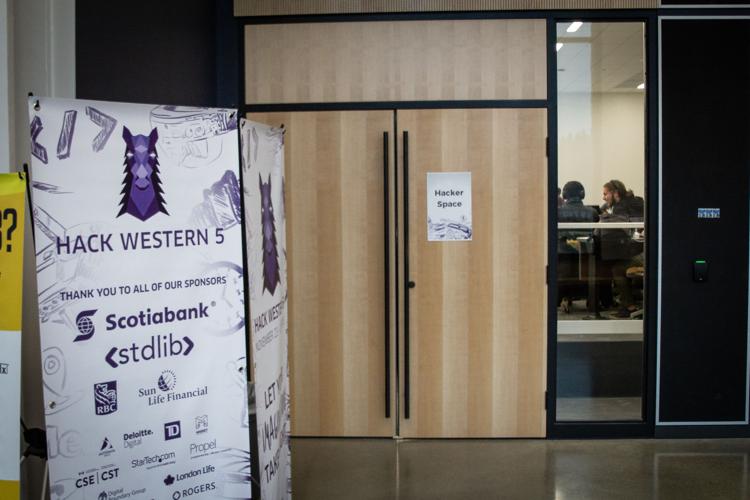 Matthew Huynh and Omar Dahir, both second-year computer science students at the University of Toronto and first-time hackathon attendees, both explain that competing wasn't their main goal in attending Hack Western. Instead, the pair felt their Hack Western experience was more useful as a learning and networking experience, given the industry leaders present at the event.
"I wanted to network and learn more through the workshops and to meet new people," explains Huynh.
"This is something that forces me to work on a project for at least a day; that was my goal," says Dahir.
But despite the allure of winning big and the potential for cutthroat, competitive attitudes, Hack Western's atmosphere was unflinchingly jovial and, as the project deadline rapidly approached, comically chaotic as participants exterminated last-minute bugs and cobbled together their presentations with desperate determination and furrowed brows.
Western's Raksha Kannan, a second-year computer science student, and Julia Bruce-Robertson, a third-year computer science and physics student, were participants this year and believe hackathons provide a good experience for beginners and veterans alike. 
"You see people from all backgrounds too [coming] to pitch [their] projects, to come up with ideas, to work on other parts of it; it's not just about the coding," says Bruce-Robertson. 
"It's just a cool thing. If you just want to develop and you have an ideal space to do it, why wouldn't you? … Go to a hackathon. Just do it," says Kannan.
If you lack programming experience — or have none at all — don't be afraid of applying for Hack Western.
"We want to make sure that the students who come to Hack Western are passionate about learning, and even though they might not have the best technical skills, we want to ensure that we have students who are really interested in learning, and a hackathon like this is a great way for them to get started," says Pak.
Being selected to participate at Hack Western is not without its perks. In addition goody bags, Hackers coming from outside of London receive travel accommodations or compensation. Each hacker also receives five meals throughout the course of the event, and complimentary snacks are available at a variety of stations around the building.
If the idea of coding for 36 hours straight sounds nauseating, there are plenty of activities and events during the program that can provide a much-needed escape from the endless errors and constant crashes.
This year, Hack Western featured a photo booth, therapy dogs, a caricature artist to draw participants and video game stations at no extra cost. Hackathon organizers know (better than most) the stress and anxiety that comes with developing an entire project in just a weekend. In a sea of code, the best life-preserver can often be the small and thoughtful activities that distract participants from their ambitious fervour, if only for a moment, and allows them to experience and participate in the community that exists outside their laptops.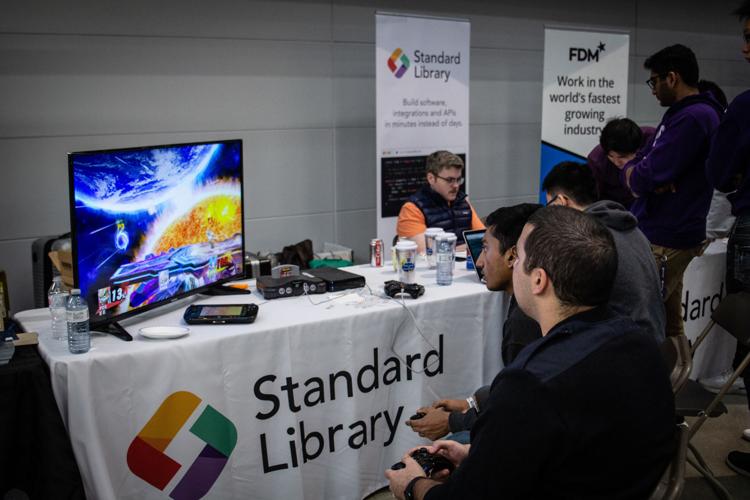 "[Planning these activities], it's just a good way for us to make sure that the only thing [participants] are doing isn't just hacking," says Pak. "Our goal is just to make sure that they have the best hacker experience ever."
The beauty of programming lies primarily in its flexibility and capability for creation. Everybody has a different idea for what they're going to build over the weekend and they've all got different ways of going about it. The innumerable languages, frameworks, and libraries that make these hackathons possible also demonstrates the diversity of the participants that attend them. There's much more to hackathons than their marathon-style programming attraction. Even the best programmers can't code beyond the limits of their intellectual stamina, and when they reach that point, Hack Western makes sure that a comforting reprieve is available to them.
Regardless of your level of programming experience or whether or not you're considering a career in the tech industry, attending a hackathon might change that. At the very least it will open up a whole new world of possibilities for you to pursue, professional or otherwise. Programmer or not, there's plenty to see, do, and experience at Hack Western and a near-guranteed possibility that you'll leave those sparkling corridors with more knowledge than you entered with.