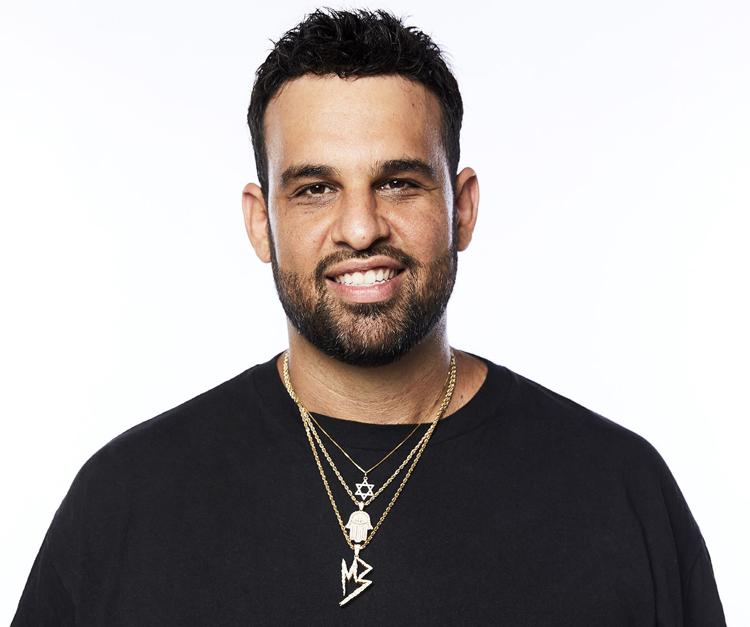 As Cory Litwin rides up the hills in L.A., we occasionally lose the phone signal to our interview, and I am awkwardly forced to reiterate my question. 
But don't mistake this spotty signal as a parallel to his celeb connections. A quick scroll through the hip-hop don's Instagram feed will show you the laundry list of A-listers Litwin frequents with: hanging with French Montana in Miami, repping a 2000s-styled outfit alongside G-Eazy and partying at the club with Smokepurpp.
In one photo, he's caught flashing a smile alongside JW the Mustang and the music producer he manages, Murda Beatz. The moment was captured at Purple Fest, an event Litwin holds close to his heart, having organized a number of Homecoming events during his time as a Western University undergraduate.
 

 

 

View this post on Instagram
"It was a full circle for me. Western's where I got my start; it's where I started throwing parties. It was a cool life moment," he tells me. Litwin's demeanour and story to success are unlike most Gazette profiles; his rhetoric is humdrum and filled with expletives, and his jump into the music industry has made him an important aspect of the behind-the-scenes to some of hip-hop's biggest tracks, including a production credit on Drake's "Nice for What." 
Before the chart-topping Murda Beatz made his rise to fame, Litwin was on the offence as his manager, trying to create something from nothing. Now him and Murda are on the defence, with publicity and production requests pouring in. 
When asked about his day-to-day routine, Litwin underwhelmingly describes it as a non-stop grind, with no two days the same. Some days, he'll map out the logistics of a performance for Murda; other days, he'll help create a Billboard chart-topping song.
But don't mistake his apathetic tone for a bad attitude. After all, Litwin's made it to the forefront by stirring up real-world connections with some of the industry's biggest names, and his inwardness and monotone responses are a product of his forward-thinking attitude; he's not too focused on the past but is rather anticipating his next move in the game. 
In the last week, he's helped to release Takeoff's new album — which was produced by Murda Beatz — and he's purchased a Mercedes S560 and a mansion on the hills. The music entrepreneur is also mapping out the blueprints for his management company, 2wenty 2wenty Music Group. 
Litwin received inspiration for the company from 2wenty 2wenty Marketing, his former management company, where he used to organize the biggest parties across London while juggling a double minor in sociology and psychology at Western. 
"I was making a lot of money. It isn't like people who promote now, like just trying to get a few people on the guest list. I was curating and creating events. It was a real business — a six-figure business," says Litwin, who was relentlessly networking during his time at Western, bringing some of the biggest performing acts to town. 
After a couple years promoting and managing clubs across London, Litwin felt like he had peaked.
"I was like a big fish in a small pond," says Litwin. He moved back to Toronto, did a couple more high-profile events, a stint at a marketing firm and co-founded a Toronto-based jewelry company that specializes in custom grills, Goldie Rocks Grills. Having an array of celebrity contacts who wanted to get blinged-out, Litwin was making grills for everyone from Snoop Dogg to Kylie Jenner. 
During a trip to one of his jewellers, Litwin was introduced to Shane Lee Lindstrom, better known as Murda Beatz, who was persistent to touch base with the then grill manufacturer, knowing he had a number of connections with OVOXO, the Toronto-based record label founded by Drake. 
Litwin was intrigued by Murda's hunger, and he helped him network with artists around the city in order to build his brand.
"We started clicking. I had a big hunger to get into the music industry, and I was waiting to find the right person to partner up with, and he really wanted to have his business organized and have someone to help push his brand," says Litwin. 
Eventually, the two moved out to L.A., and the rest is history. Now they reap the rewards, curating chart-topping hits for artists including 6ix9ine, Nicki Minaj, Travis Scott and 2 Chainz, to name a few. 
Litwin has even been credited as a producer, helping create Drake's five-time platinum single "Nice for What."
According to Litwin, during a 10-hour session last year, Drake had mentioned that he wanted a song reminiscent of New Orleans bounce-style rap. At the time, Murda was trying to find the perfect '90s R&B song to mash-up, but nothing was serving up to Drake's standards. 
"Murda's like 'Cory, you're old as fuck. You must have an idea.' Me and Drake laughed because we're both the same age, and I said Lauryn Hill," says Litwin, who also helped put together Drake's first performance. With Drake vibing to the track, the three mapped out the hit single in a couple of hours.
"We all knew we had something really special right after, like this song's going to be one of the biggest songs of Drake's career, and the biggest song of Murda's and my career," says Litwin. 
And even though the multi-talented hip-hop entrepreneur is at the top of the music game with connections through the roof, he's humble enough to admit his time at Western wasn't all that easy. 
"I was stressed so much during exams, I remember being at Weldon stressing so much," says Litwin. "I'm 32 now — I still have nightmares about exam times at Western."