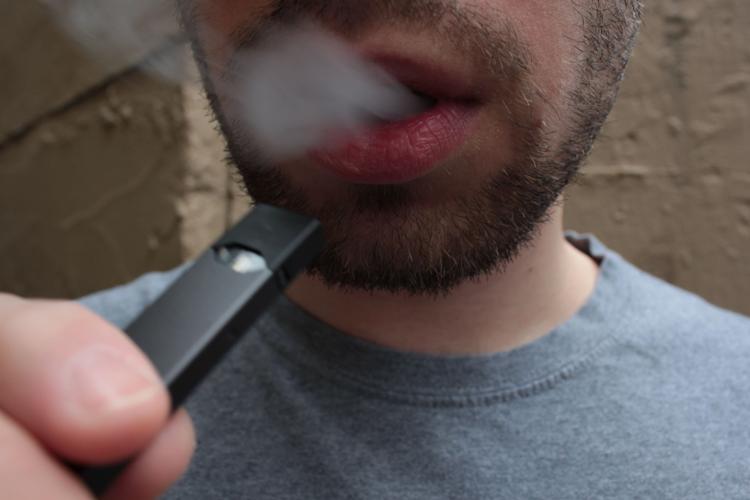 Marketed as alternatives to smoking tobacco, e-cigarettes heat liquid into vapour, which the user then inhales. Millions of teenagers across Canada and America are using them. But these aren't your parents' cigarettes.
Electronic cigarettes have found success among youth due to their unique and fun flavours — the same practice the tobacco industry was restricted from decades ago; the problem now is that research has found that effects of vaping may be just as detrimental as smoking cigarettes.
The Centers for Disease Control and Prevention reported in 2018 that more than 3.6 million U.S. middle school and high school students used e-cigarettes in the past month. In Canada, the University of Waterloo found that 3.9 million people under the age of 15 had tried an e-cigarette in 2015 — and these aren't your parents' cigarettes.
Stanton Glantz, a professor of medicine at the University of California and the director of the Center for Tobacco Control Research and Education, has been conducting research on tobacco and tobacco related issues for more than 40 years. 
Proponents of e-cigarettes may argue that vaping is relatively harmless and distinct from the negative effects attributed to tobacco-based cigarettes.
But not only has continued use of e-cigarettes been linked to heart disease, stroke, lung disease and addiction, there is even new evidence of its ability to cause cancer.
"There's a bunch of things that e-cigarettes deliver that are carcinogenic. They deliver a lot of formaldehyde because when you heat up propylene glycol, you get formaldehyde," explains Glantz. "There's also a variety of other aldehydes, benzenes and heavy metals."
These chemicals have the potential to disrupt bodily processes on a molecular level which could subsequently give rise to the development of cancer.
Glantz also attributes the rising popularity of e-cigarettes in youth to the industry's rigorous marketing campaigns. An extensive use of social media and the unique flavours combine to form a very appealing product for young people.
However, the impact of peer influence on vaping should not be overlooked; it's not uncommon to see a vape passed around at parties, similar to the history cigarettes have.
Another myth surrounding e-cigarettes is the absence of its addictive effects compared to ordinary cigarettes.
"It depends on the particular e-cigarette, because some of them deliver nicotine more effectively than a cigarette does and some less," says Glantz. "The goal of the e-cigarettes is to deliver nicotine in a way that mirrors the cigarette and the extent that they do that. They could be just as addictive."
Nicotine is an active ingredient in most e-cigarettes and is the primary reason for dependency and continued use.
As for any positive effects of choosing e-cigarettes over tobacco-based ones, Glanz argues there are none. 
"People used to think they're not as dangerous as cigarettes, but more and more evidence is building up. They're looking more and more likely to be about the same as cigarettes in terms of risk," explains Glantz. "The risk profiles might be a little bit different, and the biological mechanisms are a bit different, but the overall risk is probably going to be about the same."
The truth is that e-cigarettes are harmful and should be used with that in mind. Although research is still being conducted into their long-term effects, any beneficial or positive findings are not substantially promising.
Before any lasting damage is done, we must clear away this cloud of uncertainty.