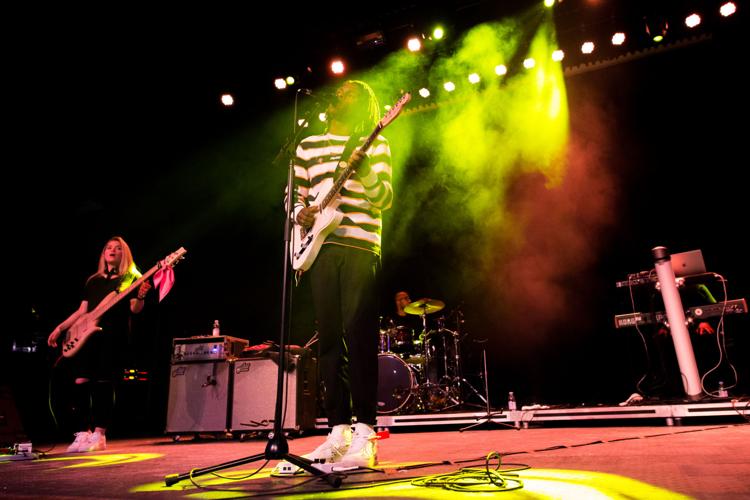 The opening notes of "Best Part" begin to play while hundreds of students in the audience scream the lyrics, building up to Daniel Caesar's arrival. He comes on stage in the Mustang Lounge, performing with a knowing-smile on his face. It was his demeanour, coolness and charisma that was emblematic of his sold-out performance last night at Western University.
Hosted by the University Students' Council and Tri-Sci, Caesar greeted an enthusiastic crowd. With a sold out North American tour, it's safe to say the R&B artist is riding a high right now. 
While EDM has proven to be Western students' favourite, Caesar's intimate and romantic lyrics also went over well. Caesar frequently engaged the audience, using a call-and-response style, particularly during the joyful choirs of "We Find Love" and "Neu Roses (Transgressor's Song)." And Western students delivered, singing lyric after lyric and giving the entire show a vibe that consisted of equal parts Kirk Franklin and Frank Ocean.
The live drums, keys and guitar also helped lift his more somber songs, making them more upbeat without taking away from the seriousness of his lyrics. Caesar was unapologetic about mixing in some of his older tracks from his SoundCloud-only EP and showing his own talent by playing guitar for a few songs.
Caesar has his roots in gospel, growing up as a devout follower of the Seventh-day Adventist Church — and the show was about as long as mass. Caesar has shown he's capable of longer sets before, like his recent 80-minute-plus sets in Toronto. The audience seemed to want more, and one or two covers would have padded out the concert.
Caesar closed with an encore of "Get You."
Henry Ho, a first-year management and organization studies student, left the venue ecstatic.
"The concert was so good. I've been a fan since last year after I heard 'We Find Love.' "
Last night was also an opportunity for Western band, B-Club, to gain exposure. Opening for Caesar, the band played for about an hour at The Spoke. 
Caesar, the 22-year-old Torontonian is coming off of a breakout year: his debut album, Freudian, sparked two Grammy nominations for Best R&B Performance, for "Get You," and Best R&B Album. If last night's concert is any indication, 2018 may prove to be even more successful, and it's safe to say he gained a few more devotees Thursday night.