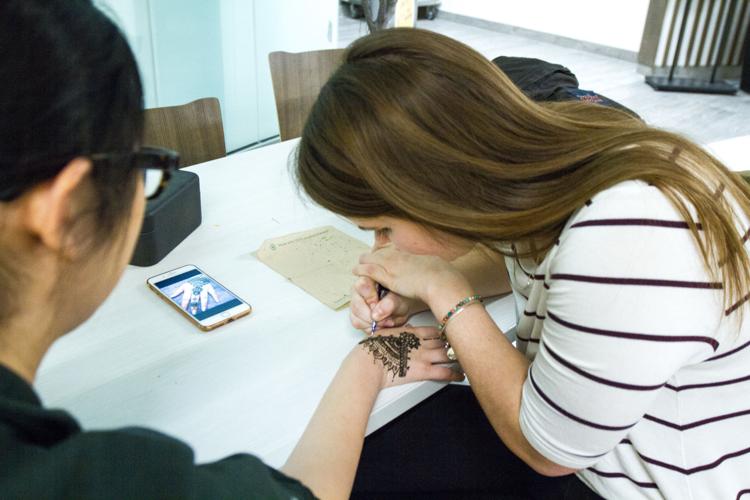 Although feminine hygiene products are easily accessible here in Canada, that isn't the case worldwide. Days for Girls, a charity that puts together feminine hygiene kits and sends them abroad to young women in underprivileged countries, is working to change that.
Last year Kavisha Patel, a second-year political science student, and Heather Hughes, a second-year arts and humanities student, co-founded the North London chapter of Days for Girls. The chapter hosted their second fundraiser on the evening of Feb. 5 in the Saugeen-Maitland Hall cafeteria, where they collected small donations in exchange for henna tattoos. Their first henna event raised over $200, allowing them to create 13 kits. Patel says that they are "Always looking to improve."
"What Days for Girls does is really close to my heart," says Patel. "[Menstruation] is a natural thing, so the fact that girls have to miss school for something like that is disempowering."
Hughes emphasizes the impact that feminine hygiene products can have.
"Not only are we helping women access hygiene supplies they wouldn't be able to get somewhere else, but we're also helping them get an education, which helps female empowerment and equality around the world," she says.
Regarding the historical stigma surrounding menstruation, Patel touches on the idea of female purity prevalent in some Asian cultures. "Obviously, there are so many feminists and activists trying to deconstruct those values, but they're still in the process of it, so we want to help in any way we can," she says.
"I think in our culture, having access to feminine hygiene products is just a given," says Hughes. "This event raises awareness that even though there are issues in our society, there are worse issues elsewhere."
"We don't know them, we don't see them and they're so far away, but we're here to help with their situation," explains Patel. "I just think there is so much power and beauty in that."