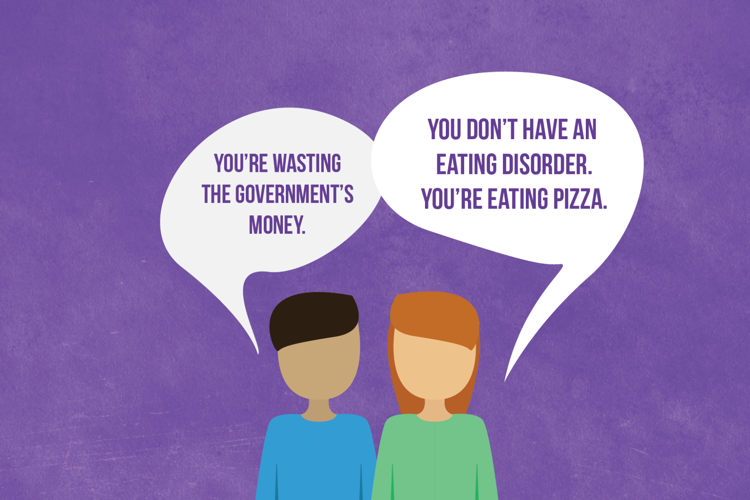 Catherine Dunne had only recently been released from the hospital for the second time, when a friend, out of frustration, told her: "This is the only part of your life anymore."
That's just a sample of the stigma surrounding eating disorders. Today, Dunne, a third-year political science student, has a very healthy relationship with food. But when she was diagnosed with anorexia at 15 years old, recovery seemed out of reach.
The first week of February is National Eating Disorder Awareness Week. Yet there was not so much as a booth present in the University Community Centre atrium. According to the Ontario Community Outreach Program for Eating Disorders, there are between 600,000 and 990,000 Canadians who meet the diagnostic criteria for an eating disorder. This is particularly distressing among youth, with onset diagnoses for anorexia peaking at ages 19–20 and bulimia at 16–20.
Dunne first noticed symptomatic behaviours at 13 years old when she felt guilty for eating junk food. A few years later, she was hospitalized for the first time. Dunne says she hasn't relapsed since her second hospitalization in Grade 11.
"It was the idea that I wanted to get my life back," says Dune. "I'd been in the hospital for seven months of my high school life."
Dunne says she can't pinpoint a reason for the relapse.
"I was a very big perfectionist growing up, and this was another thing I had to have control over," says Dunne. "After a certain point, wanting to have that control back mattered more to me than what my family and friends thought."
Understandably, Dunne found it hard to open up to her friends and family because of the stigma surrounding the disorder. She says that she also struggled with unrealistic media standards and toxic online communities.
"The internet was really bad for me. I used to find a lot of stuff when Tumblr was popular that encouraged other eating disorders," says Dunne.
The negative media portrayal is something that Emma Fricker, a third-year chemistry student, also found to be a factor. Fricker has been dealing with eating disorders for the past seven years. Even within the realm of eating disorders there are misconceptions over how someone is supposed to look. Having spent time in hospital outpatient programs, Fricker says the vast majority of patients don't look like the stereotypical image of emaciation. These stereotypes are put forward by shows and movies, like Netflix's To the Bone.
Like Dunne, Fricker recalls several negative comments over the years while she was in the outpatient program: "You're stealing the government's money" and "You don't have an eating disorder; you're eating a pizza," were some of the things she heard.
The idea that there is not one look for an eating disorder ties into Fricker's own diagnoses. At first she was diagnosed with anorexia, then it became exercise bulimia, but later, her diagnosis was changed to an unspecified eating disorder. This is a catch-all term for abnormal eating behaviours that don't fit the very narrow criteria of other disorders.
Because of this, she had trouble getting help.
Dunne and Fricker emphasize that patience and understanding are important if you ever find yourself part of a support system for someone dealing with an eating disorder.
"My little brother went through hell," says Dunne. "He sat through every meal. We'd be at the table for hours trying to get a meal down."
As far as awareness on campus goes, both students feel that any campaign would only benefit those dealing with eating disorders. While they were aware of the week, Fricker in particular spoke of the difficulties she experienced in trying to seek help on campus. In her first year, Student Health Services told her there were no counsellors available for her issue, they instead gave her a list of far-away therapists and hospital programs off campus.
"I feel like every semester, I've been to Student Health Services for help for my eating disorder," says Fricker. "Nothing was convenient, and I felt like I was an inconvenience [to them]."
Fricker has lived with an eating disorder her entire time at Western, and she says she still does not know all the resources available. Any sort of further awareness would reduce the stigma and start or continue the conversation for anyone dealing with an eating disorder.
"I've had an eating disorder for seven years, and I am only being open about it now," Fricker says.