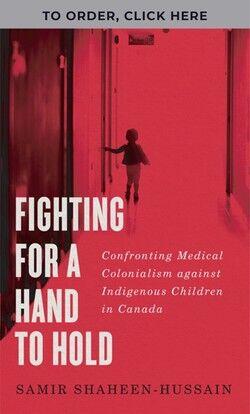 Dr. Samir Shaheen-Hussain, author of Fighting for a Hand to Hold, captivated a Western audience with his virtual talk on medical colonialism and systemic racism faced by Indigenous peoples in Canada.
The Feb. 23 event, hosted by the Health Studies Students' Association and co-hosted by HSSA vice-presidents events Vivek Gill and Victoria Altmann, focused on how the doctor's book unveils the systemic inequalities Indigenous face when seeking medical attention. Medical colonialism refers to "a culture or ideology, rooted in system anti-Indigenous racism, that uses medical practices and policies to establish, maintain [or] advance a genocidal colonial project," according to Dr. Shaheen-Hussain.
Its history in the persistence of racism in healthcare are key factors that force a subpar quality of care for Indigenous people.
From the separation of hospitalized children from their accompanying caregivers, to the abandonment of parents midway to hospital destinations, Indigenous communities are burdened with a slew of systemic inequalities in finding medical care.
Dr. Shaheen-Hussain points to MedEvac, the air and ground patient transfer service, as a prime example of where inequalities are faced. The service is designed to be used to transport people from lesser travelled destinations to hospitals. But alongside that, it has gained recognition for separating loved ones from travelling with a child who needs hospitalization.
Matters become more confusing and stressful when loved ones would be allowed on a shuttle, and then be told they are unable to continue the journey once handed over to challenger planes. Parents or guardians then have to pay for a separate flight while the child was taken away.
Many believed that the practice ended in the 1980s, but in light of recent emerging cases, events of distressed children being alone at the hospital acted as a catalyst for the #aHand2Hold campaign in 2018.
#aHand2Hold covers issues regarding standards of care, ethics, caregiver influence and the psycho-emotive trauma caused by being alone in a medical emergency. 
"[Policies and practices bred by systemic racism] can be right under our noses and go 'unseen'… I think that it is important that students learn the good and the bad about the fields they are studying to go into, as a measure of academic accountability and in order to prevent future wrongdoing," said Gill.
Dr. Shaheen-Hussain concluded the event by citing the importance of not letting these issues be swept under the rug. In the future, he hopes to work closely with other Indigenous activists and the community to help foster awareness and change.
More information can be found on the campaign's website.
Correction (March 22, 2021, 4:59 p.m.): This article was corrected to reflect that Vivek Gill and Victoria Altmann are co-vice-presidents of events of HSSA and add an updated definition of medical colonialism.