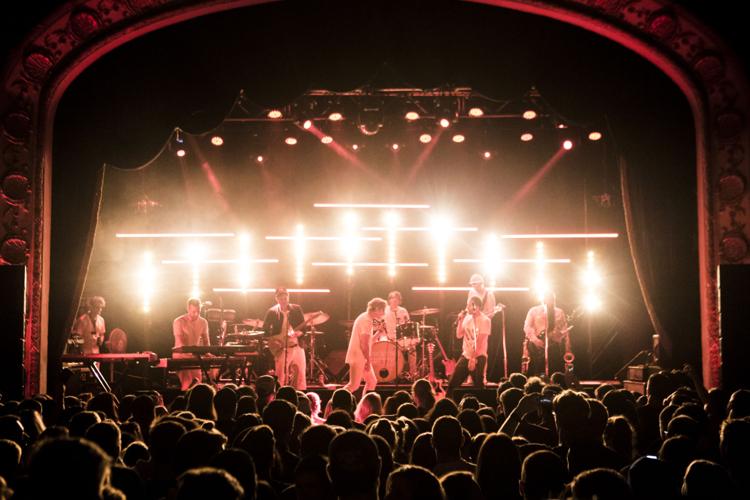 You might not think that The Beatles, Britney Spears and Fleetwood Mac have all that much in common, but Toronto-based cover band Dwayne Gretzky would disagree. While these artists' songs span different genres and decades, they all share one important commonality: they have the ability to capture audiences. On Feb. 15, Dwayne Gretzky will be performing at Rum Runners in London Music Hall, in a set bound to include everything from Bowie to Beyoncé.
Dwayne Gretzky has become a musical phenomenon in the Greater Toronto Area, drawing crowds with their covers of the most well-loved songs of all time. Tyler Kyte, the band's lead singer, explains that, whether the band is playing classic rock or modern pop, their goal is always to pay tribute to the original artists.
"We celebrate the songs as much as we can, and I guess audiences have connected with that," Kyte says. "These are all great songs that were written to perfection and recorded to perfection, so we want to do that justice."
Despite their GTA stardom, Dwayne Gretzky never formed with the intention of being a full-fledged cover band. Instead, it started off as a group of friends performing in Toronto bars for fun. The band realized that they could turn their cover sets into a career when they saw how much their performances resonated with audiences.
"When we started playing in Toronto, there was a real dialogue between us and our audience," Kyte expressed. "The band had found each other, the audience had found us and we had found this audience, so it was this joyful experience that became really fun."
When the band first started performing, they didn't even have a name yet. After one of their sets, someone in the audience asked what the band was called. Nick Rose, one of the band's founders, answered "Dwayne Gretzky" as a joke.
"It's a joke that I probably never would have remembered, but somebody put us up on YouTube under the name 'Dwayne Gretzky,'" Kyte laughs. "That was the point where we realized that we were a band."
The success Dwayne Gretzky found in Toronto shouldn't come as a surprise to Western University students, who have a tradition of celebrating covers of popular songs. Week after week, Rick McGhie's sets in The Spoke join students together with everything from "Sweet Caroline" to "Pumped Up Kicks."
While Dwayne Gretzky tends to focus on classic rock, playing songs from Tom Petty, Springsteen and The Tragically Hip, they throw in modern songs as well. With such an eclectic mix of music in their repertoire, the members of the band have learned to curate their setlist based on their audiences' preferences.
"We read the room like a DJ would and play some songs that suit the environment," Kyte says. "We have a repertoire of about 80 songs which are all open season. So we just go to the venues and we see who's there."
Part of a small tour through Ontario and parts of the United States, the upcoming performance at Rum Runners marks Dwayne Gretzky's first ever concert in London. Above all else, Kyte hopes that this tour will be an opportunity to keep celebrating great music while finding new audiences.
"I really don't know what to expect since this is our first time doing a tour like this," he says. "Because we're 10 people on stage, we're already a bit of a moving house party in ourselves, so we'll be having fun, and hopefully everybody else will be having fun too."
Tickets to see Dwayne Gretzky at Rum Runners can be purchased through Ticketfly.