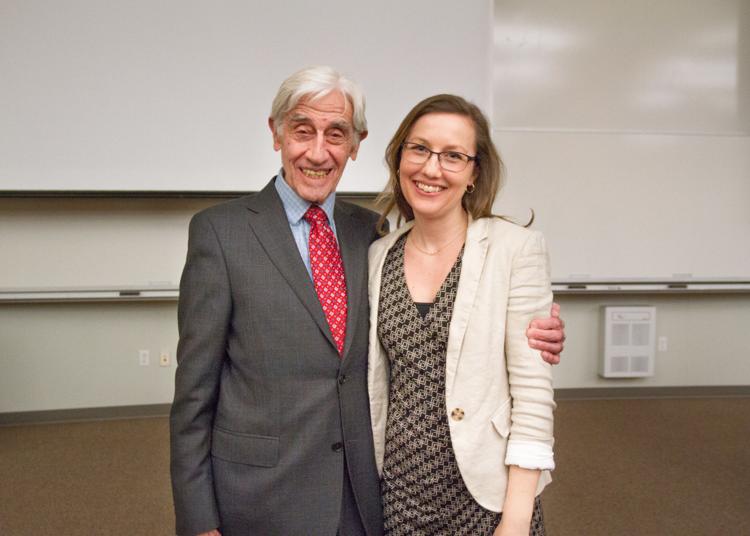 Elly Gotz speaks five languages fluently. He can fly an airplane and even jumped out of one at the ripe age of 89. He's lived all over the world. He sold alligator skins and has a degree in engineering: a true renaissance man. He's also a Holocaust survivor.
His journey is long and hard. It began in 1928. Now, 92 years later in March 2019 at Western University, Gotz stands in front of a crowded room as "a person who survived during a time when six million Jews were murdered."
Before the war, Gotz had a normal life. His mother worked as a nurse while his father worked as a bookkeeper at a bank. Kaunas, Lithuania, was not a bad place for them. The Soviet Union occupied their small country, and Gotz was your typical child, enjoying school and time with his friends, dreaming of flying airplanes.
In 1941, Germany attacked Russia. The country Gotz had grown up in, the place he called his home, soon become a hostile environment. Lithuanians thought that the German occupation meant they had been given their freedom back, and a provisional government was set up.
"The first law they passed was the Jews are not of Lithuania. We lived there for 800 to 1,000 years, and we were suddenly not citizens," says Gotz.
Soon, groups of people began to sport white arm bands. These "whitearmbanders" would grab Jews off the street, rob them and then murder them with rifles.
"Five thousand Jews were murdered in the first six weeks of the war, before the Germans took over management," Gotz says.
Many years later, in Western's Health Sciences Building, Gotz stands urging students to learn German history.
"German history is very important today. We live in a time where the world tends to turn toward nationalism, individual nationalism of each nation and promoting nationalism to the disregard of others."
Gotz wants to remind students that they have the power to stop anything like the Holocaust from ever happening again. "It is important to understand what happened there because what happened there could happen again. Democracy is under some stress right now, particularly by nationalist and excessively nationalist policies around the world."
An old part of town was soon transformed into a ghetto and surrounded by barbed wire. "We only got one small room, very crowded conditions. Then the Nazis came and announced, 'We are coming door to door. We want you to hand over all your valuables. Gold, silver, jewelry, money, anything of value. Hand it over. Don't try to hide it, because if we find it, we will kill you on the spot.' "
Two soldiers came to the room. They didn't have much, but they put what they did have on the table: a bit of jewelry, silver candlesticks, a bit of money.
"One of them was standing there writing down a list of what they stole from us, then he asked us for our surname and gave us a copy. He gave us a receipt after robbing us. Like somebody comes into your house and steals your television set and leaves you a receipt with his address. Germany is an orderly country; they kept everything written down."
What was more precious to the Gotz family than their valuables were their books, which, of course, the Germans demanded as well. They had to bring their books to a local synagogue, only to find it filled with rare books and completely unguarded. They came to the synagogue with a wheelbarrow filled with books and returned home with seven more times to fill a new collection. Gotz's innovative spirit was ignited here, as he could continue to learn through his new collection of books; he built himself a secret library in a shed near his family's home in the ghetto.
Life at the ghetto began to feel almost normal. The grown-ups would go off to work, and Gotz would read the days away.
But one day in October 1941, there was an announcement: "Nobody goes to work tomorrow. Everybody is to gather in a big open field in the ghetto. Don't stay home. Leave the doors open. If we find you, you will be shot on the spot."
"Thirty-thousand people came out in a big field. In front of us, an officer directed families to either outside the gates or back to the ghetto." Gotz found himself wondering which side was the "right" side. Which side did he want to be on? He soon got his answer. The next morning, Gotz saw 10,000 people marching up a hill to Ninth Fort, where soldiers would practice shooting. On Oct. 29, 1941, all those who he had watched walk away, walked to their murders at the hands of Nazi soldiers. Men, women and children alike were all murdered that day, as is written on a German document describing executions of "surplus" Jews at Ninth Fort.
Thinking about this moment in Gotz's life ignites a fear, that people will believe Holocaust deniers. Gotz names Monika Shaefer, a Canadian Holocaust denier, who refers to the genocide as the "biggest, most pernicious and persistent lie in all of history." This returns Gotz to why he feels the need to share his story with students, to ensure that the Holocaust is never forgotten or written away as a lie, as some people would have the world think.
Despite the death that loomed over the ghetto, life for Gotz continued. Trade schools for children were built, and Gotz attended a metalworking school. He loved it, and upon graduating, became a teacher there. Through all the atrocities he and his students faced, they remembered each other and were able to meet up in Tel Aviv, Israel, after the war. 
After three years, the Germans came and announced that they were liquidating the ghetto because the Russians were approaching. To the people of the ghetto, liquidation meant one thing: they were going to be marched up to Ninth Fort and killed. The Gotz family acted fast and brought food and water to a hidden cellar. Among their provisions were syringes filled with a drug that would kill them if they were caught by the Germans. They did not want to die at the hand of Nazis. Gotz sat in the cellar day and night, waiting and waiting. They knew the Russians were approaching and hoped if they could just wait long enough, they would be saved.
One day, Germans came into the room where the entrance to the cellar was. They checked everywhere, and Gotz was sure they would be caught. He pulled up his sleeve and laid in waiting. He was ready to die. "I decided I'm going first. I don't want to see my family die. Heart attacks are painful. Seven people screaming in pain, I don't want to see that."
But the Germans did not find them. They continued to sit in the cellar until they assumed the Russians must have arrived at that point. So, they left the bunker, only to find people being boarded onto trains. Gotz thought, maybe, since it turned out that Germans weren't lying, that they would take them somewhere better than ghetto, so they decided to join the people on the train.
They went south from Lithuania in a very cramped train with no air or facilities. He watched more people die. In the morning, the women were separated from the men and left in a women's camp, Stutthof, and then the men continued on to the notorious Dachau.
"Dachau was a place of torture, a place of medical experiments, a place of killing, of shooting, a place of beatings." In Dachau, Gotz and his father would work 12-hour shifts and then get treated to a small bowl of watery soup. In the morning, they had what Gotz refers to as "black water they called coffee." Every other day, they were given a treat, a small square of margarine or cheese.
After 6 to 7 months, Gotz weighed 70 pounds, while his father weighed 65. His father was so sick that Gotz was sure he was going to die. "He had already decided to die, I could see it." When the Americans began to approach, they were transported to Dachau's central camp. Liberation was on the tip of their tongues, and somehow, Gotz and his father lived to be greeted by the Americans.
Upon being liberated, Gotz was determined to do something, to kill those who had tortured him. "Revenge. I wanted to kill Germans, I was very determined about it. And I thought of nothing else, I was only thinking about killing them. Every time I would see a German I would think, [he] probably was a guard in Dachau," said Gotz. "One day I said to myself, 'That's ridiculous! You can't kill Germans. They are a whole people, you can't accuse a whole nation of being murderers, that's what they did to us. All Jews are bad, and now I am doing it to them.' I gave it up; I gave up hate. And when I gave it up, I started living for the first time."
Gotz was able to give up hate and begs us to do the same. He says there is no place for hatred in this world, as hate led to the Holocaust. He survived so we could hear his story, so we can learn and be better. We must never forget Gotz's story or the Holocaust, for he is not just someone who survived, but someone who lives.