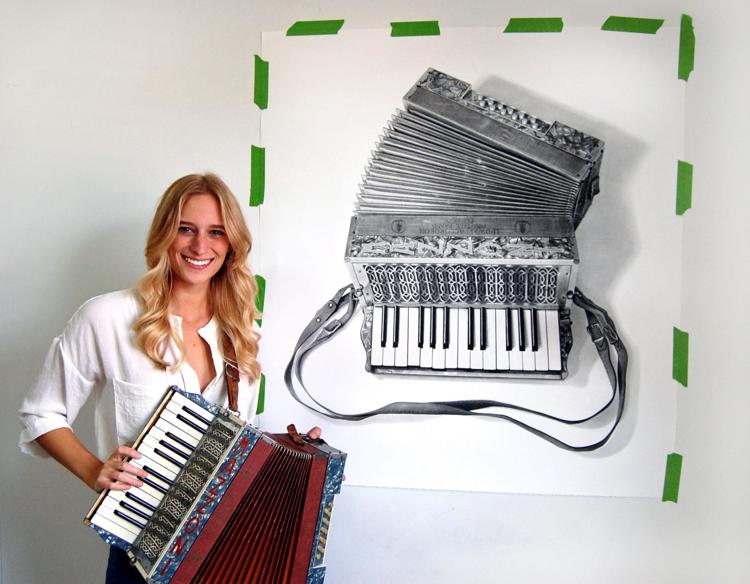 Emily Copeland sees things you don't.
At first glance, this Western alumna's Instagram page looks like an artsy grid of black and white photographs. Only if you saw the captions would you know that they're actually intricate, detail-oriented and hyper-realistic drawings, which garnered the attention of the prestigious Bernarducci Meisel Gallery in New York City, now known as the Bernarducci Gallery.
With everything from a pair of leather cowboy boots to a disco ball to an electric guitar to a vintage slot machine, Emily likes to expose the detail of vintage objects that people don't normally see. With her retro interests, this realism artist puts old, everyday objects onto a sleek white canvas.
"I believe that vintage items have a priceless value because they come with stories and memories, so I want to do a mix of old and new," says Emily, who graduated with a fine arts degree. 
After she chooses an object to draw, Emily usually takes around 400 photos with her phone's camera. To anyone else looking at the photos, they may look the same. But Emily has trouble selecting between two almost identical photos, recognizing the finer points that bring beauty out of images.
"I want to take everyday items and make them beautiful and show people that anything can be beautiful," says the 26-year-old artist.
Emily's vintage ornamental telephone piece is her favourite, but it was her hardest one yet. With the level of detail and accuracy, it was a challenge that lasted her about a month and a half, with 15-hour days that resulted in bruised hands.
"Realism is about drawing what you see, not what you think you see," she says. "When I see that it looks exactly like the photo I'm working from, it's something that's really satisfying. There's something about knowing it's done and seeing it, and people are like, 'It looks like a photo.' "
Being at Western University helped Emily propel her love for art forward. Lessons about art history and criticism gave her an understanding about where her ideas started, and she says it gave her the confidence to critique and challenge them. 
"I don't think I'd ever be able to survive the art world without that knowledge," she says.
Western also offered Emily her first solo show titled "The Stacks" at Western's Artlab Gallery. Emily's pieces have a lot to offer since she chooses not to put meaning into her work as she believes art shouldn't be subjected to one point of view.
"As soon as you put a meaning, that's all they see," says Emily. "I leave it to the audience to decide what they like about it."
When Emily first saw her works up on the walls of the then Bernarducci Meisel Gallery, she realized this was her career now.
"I hadn't ever seen my work all up in a room before. 'The Stacks' at Western was small, but I had over 15 works at this gallery in New York. The moment I stepped into the gallery, they were all presented there, and I realized this was my career now. It was a really cool experience to be able to see that."
Being paid for her work has given Emily confirmation that it's possible to make a living as an artist. But being an artist comes with its challenges.
"You also have to be extremely good at budgeting," she says. "When you're not selling artwork, which could even be the case for a whole year, you need that money to sustain yourself, which requires heavy planning and budgeting. That's the lifestyle I chose, and I'm OK with that."
Emily continues her art career because she thinks art is important and she feels the world needs it, especially in this day and age.
"It's important to have the ability to spark conversation through images," she says. "I believe without art the world would be pretty uninteresting, repetitive and dull, not just physically, but emotionally as well."
Perhaps as Emily does, marvelling at mundane objects might make the world a more exciting place.