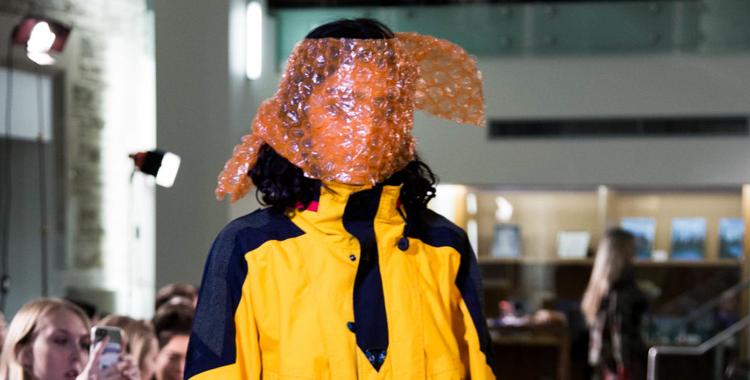 Western University's Fashion & Lifestyle Society, a student-run club that brings together models, photographers and fashion curators for seasonal shows, provided an industrial take on modern vogue at Things Unfinished — one that was omnipresent and always in a flux. 
With about 160 viewers in attendance, it took only 10 minutes to get the entire message across at Things Unfinished on Saturday night.  
Shirt and cardigan buttons were intentionally placed in the wrong slit, transparent orange and purple bubble wrap was used as abnormal garments and accessories, and militaristic costumes were used to represent one portion of the night's theme — exploration and progress.  
The expressive motif addressed in Things Unfinished might not have been clear, but that was entirely intentional, according to the show's director Maya Chambers. 
"I wanted a broad title so that I didn't tell the viewer how exactly to interpret it. Basically, the show itself is sort of an exploration of things that are in progress. It's like when you're caught in the moment or process of doing things," says Chambers, currently in her second year of fine arts. "I wanted to do something that felt current, but I didn't want it to be like 'Fuck Trump,' or something too obvious."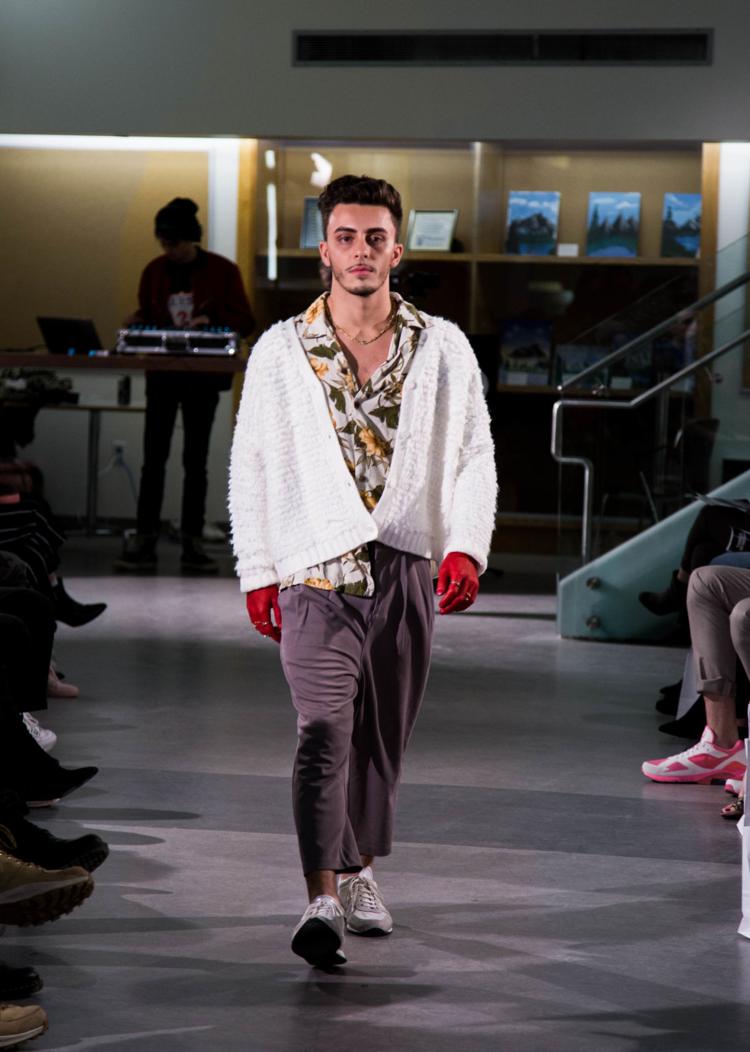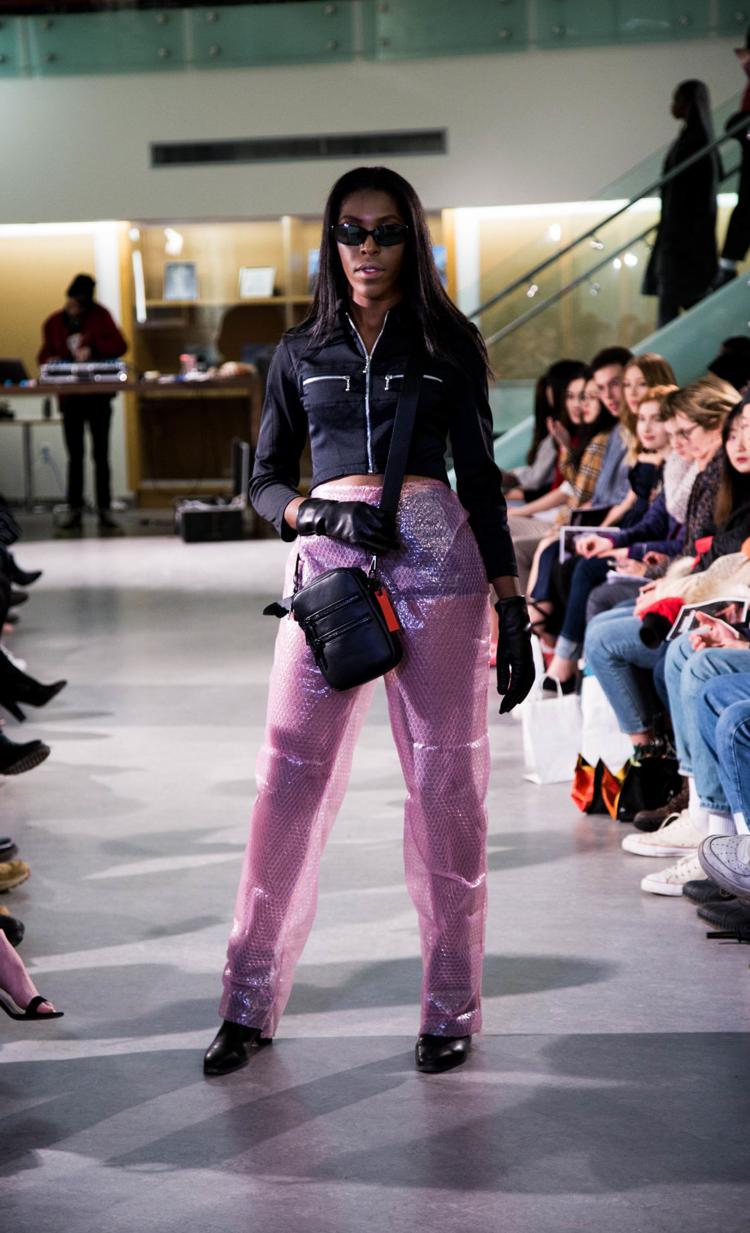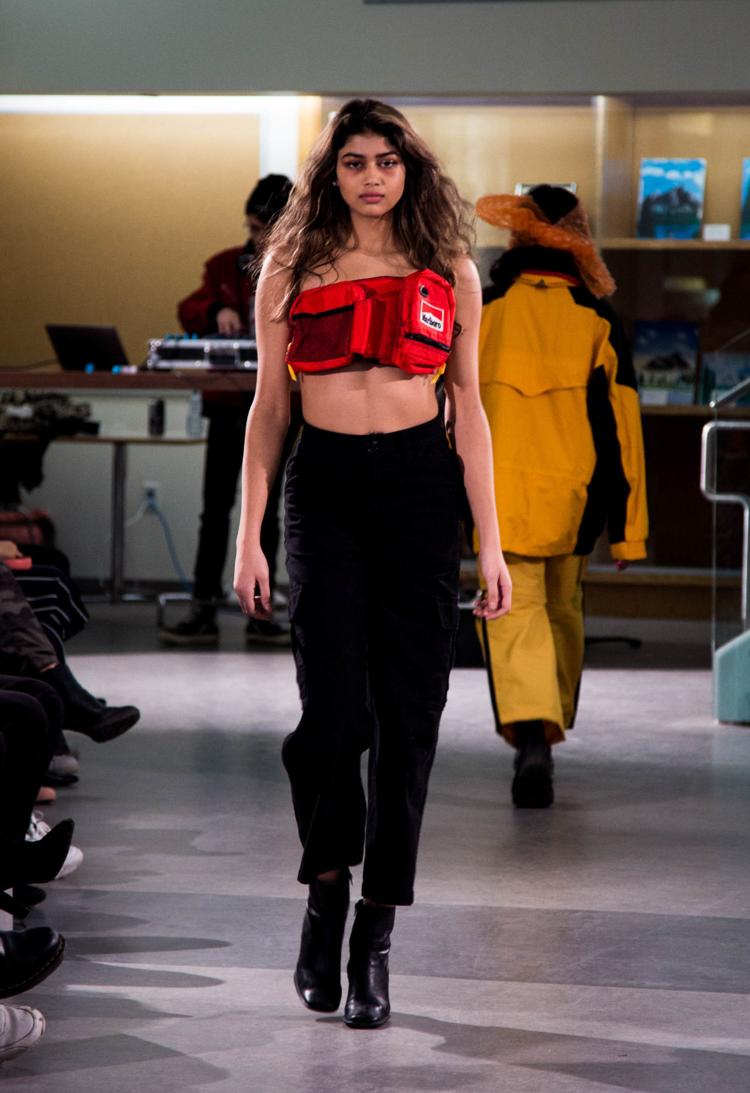 Throughout the night, different sections of the vague theme were melded together, allowing the spectators' mind to wander. Chaotic but interrelated subjects, including pilgrimage, military, state of undress and "wrapped," were all presented seamlessly throughout the 10-minute runway performance, allowing members of the audience to ponder what exactly each item of clothing meant to them. 
Photographers and videographers were floating around the glass and stone-laden open space of the main foyer in the Physics and Astronomy Building as cryptic, slowed-down electronic music played by up-and-coming DJ Koptic, adding to the chic aesthetic of the night. 
The pilgrimage section was the most abstract thread in the show, as models were strutting down the stairs with outfits that were dishevelled, wearing casual clothing, including an assortment of woolly cardigans and radiant floral dress shirts buttoned only halfway. And while models were walking down the runway with confidence and grace, their outfits reflected distress and affliction. 
High fashion military outfits invaded the show, symbolizing strategy and physical combat through clothing including a boisterous, brown, leather trench coat and a camouflage button-up shirt. One of the most articulate outfits of the night was that of a male model, who repped a blue cargo jacket, khaki cargo pants covered in thigh-high pockets, heavy-duty black combat boots, a royal-blue beret and a tightly-fit metallic chain, all explicitly representing power and the elite.
"I was trying to think a lot about how power relations are portrayed in the way clothing is styled," says Chambers, who found inspiration for the show through the 1973 World Press Photo of the Year of Salvador Allende, Chile's first democratically chosen socialist president.  
In the iconic image, Allende, accompanied by his inner circle, emerges from the La Moneda presidential palace in Santiago during a military coup, which took place on Sept. 11, 1973. In the last image before he and his social regime were conquered, Allende can be seen wearing a goofy sweater and a unkempt helmet, looking rather unprepared for the overthrow. 
"Presented along the image was this idea that the revolutionaries are always prepared for the revolution, while everyone else isn't," says Chambers. "I thought that was kind of interesting. How finished you are and the way you dress can say a lot about what you have access to and where you are in life and power relations."   
And while the first three themes seemed grounded in the show, the "state of undress" section was rather ambiguous, with one model literally wearing a bright-red Marlboro fanny pack as a shirt and another model wearing clear, transparent pants. Even though this section of the show was not as impactful on viewers, the nihilistic tone and creative demeanour of Things Unfinished was an ultimate success.
The fact that the club was able to capture such a progressive, emotionally stimulating, politically-charged concept in only 10 minutes and with such ambiguity was impressive.