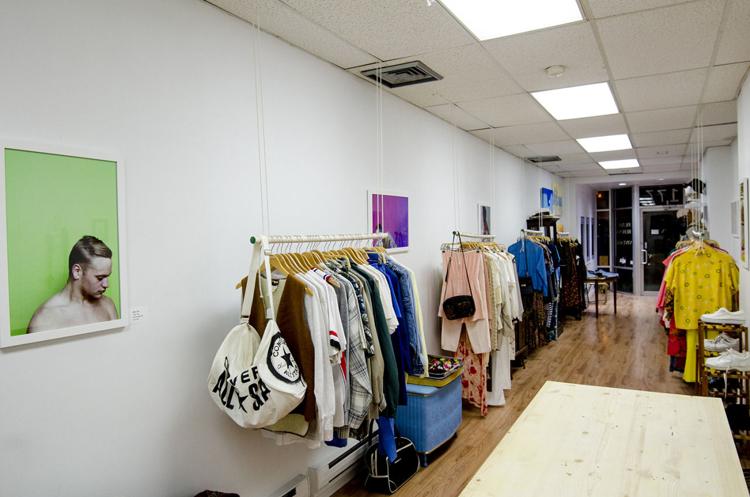 The underground culture of thrifting may seem like a daunting world for most to get into, let alone find. But for those willing to dip their toes in a subculture that's nice to your pocket, Filthy Rebena is a local boutique willing to open your eyes to the world of style and originality.
Meet Natalie Bradshaw. Easily confused for Sex and the City's Carrie Bradshaw for her daring style and presence, Bradshaw and her business partner Darlene Davis opened Filthy Rebena in 2015. Originally starting off of an Etsy page, the two opened their store in downtown London to thrifters looking to add staples to their wardrobes.
"In London there's not a whole lot of thrifting stores," Bradshaw says, "that's why I came back to London, to open up a boutique setting vintage store because they have so many in Toronto and it's just so awesome."
Bradshaw began her fashion career after attending Fanshawe College for fashion design. Working a few jobs in design, she soon realized her love for fashion was in styling and began working for Beyond Retro in Toronto, where she met Davis. Opening their online shop in 2011, the two began collecting their own pieces through their job and built an audience online. Eventually the two opened Filthy Rebena, a name that definitely turns heads.
"We were brainstorming names one day and Darleen said [Filthy Rebena] and I said I love the sound of that, and that's how it stuck," Bradshaw says. "We sort of use it as our alter ego."
Thrifting has been a habit for the two for a while. Thrifting offers patrons the ability to pick out a fundamental piece that will carve their aesthetic. Eventually thrifters define their style sense without being influenced by commercial brands and latest trends. This applies to third-year French and Spanish language and linguistics student Alecia Bryan.
"I find that media affects me a lot less compared to what it use to because I thrift now," Bryan says. "I find things that I specifically like since I'm not being influenced by anyone else."
Bryan, an avid shopper at Filthy Rebena, started thrifting in grade 10 and has never looked back. She met Bradshaw during their time working together at American Apparel and helps her in the store from time to time. Bryan heavily endorses everyone to delve into the world of thrift shops and invest in staple pieces to carve their look.
"It's good to go to thrift stores to get an idea because if you go to chain stores they're constantly giving the same idea," says Bryan. "Even though it may not fit your style that's all you're being shown. So it's harder to find your own voice in terms of style."
Finding outfit essentials also keeps Bryan coming back to Filthy Rebena. 
"Filthy Rebena provide a great range of clothing: they have high end, vintage and great pieces to wear, which is awesome because I find when you go into vintage and thrift stores it's so specific in the pieces they have where you can't really incorporate it into your wardrobe very easily," she adds.
Bradshaw also loves the environmental benefits of thrift shopping. Reusing clothing prevents waste and extra money being spent, a bonus to an industry that seems to recycle styles from decades before. Additionally, thrifting supports your local economy. 
For those on a student budget, thrifting offers the individuality most students look for as well as the affordable pieces that's easy on the pockets. Bradshaw and Davis want to continue this philosophy for their one-year anniversary on Feb. 9.
After opening the storefront last year on Valentine's Day, the two will be having a Toonie Tuesday bonanza in their backroom. The section will feature accessories offered for $2 for patrons to pick accent pieces for their outfits, their way of giving back after a year of success.
As the two get ready for the event, they look forward to welcoming more customers into their world of thrifting. Bradshaw recommends it to everyone and hopes to see new people in her store every day.
"It's kind of like your dream, right? You want the same people to come back who enjoy the setting and the atmosphere," she says. "Vintage is like a lifestyle, so it's likeminded people that shop here."
Check out the Filthy Rebena Facebook page and event to find out more about the store.