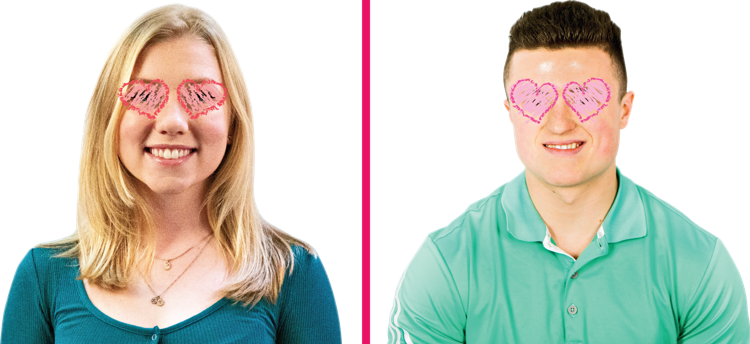 I was a little skeptical about going on a blind date at first, but I figured it could be a new and interesting experience. Besides, this is probably the only time it will ever happen, considering how easy it is to lurk people on Instagram or Tinder. The only thing I was told was that he had a really nice personality, so I was hopeful, to say the least.
Unfortunately, that didn't seem to be the case for our server at Toboggan.
Before going out, I wasn't feeling the best, being a victim of cold and flu season and all. Regardless, I was pretty excited, but nervous, so I chugged wine while I put on a nice floral red shirt and heels to calm my nerves.
I messaged to make sure he was all good to go, but to my surprise, he was already at the restaurant. Startled, I rushed out of the house as fast as I could.
When my Uber got there, I rushed to open the big wooden doors of the restaurant and quickly apologized to him for coming late. He was very sweet and understanding about it.
We sat down and immediately started talking, but the waiter seemed a little sassy when we hadn't decided what we wanted to order for drinks or food yet. I didn't want to be basic and get a salad, so I decided to be even more basic and get a mushroom and brie pizza. After all, you would imagine stuffing a large piece of lettuce in your mouth isn't easy on the eyes.
He was easy to talk to, and it was nice getting to know a new person. Beyond the basic questions about our programs and home life, our common interests, like sports, were what held the conversation. Fun fact: he and his roommates have collectively created a 400-can beer wall.
After dinner, he tried to pay, but I explained that it wasn't coming out of my own pocket so he didn't need to worry about it, and I wasn't just trying to be a feminist. 
It was still pretty early by the time we finished dinner so he suggested we go to Roli Poli, an ice cream shop downtown, but it was pouring rain and we weren't about to walk that far. Instead, we sprinted over to Marble Slab.
By the way he offered to pay for ice cream and dinner, I could tell he was really generous. We sat down with my chocolate brownie ice cream and his own creation and continued talking. I wasn't sure if it was the horrible weather or our dislikeable faces, but the staff here was also not very hospitable either. 
We ended the night by contemplating going to Jack's, so I decided to invite him and his friends to my house to pre-drink. Instead, we both just went our separate ways, to my relief, since my roommates would have scared him away anyway.
I barely saw him at the bar later, because I was being a friend-sitter all night, so I hope he understood. Besides, chicks before dicks. Even if luck wasn't on our side at any of the places we went to, it was better than my awkward Grade 12 date to the movies.
- Second-year student and Gazette editor
---
When I was first asked if I wanted to go on a blind date, I was open to it. It honestly sounded like fun, and I figured I might as well give it a chance. I thought it would be a good idea to try it out and meet someone new while doing it. I don't see why I wouldn't go on another blind date in the future, as this one, I would say, was an overall success.
I think there's something special about the pre-date mix of excitement and nervousness that's a little different with a blind date than a regular date. I had no reason to resist going, really, so I thought "Why not!"
This being the first blind date that I had ever been on, I was both nervous and excited. I was nervous mostly because I didn't know what to expect, but at the same time, I was excited for the same reason — not knowing what to expect. My nerves subsided when we first met each other.
When I got to the restaurant, I remember thinking she was cute when she first walked in, and I liked how she said hello and went in for a hug — it was comforting and a warm way to start a date. Unfortunately, the restaurant we went to was closing down early, giving us only about an hour for our date, which was a bit of a curveball.
It ended up not being a big deal, because we were done by the time they started closing and we went to get ice cream afterward since we didn't have time to sit and chat after eating. It was unexpected, but it worked out in the end! Overall, the whole date was as comfortable as it could've been given the situation.
Both of us were probably slightly tense at the beginning, but overall the night started off well. I was glad that conversation never really ran dry, which often happens during first dates. Luckily the classic, "What year are you in? What's your program?" led to lots to talk about, so I don't remember there ever being an awkwardly long period of silence. We both kept the conversation going smoothly, which was great! I think the date was an overall success; other than the restaurant being closed early, everything went really well.  I had a really good time with her and we enjoyed the night. I'm thinking there's a good possibility of a second date!
- Third-year bachelor of medical sciences student