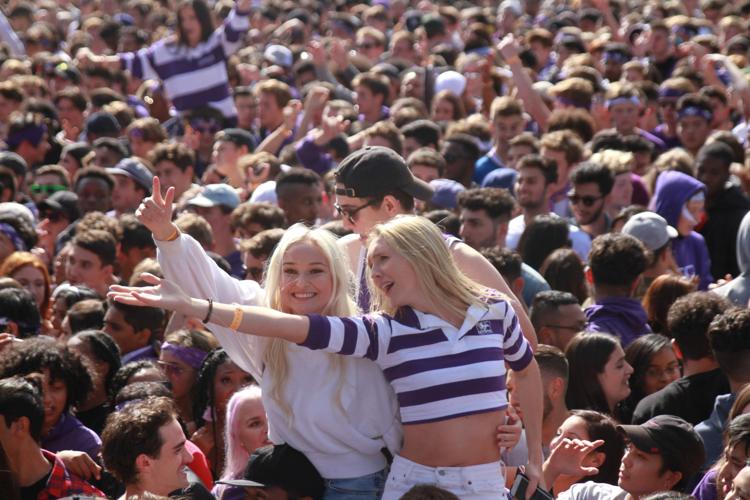 To describe the day in one or two words would be impossible.
To onlookers, it was absolute mayhem: Fake-Homecoming on Broughdale Avenue saw people of all ages floating around the street in purple-clad waves, among belligerent student parties as far as the eye could see, bringing with them copious amounts of alcohol and the stale odour of cigarette smoke.
But to those involved in Saturday's festivities, FOCO was a grassroots movement combined with the self-righteous excitement of a child on Christmas morning — even if the day's activities may have left some glued to their toilet, throwing up the day's substances well before dusk.
Students, alumni and friends came up from hometowns and universities far and wide to spend the wee hours of the morning slinging back hard liquor, jello shots and cold brews, while bumping shoulders with people they hadn't seen in years. 
School spirit was the seedling of Western University's original Homecoming, which is typically a hybrid celebration of alumni and football pride. FOCO shares that pride, although it's also marked by animosity towards Western's administration, who tried to stop the street party in 2016 in an attempt to shed Western's party reputation.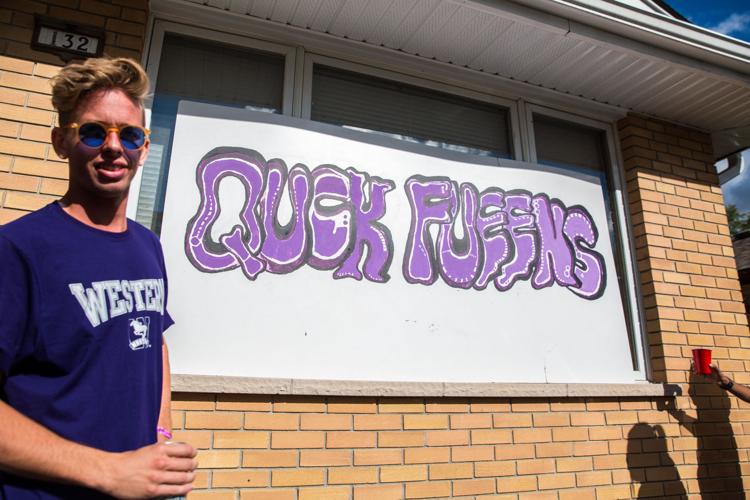 These attempts didn't work in the past, and they sure didn't work on Saturday.
Any way you looked within the crowd on Broughdale, police officers could be seen handing out tickets and warnings, squeezing the life out of beer cans and shoving through the crowds with minimal success, attempting to get people off the street.
Along Richmond Street, near Western's main gates, intoxicated students were running into oncoming traffic with less coordination than a squirrel running across a roadway. Drivers seemed frustrated and worried, as some couldn't seem to move a metre without students running past their vehicles. 
"We've had multiple people transported to hospital already and charges have been laid," said Sandasha Bough, media relations officer for the London Police Service, around noon. "We're still in the process of attempting to clear Broughdale Avenue because we need to get those emergency vehicles through."
According to Bough, the street gathering even manifested itself outside of Broughdale, pouring onto Audrey Avenue and Huron Street. Finding a wireless connection or phone service was a struggle, making it difficult for students to regroup with their friends.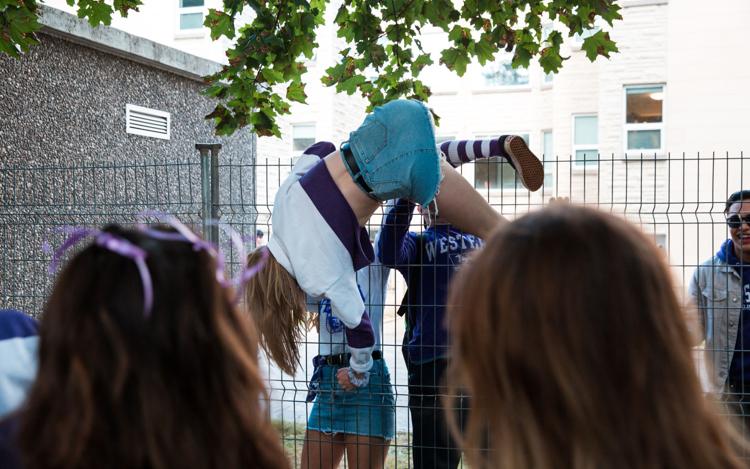 For Londoner Terry Manzi, it was an ecstatic experience, one he'd never had before. Manzi said FOCO lived up to the illustrious picture that his friends and older Western students had painted.
However, unlike in past years, Manzi had more than one option: he could get a taste of FOCO before heading down to Purple Fest. 
"It's actually been hard today because I have to figure out 'Do I want to go here, do I want to go there?'," says Manzi, who travelled up and down Richmond before arriving at the unsanctioned event, attending parties and sipping on tequila on his way over.
Students could walk around between Broughdale and the Elgin Hall parking lot, if they managed to dodge the police officers and barricades that seemed to be in constant sight. Even at Purple Fest, officers could be seen on police bikes, making it hard for those in the under-19 section to sneak a sip of alcohol or a toke of weed. That said, concertgoers still managed to consume their vices.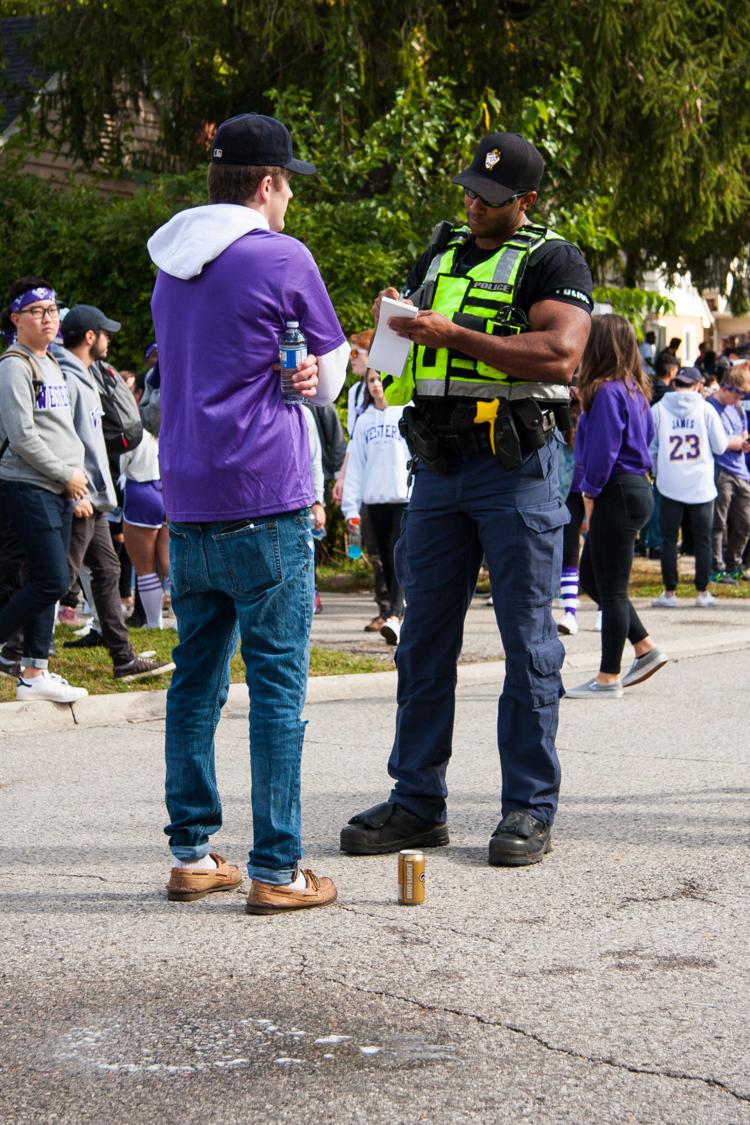 Grand inflatable mushrooms, mini-huts and even a large kiddie pool were brought forth for Purple Fest. The entire parking lot was transformed into a festival comparable to a downsized Osheaga, with the inflatables acting as the perfect, aesthetically pleasing Instagram backdrop.
Similar to the Montreal festival, there were a number of security guards shoving belligerent people out of the glorified parking lot. While Purple Fest did seem generally coordinated, there were still opportunities for students to sneak past the fence and enter the concert, and some could even hurdle backstage by jumping past the fenced-off gates. 
The University Students' Council somehow managed to deter some students from partying outside of Western's main gates, alluring them with world-renowned hip-hop artists Lil Uzi Vert, Juice WRLD and Murda Beatz, among a host of other popular names.
Having Lil Uzi perform at Purple Fest was an eccentric sidestep away from the artists that had played the event in years past — the Sheepdogs, the Strumbellas and Arkells — as the USC finally seemed to be bringing in talent that can serve to a wider demographic beyond those who enjoy top-40 or indie music. That said, it was rather paradoxical that a safety-explainer video of Mitchell Pratt telling students to stay hydrated and have fun prior to Uzi's performance was greeted with middle fingers and boos from the intoxicated crowd, since his it was his executive that brought Purple Fest to life. 
Uzi — decked out in a green-knitted vest and a wool ski mask to complement his assortment of studded diamond chains — performed songs including "Money Longer," "New Patek" and "XO Tour Llif3," which were received rapturously by an audience of manic students.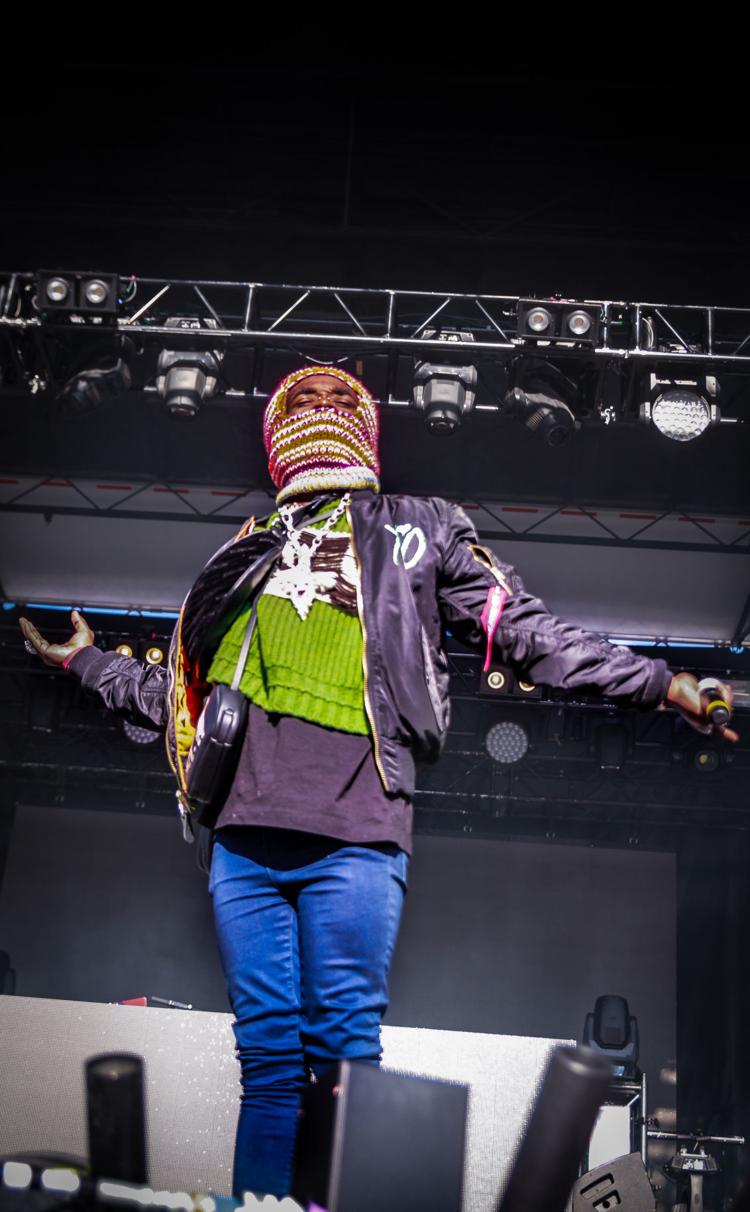 Rib-shaking bass collisions and surges of half-sung, half-rapped vocals took centre stage during both Lil Uzi's and Juice WRLD's performances, which had a slowed, dazed delivery to them. Students were indulging in every moment of both performances, reciting every word to each song and rambunctiously hopping around in large mosh pits.
Western alumni and house music duo Loud Luxury kept the energetic party alive, performing their chart-topping hit "Body (feat. brando)" among an array of other tracks. JW the Mustang — Western's furry white-and-purple mascot — even appeared onstage to rage with them, with bass bumping all the way to UC Hill.
The duo mentioned that this concert was a full circle experience for them, having started out in London during their university years, spinning for Charity Ball, the CAISA Fashion Show and trying to open for just about any artist that touched down in the city.
"Just being able to come back after everything that's happened — after everything that we were doing and all of our travelling — to play to this type of crowd, makes this one of our most important shows," says Joe Depace, one half of Loud Luxury, who studied criminology and music during his time at Western.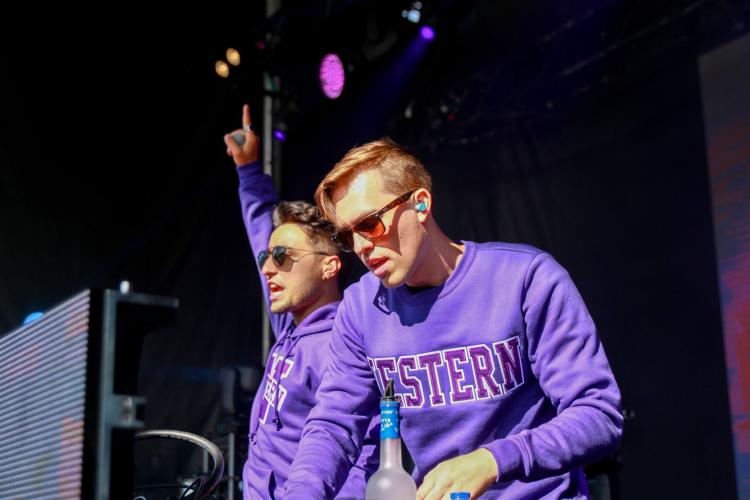 Fort Erie, Ont. record producer and songwriter, Murda Beatz, played earlier in the day, spinning through some of his Billboard-dominating tracks, including Drake's "Nice for What" and 6ix9ine's and Nicki Minaj's "FEFE."
Raging with his set, Murda's performance saw the crowd obliterate the barrier between the 19-plus and under-19 sections of the concert, leaving security guards stuck looking for ways to help out students in distress throughout the rest of the concert.
Purple Fest brought with it a number of food trucks and promotional pop-up shops, where students could buy overpriced shawarma and pizza, receive free condoms and win coupons for free Uber Eats deliveries. 
"It's a lot of fun. There's a lot of first-years though, to be honest. But it's a good time. Everyone is so intoxicated," said Jinali Shah, a fourth-year chemical engineering student.
Shah believes that having Purple Fest take place on the same date as FOCO will deter students from squeezing into Broughdale in future years.
Partying on the last weekend of September is a liberating feeling, and judging by the thousands of people that showed up to rage, it isn't ending anytime soon.
Adding to the list of past FOCOs, this year's was simply reinvigorated through Purple Fest, evolving into an event that provided people with entertaining, alternative programming in an attempt to disperse students away from Broughdale.