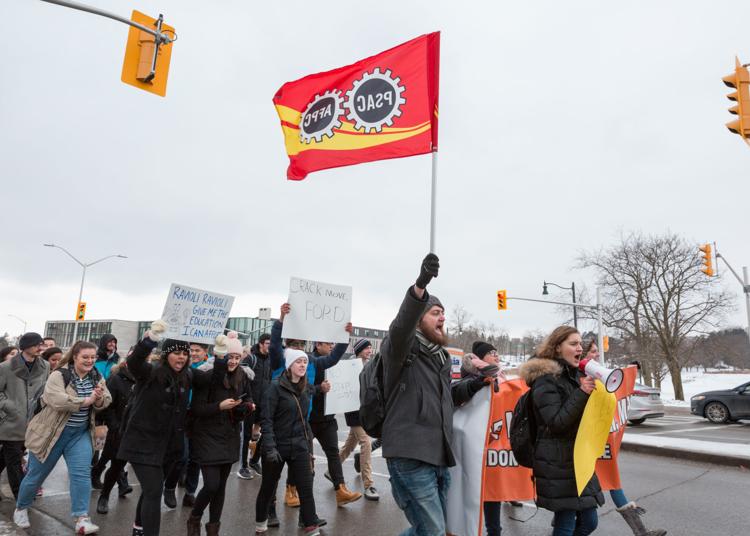 Students are seeing past the smoke and mirrors of Ford's 10 per cent tuition cut — and they're angry about what they see.
Last Thursday, Premier Doug Ford's Progressive Conservative government announced a cut to tuition prices for the coming school year, but this decrease is coupled with a slash to the Ontario Student Assistance Program. His proposed policy includes decreasing the amount of funding offered, replacing grants for loans and eliminating the six-month grace period for students to repay their loans. Without access to the funding that many students previously relied on, affording education will become increasingly difficult for low-income families.
This policy also gives students the option to pay ancillary fees, which help to fund student unions, clubs and services like bus passes and healthcare.
Ford claims this policy will make education affordable for students, but critics of his policy argue this will force students to take on more debt from student loans, ultimately doing more harm than good.
Ontario students pay some of the highest tuition fees in Canada.Starting this September, we're making life more affordable by lowering college and university tuition fees by 10%. We're also giving students the power to choose to pay for the campus services they actually use. pic.twitter.com/3NilVe2cRY

— Doug Ford (@fordnation) January 17, 2019
Cassandra Chapman, a student in the middle of her Arts and Science diploma at Fanshawe College, is one of these critics. She questions his priorities, citing not only the cuts to OSAP, but also decreasing funding for OHIP+ and plans to reform the Ontario Disability Support Program.
"He's been definitely making clear his stance on low income families and those who need financial assistance. His stance is with the wealthy and the corporations and the businesses," she says.
Chapman and fellow Fanshawe student Katherine Marentette, studying Early Childhood Education, have planned a protest for students and community members on today at 2 p.m. in Victoria Park. A march against OSAP changes will also be happening at Queen's Park in Toronto at the same time. This follows a march around Western University's campus last Friday led by fourth-year students Bridget Collrin and Lena Gahwi.
Chapman and Marentette also have the support of their school. The Fanshawe Faculty Union and Student Unions are helping by providing buses from campus to Victoria Park and securing the stage for speakers at the event.
Chapman emphasizes the importance of community involvement, as it's not just students that will be affected by these changes. This policy change affects all of the families of post-secondary students and students of any age considering continuing their education.
"I think it's important for all students, and not even just students, but anyone that may be affected by the OSAP changes … to stand together and show that our voices won't be silenced," Chapman explains. "We are the students; we weren't consulted in these changes or these reforms and they're going to end up hurting a lot of people."
Alexis Pronovost, a fifth-year English, creative writing and School for Advanced Studies in Arts and Humanities student at Western, is also concerned with the lack of student consultation. While she understands that funding cuts for programs like OSAP are a way for the government to try and bring Ontario out of debt, she wants a better explanation from politicians.
"I think that what the students are looking for is a little bit more focus on why these other changes are being made and who they're actually being made for," Pronovost explains.
Pronovost has been vocal on social media about her discontent with policy changes: sharing petitions and information on her own social media and on the Facebook page for today's march. As a student who relied on OSAP in her undergraduate degree, she feels personally affected by these cuts.
"I think that had OSAP not been so open for myself, I would not have been able to attend post-secondary education at Western," she says. "I'm from a very low-income family — my mom's a single parent, self-employed — and we definitely wouldn't have been able to afford university without grants.… [OSAP] has meant that I've been able to go to Western."
Although Pronovost is at the end of her degree, she sees how this policy will affect incoming post-secondary students.
"Now say I was a high school student planning on going to university in the fall," she suggests. "I would probably not get the same amount of funding or get a lot more loans as opposed to grants and have a lot more debt later on that may have changed my opinion on going to post-secondary."