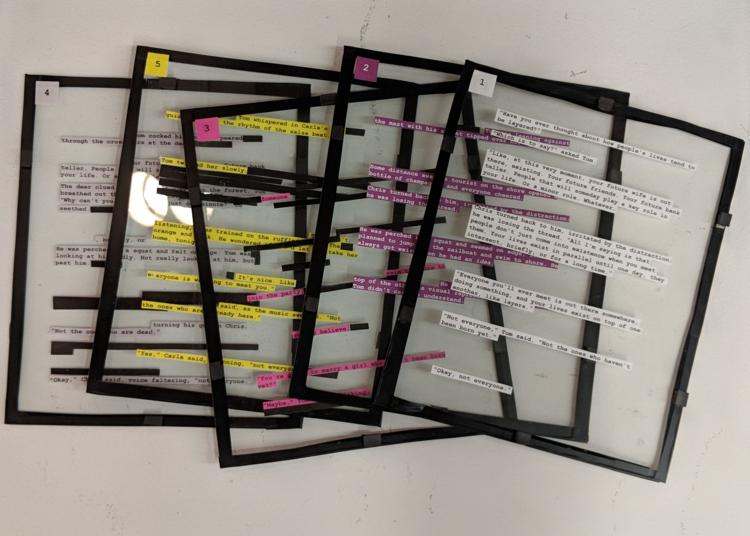 Nino Ricci, Western University's Alice Munro Chair in Creativity, opened his first exhibition in collaboration with the department of visual arts.
His exhibit, Forms of Narrative, was put together by the students of his special topics class of the same name. The students were tasked with using a narrative they wrote to create complementary pieces of art to be displayed in the Cohen Commons at the John Labatt Visual Arts Centre.
Artlab curator Liza Eurich explains the importance of language in the exhibit and how it allows for a new form of interaction with art that makes it approachable for anyone. 
"It is important to ... try and bridge the gap to find a way in for non-artists," Eurich says.
The opening reception brought an evening of artistic appreciation. Ricci began by describing the project set for his class and introduced a select group of students that would be sharing short stories they had written. The stories mainly focus on family and heritage.
Jaclyn Bruneau, editor of C Magazine, a Toronto-based contemporary art periodical, spoke on parafiction as an art form and its role as artist and viewer in her talk Parafiction and Other Permissible Deceptions. Bruneau discussed the roles that parody, parafiction and the assertion of fiction in the real world have in art and how falsities can produce unique works.
The works presented are diverse in medium and subject matter, which create a disjointed exhibit that is interesting nonetheless. 
"Five Dimensions" by Marisa Coulton uses the versatility of language to allow the viewer to interact and alter her work. Five panes of glass contain lines of fiction and black bars. As they are rearranged and stacked, new stories form and reveal vastly different narratives. They range from heartfelt love stories to twisted tales of violence and aggression. The piece succeeds as an intersection of art and language while easily engaging viewers.
The joining of art and language is also skillfully done in "Fables" by Ashley Griffin. Her aesthetic choices help produce an aged appearance and a feeling of stained glass. Overall, the piece conveys a feeling of medieval origin. This creates an interesting juxtaposition with other pieces in the exhibit, including one about childhood and video games.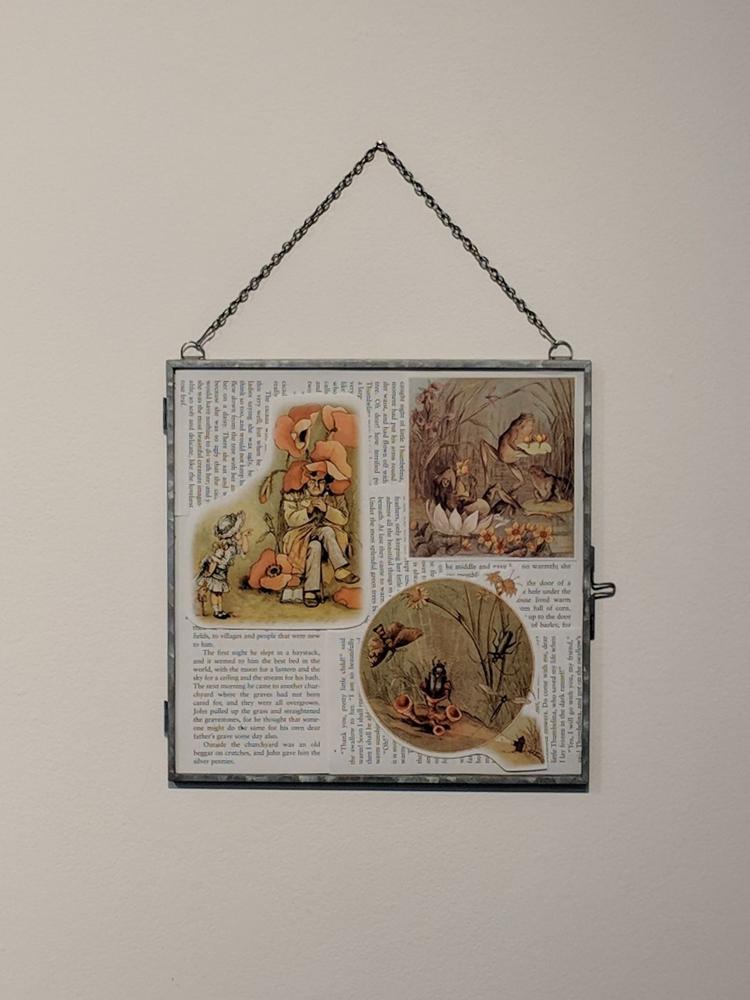 The entire exhibit feels like pieces of art sitting on the edge of traditional visual art and English. All of the artists took into consideration narrative and words in their presentation of ideas in a visual format. Each piece felt unique and truly created by an individual with their own story to tell.
Both narrative and visual pieces brought their own aspect of intimacy and vulnerability to the exhibit, creating an irresistible combination that leaves a lasting impression.
As the Chair in Creativity, Ricci hopes to connect a wide range of art forms to help inspire creativity across campus. His first exhibit showcases talent that may have otherwise gone unseen. Forms of Narrative is a refreshing take on the Artlab's typical exhibit by using language as its medium for artistic exploration. And the course, The Forms of Narrative, is open to both students in the English department as well as those in the visual arts department.
Forms of Narrative will be on display at the Cohen Commons located in the John Labatt Visual Arts Centre from Feb. 27 to March 14.