When Drake loves a video game and multiple breakfast shows worldwide are discussing its addictive nature on young players, you know it's made it big. 
Developed by Epic Games, Fortnite Battle Royale has become a multiplayer global phenomenon, with 40 million users (and counting) plugged in. 
First released in July 2017, the game is a free-to-play massive multiplayer online brawl, where users can play alone or on a team of up to 20 players, in matches with others around the globe in a cartoonish, action-heavy world. The game consists of gunplay, fort-building and strategizing. 
What drew fourth-year genetics student Zachary Klugman to Fortnite was that it was something he and all of his roommates could enjoy together, even though they aren't big gamers. 
"I like how quick it is. It's like fast action. It's a quick spike of adrenaline, and then it's over. It's like riding a roller coaster," says Klugman, citing Fortnite's quick pace.
Each game, 100 players leap out of a hot air balloon-propelled bus onto a small island and fight each other until only one conqueror or team is left. Hidden around the large island are weapons and items, including grenade launchers, crossbows, rifles and traps. Players must arm themselves for the battle while exploring the vibrant landscape and buildings. Chop up a tree or a building and users can collect resources that allow them to build structures where they can hide and defend themselves.
A game can last anywhere from 30 seconds to 30 minutes depending on the players' levels of skill. As the match progresses, the area of play gradually decreases, forcing combatants closer and closer to one another.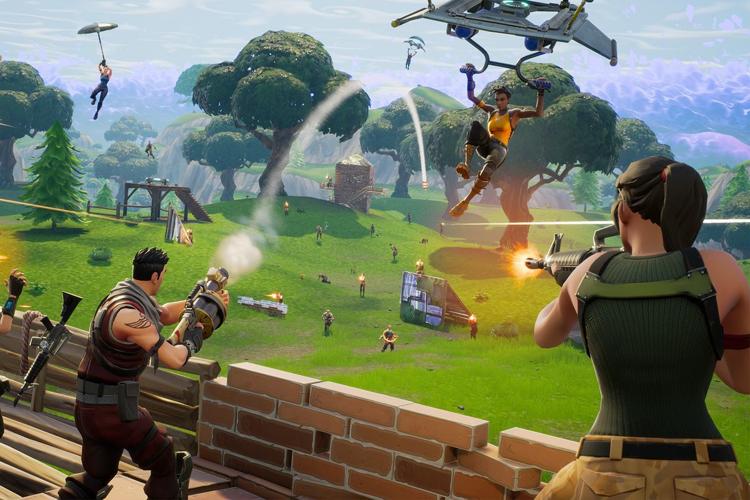 Klugman recently won his first game, and he compares the excitement he and his roommates felt during the match to the time he got accepted to university.
"There's a video circulating around my friend group when I had won, screaming and celebrating and running around my room like I had just won the lottery," says Klugman.
Fortnite's accessibility and ease-of-play has made it an international phenomenon that's hard to ignore. At Western University, students have been spending hours of their non-existent spare time playing the game. It's even made international headlines, with celebrities including Drake, Travis Scott, Chance the Rapper, Roseanne Barr and Joe Jonas basking in the glory of the game. 
From middle-school playgrounds to frat parties, it's become a cultural phenomenon and an obsession for millions of fans. But why? Let's take a look.
Free and easy 
Developer Epic Games did a great job of creating an accessible game with a simple interface. After a couple of rounds building forts and sucking down potions, users will be completely hooked on the game's quick matches. 
Unlike other multiplayer games like PlayerUnknown's Battlegrounds, Grand Theft Auto and Battlefield, which usually cost upwards of $70, Fortnite is free-to-play, and it can be accessed on PC, PlayStation 4, Xbox One and mobile devices. It's a free form of entertainment that will keep Mustangs glued to their screens for hours on end.
"A lot of things are expensive at Western, like tuition and food and going out, so having a way we can all hang out together for free in the comfort of our living room is something fun and convenient for us," says Klugman. 
Shareable moments
Each match is like a snowflake: no two players' experience will be the same. In Fortnite, it's easy to get swept away in the adventures of your avatar. Every time the bus cruises over the island, 100 narratives unfold. Some of them might be as mundane as walking 10 steps and getting blow up by a shotgun. Others, like Klugman's victorious win, are more textured. 
Players can feel a sense of personally directed achievement, even if they don't come out on top. For some, getting into the top five is enough of a goal; for others, winning a match can create unforgettable happiness. 
Complexity
With a wide range of complexly designed weapons and gadgets that let players teleport, boost with adrenaline and blast enemies with guided missiles, to name a few, the game invites users to experiment with a plethora of ways to battle. 
That said, the game isn't just about killing other players: it's closer to a hunt, with risks and rewards. Making use of the spacious geography of the island is a tactical game in itself. Building mechanics is another element that makes Fortnite stand out against its competitors. Battles between players are often tactically complex endgames, revealing brilliant strategies that can make or break a game.  
"I think it's probably just a phase just like all other video games," says Klugman. "Until another style of game that comes out changes what's popular, it's cool and different to what we've been playing in the past."
Fortnite will be around for a while. Students should at least download the game and give it a try: just wait until after exams though. You might just spend a fortnight playing.